Gone 'Til The 13 of November: How Lil Wayne's Riker's Island Journal Intersects with Ava DuVernay's Amazing Documentary, "The 13th"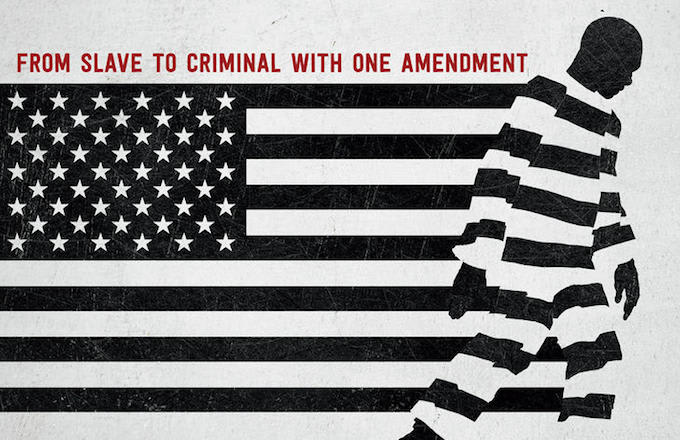 In 2010, Lil Wayne and Kalief Browder were both in Rikers Island.

One was a famous rap star, and the other was a poor teenager from The Bronx. Lil Wayne was sentenced to Rikers to serve a one-year sentence for Attempted Criminal Possession of a Weapon. He entered the prison in March of 2010 and was released in November of 2010. His experiences, which are at once sad, scary, funny, and moving have recently been published in his memoir, "Gone Til November."
Kalief Browder, who was arrested on false charges of second-degree robbery was held on $10,000 bond. For three years. Unlike, Lil Wayne, Browder was not convicted of his charges. He was literally sitting in jail because he and his family could not afford to bail him out. Without a trial, Browder was held for three years and two of those years were spent in solitary confinement. He was eventually released when his charges were dismissed, and two years after his release he committed suicide by hanging. The horrific conditions of Browder's detention contributed greatly to his terrible depression, and eventual suicide.
The two stories which happened at nearly the same time have some surprising parallels, and many major differences. Wayne was held in restrictive custody, that means that he was in a unit that was fairly insular. In his book, he writes about his fellow inmates and captains as if they are a cast of recurring characters on a sitcom or at least a dramedy. While Browder was booked into the Robert N. Davoren Center which houses male adolescents ages 16-18. The jail is known for having a "deep-seated culture of violence."
Rikers Island is New York City's main jail complex. It sits on a 400-acre island floating halfway between Queens and The Bronx. There are eight jails for men, and one for women. At any given time, on any given day, there are about 11,000 people housed at Rikers. Most are awaiting trials are serving short-term sentences. Rikers has repeatedly been ranked one of the 10 worst correctional facilities in the United States. 
Rikers also has the dubious distinction of having one of the country's highest rates of solitary confinement. Both Browder and Wayne both experienced solitary confinement. In solitary, Browder was deprived of food, and was only able to leave his cell for showers, which were not daily. Wayne was taken to solitary during his sentence for possession of an MP3 player, which is writes about in the book as one of his greatest sources of comfort. He went to solitary confinement in the infirmary ward and writes in detail about being taken to the showers to discover pools of blood.
Both Lil Wayne and Kalief Browder contemplated suicide at Rikers. The bleak circumstances that he was in, without conviction, Browder became depressed and attempted suicide after sitting in Rikers for two years.
Wayne did not attempt suicide, in fact, early in his sentence he worked as a Suicide Prevention Aide where his job was to walk the unit with a flashlight at night, and shine it into cells every half-hour to ensure that no one is "hanging up." However, toward the end of the book, he did ruminate on his thoughts about suicide in jail:
"I ended up thinking about all types of s###. One thing that stood out was how I've never been this close to suicide before. It's truly a new reality for me. I was actually there when this kid that was in mental isolation tried to hang up. What's really f##### up is that it all could've been prevented if the [correctional officers] would've just brought him some water. P. 139"
One could only imagine what would have happened if their paths had crossed. If they had known about the other, if they had been able to speak. Would the young Browder, who entered jail a 17-year-old student, and would depart a 20-year-old man, have been impressed to hear from or meet a famous rapper? Would it have helped at all? We will never know.
After Wayne's release from Rikers Island in November 2010, he was back partying at Liv in Miami the following Sunday. When he left, he rode out in a Phantom. He would go on to record more music and make more money.
Kalief Browder was a different story. He returned home to his family, quieter, sullen, broken. He would stay alone in his room with the door closed, often pacing the same way he did in solitary. While Wayne asserts in "Gone Til November," "they can lock up our body, but not our mind," Browder's mind was still locked up even though his body was free and in June of 2015 two years after being out ofRikers, Browder hung himself at his Bronx home. His body was discovered by his mother, who herself passed away this week, of what the New York Daily News calls, "a broken heart." (Editor's Note: New York Mayor de Blasio terminated solitary confinement for 16- and 17-year-olds, a move highly influenced by the Kalief Browder case.)

The intersection between the release of Lil Wayne's memoir, the debut of DuVernay's The 13th on Netflix, and the death of Venida Browder are all unrelated coincidences, or are they? Could they be the universe nudging us to act? To make prison reform the next, and perhaps, most important next step of the Black Lives Matter Movement? Either way, they are all evidence that we are living in the midst of a moment. A moment where we, the generation who grew up writing book reports on Martin Luther King, Jr., have to become activists. We have to become more than social media activists and hashtaggers, we have to take action. We have to save lives, and by saving others, we may just save ourselves.
Lil Wayne's moving memoir, Gone Til November is available now in stores and online, published by Plume Press. Ava DuVernay's outstanding documentary, The 13th is streaming on Netflix.
Rest in Peace to Kalief and Venida Browder.
Biba Adams is a NYC-based writer, dreamer, and doer. Follow her @BibatheDiva and visit her blog, www.bibathediva.com where she writes eclectic personal essays.