When the Collegrove tape dropped last week, we knew that 2 Chainz and Wayne were going to drop a project full of one-liners, punchlines and all the dope their swag could hold – but we had no idea how great the project would be!  It really feels like 2 Chainz has brought Wayne back officially, as Wayne's lyrics seem like the Wayne of old.
Take a look at some of the best lines from the project, as the fellas flip their words, and make you realize why they are so good at what they do.  Did you know Project Pat was 2 Chainz role model? Or did you know that Wayne felt Ludacris was foolish for letting 2 Chainz and Playaz Circle go from DTP?  Did you now Wayne doesn't dab and dance? There's a lot we learn on this project, not to mention the dope lyrics.  
Check it out and enjoy below! We've included the Spotify album link as well so you can listen along.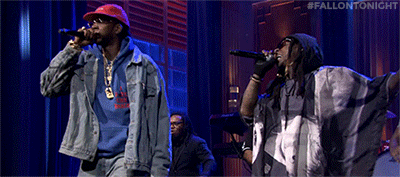 spotify:album:56TQNcSoy3eQpyWtNwQnrD
1. "Dedication" – Chainz talks about his relationship with Wayne and a trip that he took down to Miami before he blew up. This is like a homage track to Wayne for helping 2 Chainz over the years. Crazy part is how Wayne said Luda was foolish for not seeing Chainz potential. Was Nicki messing with Gucci Mane?
"Ridin' off in the Phantom, and Mr. G he was driving
Pumpin' that Playaz Circle, you told me that we was riding
And I told you that I was rappin', I told you I wasn't writing
You said Luda was foolish because he wasn't excited
That was way before Tyga, I saw Nicki with Gucci" -2 Chainz
2. "Bentley Truck" – Wayne stunts in classic fashion, saying he doesn't dab and doesn't dance, but what he does with the letters in start of his verse is DOPE!
"But this ain't NBA, this the CEO
And this ain't MMA, but this a TKO
Rolls Royce Wraith, I park that b#### and skate
I talk that s###, she caught that line, I call that fish filet
And all of my n##### is A1, and y'all lil n##### look like steak (well done)
And all my woes is athletic, and all of my hoes is getting pregnant
Don't dab, don't dance
Do me, own swag
Leather soft, you n##### softer
What's that smell? Rigor mortis" – Lil Wayne
3. "Gotta Lotta" – 2 Chainz lets us know how his life is completely entwined with lean and snatch from breakfast to the late night strip club. Then the line about the bands on the football field was pretty clever too.
"Got the girl p#### smelling like Codeine Syrup
Got the bands on me like a football field, I'm ill
I deserve a threesome for my birthday
If she pretty its Magic City on the first date
Cup of lean and toast, yeah I'm 'posed to boast" -2 Chainz
4. "Smell Like Money" – Really in all reality Wayne's whole verse on this song is straight flames, but the end with the concept of the ankles and wrists, and then to rhyme Anchorage at the same time?  He's just killin it, this is #classic Wayne. The guy is on fire right now, we better watch out for his next project.
"What you do it for if it ain't for this
I watch my step so much, I'm starting to feel like my ankles' wrist
Cold hearted, starting to feel like I'm in Anchorage when I think of this
And rude awakenings get taken in like fragrances" – Lil Wayne
5. "Rolls Royce Weather" – Anyone that ever questioned 2 Chainz commitment to the streets might need to go check his resumé. But it didn't start all glamorous like it seems, Tauheed was servin' in the hood at an early age and everything ain't pretty in the dope game.
"'Member twelfth grade I sold some work to undercover
Mama only child we stayed in a one bedroom (tru)
Used to ride MARTA 'cause it had more leg room
I'm a ghetto boy, I came up on Brad Jordan
First lick I made, I bought five pairs of Jordans" – 2 Chainz
6. "Bounce" – Your boy is at it again, Wayne is back and this line proves it. From the mafia line about cutting off fingers to the Daffy duck, sitting duck line, this one is a wrap!
"Caught up in my b#######, put your head on backwards
And skate off after, engage in laughter 'bout what just happened
Fingers in napkins get sent to mammies; is that too graphic?
Catch you in traffic, you sitting daffy like stealing candy" – Lil Wayne
7. "100 Joints" – We learn that ladies that want to be with 2 Chainz better be prepared to travel out of the country, and that Project Pat was his role model on his come up in the trap / rap game.
"No matter what they say 100 joints a day
I had 'em pre rolled all yesterday
You need your passport for our second date
You know I'm fly n#### rocking reptiles
I'm whooping on this beat like a step child
Big ring and a charm to match
Ya my role model was Project Pat" – 2 Chainz
Lyrics courtesy of Genius.com