In the world of music, there are artists who not only captivate us with their talent but also inspire us with their personal stories and dedication to making a difference. Pretty Porcelain is one such artist, whose journey from advocacy to artistry is nothing short of remarkable. With a unique style and a powerful message, she has emerged as a rising star, using her platform to shed light on important issues while creating captivating music. In this article, we delve into the life and career of Pretty Porcelain, exploring the experiences that have shaped her artistry and the impact she is making in the music industry and beyond. Join us as we uncover the story behind the artist and gain insight into her inspiring journey.
AllHipHop: What first got you into music?
Pretty Porcelain: I've always had an interest and love for music since I was younger, I grew up an old soul so r&b and rap was definitely my go-to music choice. One day I was sitting in the living room with my dad Terry Elliott who's also the Founder of the worlds famous "King Of Diamonds", knowing my dad he's a jack of all trades so I looked up at him and said "Dad you do everything, you can do anything, make me a rapper" my dad looked at me and said, "are you serious?" I said "Yes" and after that conversation, he left it alone. For two years we didn't speak anything else of it. He came back to me two years later and said "Are you ready to be a rapper?" I said "Yes" and he told me "Let's go then!" and from that day forward I've been putting in the work and never looked back. 
AllHipHop: Who inspired you to make music?
Pretty Porcelain: I have Albinism and growing up with it was far from easy, i've endured so much hate from the world and have been bullied all my life but I continued to push through and I am honored and happy to say that I am an advocate for Albinism, bullying advocate, community activist, the international supermodel with albinism, and now an artist! Honestly doing all of those things made me want to tap into a new realm, and show others that individuals with Albinism or differences in general are capable of doing anything we put our minds to. We can do it too! & looks good while doing it!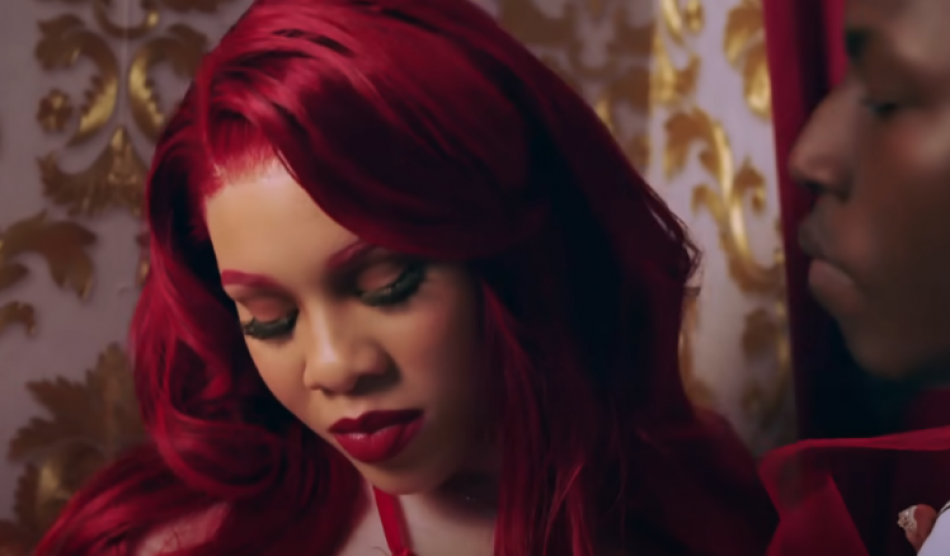 AllHipHop: What would you be doing right now, if it wasn't for your music? 
Pretty Porcelain: If I wasn't in the music industry, I honestly would be doing exactly what I am doing currently. Besides music I am an Internationally Published Model, I am a bullying advocate, An advocate for Albinism & people with differences, as well as an entrepreneur so I would still have my hands full even if I wasn't an artist lol. 
AllHipHop: What is the best advice you've been given?
Pretty Porcelain: One if the best advice I've been given would probably be from my mom, she always instilled in me from a baby that "I am beautiful & that I never needed to live up to what society's standards of beauty were". 
AllHipHop: How do you feel the internet has impacted the music business?
Pretty Porcelain: I personally feel like the internet is a double-edged sword when it comes to the music business. On one end we have false realities and narratives being spread on the internet every day that create false visions for the generations coming up, but on the other end, the internet is how we all connect from all around the world and share our projects with our supporters so It's like….you win some you lose some. But I make sure I do not get caught up within the internet lifestyle. I make sure to be myself with or without the internet. 
AllHipHop: Where was your current project recorded?
Pretty Porcelain: My Single Stop Playing with Me was recorded at "The Hit Factory" in Miami FL. 
AllHipHop: What do you enjoy most about being an artist?
Pretty Porcelain: What I enjoy most about being an artist is being able to express myself in ways I probably wouldn't on an everyday basis,  I enjoy having my own looks and talent, Im uniquely me. There will never be another artist who looks or sounds like me. I stay true to myself at all times. 
AllHipHop: Do you have any other projects that you're working on now?
Pretty Porcelain: Yes I do I just released another single with Osmani Garcia called Sushi Sushi! It's super cross-over and dope! He was so amazing to work with! I'm also working on some other singles as well right now. 
AllHipHop: Do you have any other plans relating to this release? A video? Online show.
Pretty Porcelain: As of right now just doing the work and pushing "Stop Playing With Me" is the goal. The video is out and has over 300k views so I'm enjoying this project & how people are liking the song. 
AllHipHop: When you create music, what is your personal purpose or goal?
Pretty Porcelain: When creating music my ultimate goal or purpose is to let my supporters know that it's okay to do you! It's okay to be pretty/handsome with your head on straight, make your own lane, and do your own thing.