Over the weekend, rapper Blueface was involved in a wild and chaotic fight in Baltimore.
According to footage that hit Twitter, the fight occurred after Blueface attended a party at a local club with his girlfriend, Chrisean Rock.
The altercation quickly escalated, involving dozens of people and even two armed officers who could not stop the chaos.
The fight with men and women involved (including one seemingly in her panties) spanned several blocks and ended with one man in a yellow shirt knocked out.
Blueface confirmed the brawl and bragged about the incident on his Instagram stories, posting a screenshot of the man knocked out with the caption, "he sleepy."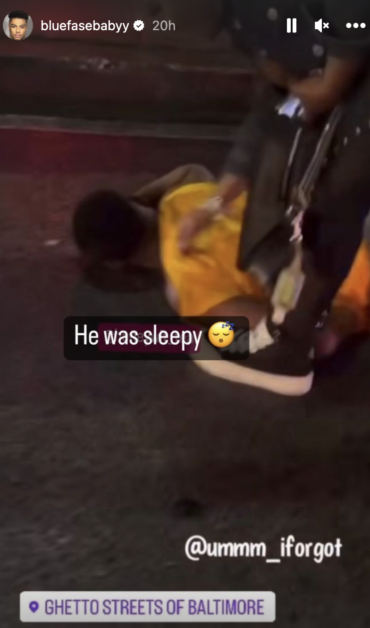 This news comes just a few days after Chrisean Rock's brother, Mookie, was arrested for attempted murder, adding to the already troubled situation.
Blueface has had a tumultuous few months. He was arrested for attempted murder in July for an incident that took place in October.
Footage of that incident has also surfaced, allegedly showing Blueface drawing out a gun and firing shots at a driver who confronted him outside a Las Vegas club.
According to sources, Blueface's crew got into an altercation with the driver inside the club, leading to the confrontation in the video.
Las Vegas police arrested Blueface, whose real name is Johnathan Porter, and charged him with attempted murder and other felony charges.
He was booked into the Clark County Detention Center and is currently out on bail. A preliminary hearing in his case is scheduled for January 24, 2023.