Johnathan "Blueface" Porter is now better known for being a reality show/internet star than a Hip Hop recording artist. Apparently, the Los Angeles native also made six figures from OnlyFans.
The OnlyFans service allows hosts to provide exclusive content to their subscribers. While pornography is popular on the platform, Blueface claims he made nearly $800,000 without going nude for his fans.
Blueface posted a screenshot of an invoice to his Instagram Story. According to the image, the 25-year-old "Thotiana" hitmaker grossed $798,800.26 from his OnlyFans account. The verified Bluegc2022 page charges $25/month for access.
"If you can find a way on OnlyFans without showing your private parts, I highly recommend [it]. Crazy work, good salary📈," wrote Blueface on his Instagram Story.
He added, "Side note: Nothing wrong with showing your private parts on there tho. I ain't knocking the hustle. S### my privates [are] online for free. I'm just not promoting that to my audience. Nothing personal."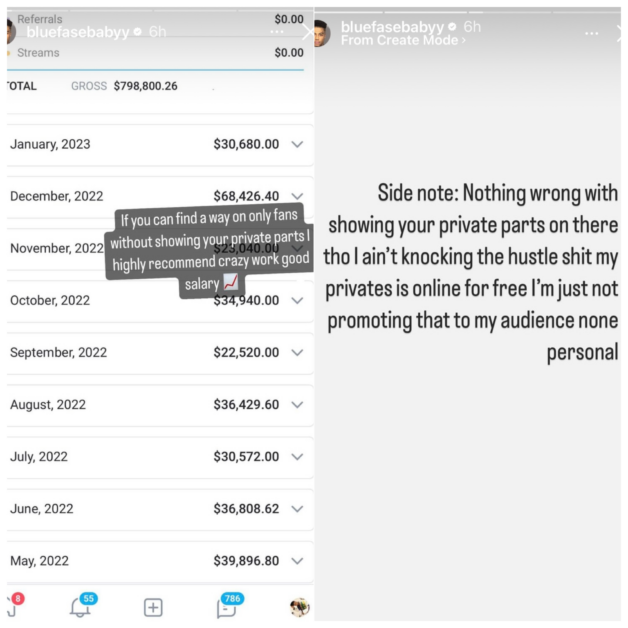 Last October, Blueface's on-and-off-again girlfriend, ChriseanRock, reportedly leaked a sex tape featuring the couple. The two controversial figures now star in the Zeus network's Crazy In Love reality series which premiered in December 2022.
Numerous other celebrities have set up an OnlyFans account. For example, internet personality Bhad Bhabie, Australian rapper Iggy Azalea, and B2K member Lil Fizz all made headlines in the last year for their respective OF content.