(AllHipHop News) The family of the late veteran DJ Pam the Funkstress has launched a fundraiser to help pay for medical bills.
Pam the Funkstress who was the DJ for Bay Area hip-hop group The Coup, as well as Prince, died on December 22, 2017.
Pam, born Pam Warren, had recently undergone transplant surgery, after revealing her illness and canceling her bookings, in mid-November.
The hospital stay left Pam with tens of thousands of dollars in medical bills before she passed away.
Her mother, Helen Warren is seeking to raise $50,000 through a GoFundMe campaign , which so far has raised over $6,000.
Meanwhile, a candlelight vigil for Pam the Funkstress is scheduled to take place tonight (December 29th) at 30th and West Street in her hometown of Oakland.
​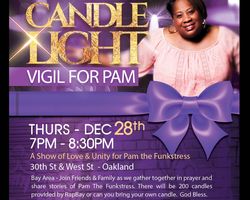 ​