The 2020 coronavirus pandemic has flat out stopped the party. 
For the most part, on large levels, there have been no concerts, no parties, no Spring break weekends, no homecomings, no in-person rap battles, and no music festivals.
Sure it has hit the pockets of our favorite artists, who have made substantial bank by touring. 
But fans have also felt it. After all, who would deny that live music and musical experiences are good for the soul? 
Uhm… the ultimate party pooper, COVID-19.
In fact, a study conducted by Festival Pass, the world's first live events subscription marketplace, and Fluent, Inc., a leading data-driven performance marketing company, revealed that in this country of those surveyed many just want to get back to their normal entertaining and dining experiences: music (49%) and food festivals (37%) lead the desired activities most missed.
Ed Vincent, Founder and CEO of FestivalPass notes, "We have received an overwhelming number of comments from our members and followers on their desire to attend a live event or festival."
During the survey, it was revealed that Hip-Hop garnered 40% of the participant's votes as the genre they simply can't wait to cop a ticket to go see.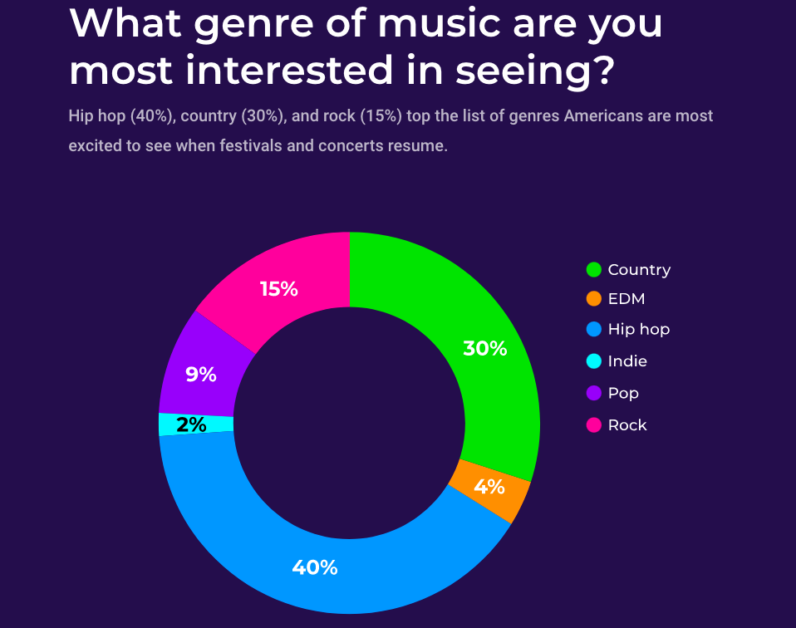 Followed up by Country (30%) and Rock (15%), these genres seem to speak to the heart of America's culture.
Well, all you rap and R&B fans are in luck. Sources say that artists Cardi B., Travis Scott, The Weekend, City Girls, Tech N9ne, Pitbull, Three 6 Mafia, and Snoop Dogg are all supposed to be gearing up to go on tour in 2021.
FestivalPass is stepping up to assist music enthusiasts to find viable means to see live performances, hoping to make the festivals and concert spaces safe and COVID-19 controlled.
Travis Scott, Cardi B Prepare For Post-Pandemic Shows With Rolling Loud In July 2021
"As event organizers continue to get creative with outdoor events, drive-ins, and limited capacity events today and the growing prospect of a vaccine by early 2021," Vincent predicts. "This survey supports the growing pent-up demand for community and connection. The live event and festival industry will rebound quickly with proper protocols in place to keep attendees safe in 2021."
As the world's first festival and live events subscription marketplace, FestivalPass provides access to thousands of music, film, food and wine, art, sports, lifestyle, and tech and innovation
experiences around the world.