The government is requesting an anonymous and partially sequestered jury for the trial of Ronald Washington and Karl Jordan Jr., charged with the 2002 murder of RUN-DMC group member Jam Master Jay.
Washington and Jordan are accused of barging into Jam Master Jay's recording studio, 24/7 Studio, located in Jamaica, Queens, on October 30th, 2002.
Washington pointed his firearm at an individual inside the studio and demanded that they lie on the floor while Jordan approached Jam Master Jay, pointed his gun at him, and fired two shots at close range.
One shot struck Jam Master Jay in the head, killing him, while the second shot struck another individual, Uriel "Tony" Rincon, in the leg.
Other witnesses in the studio that night included Michael "Mike B." Bonds, Ureico "Pretty Tony" Rincon, Lydia High, her brother Randy Allen and later, Jay's nephew Rodney "Boe Scagz" Jones, who was getting his hair cut when the shooting took place.
The Feds claim Washington and Jordan were angry that they were being left out of a cocaine deal involving at least 10 kilos.
As AllHipHop.com exclusively reported, the drugs were fronted to Jay by "Uncle" by one of the leaders of the Black Mafia Family.
The government has requested that the jurors' names, addresses, and workplaces not be revealed to either party or their attorneys.
The Feds also want the jurors to eat lunch together and be accompanied in and out of the courthouse by members of the United States Marshals Service each day to prevent them from mingling with the public or any potential trial spectators.
These measures are being taken to protect the jury from improper influence or intimidation and to ensure Washington and Jordan's right to a fair trial.
The Feds say threats to the jurors are highly possible, given Washington and Jordan's erratic behavior towards the witnesses in the case.
Witnesses have reported threats and coercion from Jordan, Jordan's father Karl "Big D" Jordan, and Washington.
One eyewitness present at the time of the murder, Witness 6, has refused to speak with police or view a lineup with Jordan due to dread of reprisal from Jordan and his dad, who made a threatening call to Witness 6 shortly after the murder.
Jordan and his father also confronted Witness 1, who had once testified against Washington, and made menacing remarks about Witness 1's family.
Washington has also threatened Witness 1 and tried to communicate with them via third parties, including anonymous Facebook messages.
Shortly after the indictment was unsealed, prosecutors said Witness 7 received ominous text messages and pictures, including images of an individual shot in the head and another with their throat cut, along with the addresses of Witness 7 and a family member.
A family member of another witness, Witness 8, was also approached at their place of business by an unknown individual who asked about Witness 8's involvement in the case and made a remark about "what happens to snitches."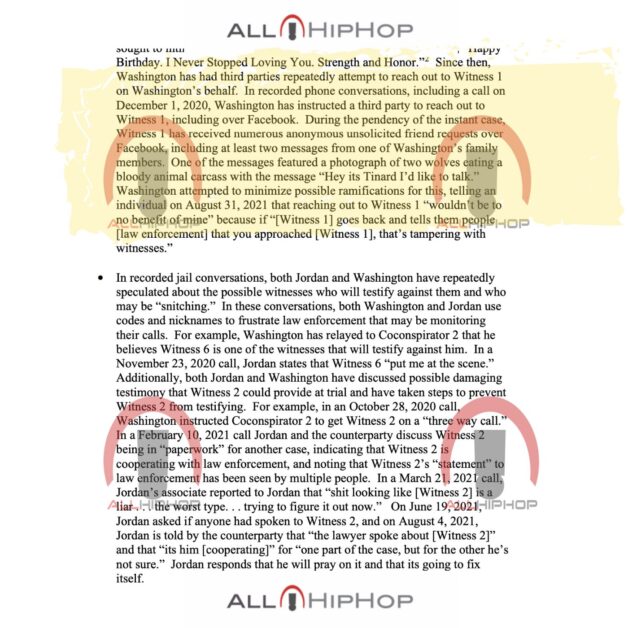 The Feds say these incidents illustrate the potential for witness intimidation and tampering in the case.
In jailhouse "kites," Jordan and Washington have discussed damaging testimony that Witnesses 2 and 6 could deliver at trial and have allegedly taken steps to stop them from testifying.
Washington and Jordan are charged with one count of murder while engaged in narcotics trafficking and one count of firearm-related murder.
Jordan is also charged with one count of conspiracy to distribute cocaine and seven counts of cocaine distribution, one count of conspiracy to distribute 280 grams or more of cocaine base, and one count of use of firearms in connection with a drug trafficking crime.
Each defendant faces a statutory mandatory minimum sentence of 20 years and a maximum of life imprisonment.