The 2023 Roots Picnic took place at The Mann Center in Philly on Saturday (June 3). Headliner Lauryn Hill—who was celebrating the 25th anniversary of The Miseducation of Lauryn Hill—surprised fans with a Fugees reunion.
Backed by The Roots, Pras, Wyclef Jean and Hill performed several classics, including "Zealots," "Ready Or Not" and "Killing Me Softly With His Song." It ended with a spirited performance of "Fu-Gee-La."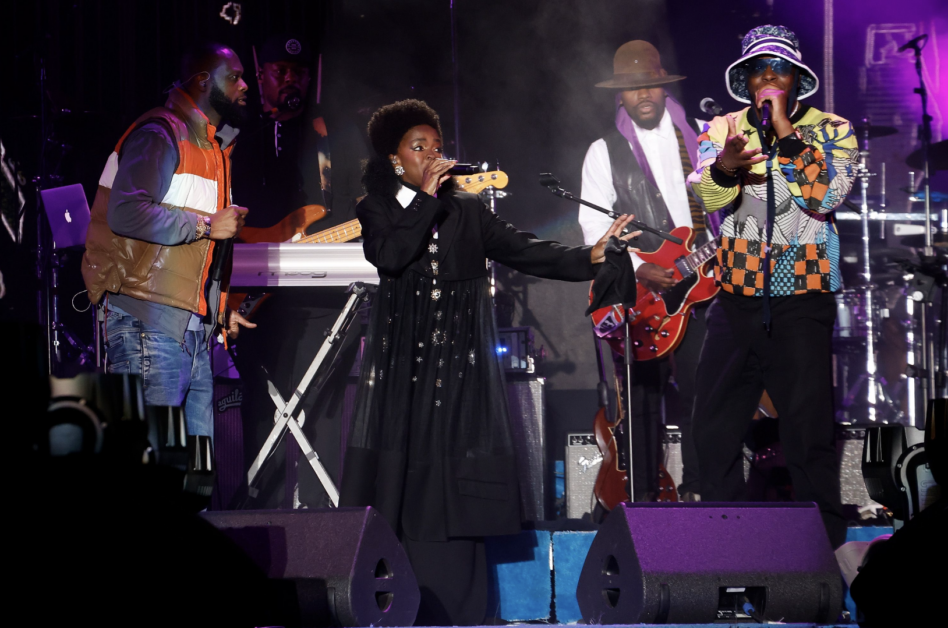 Questlove was clearly over the moon about the reunion and shared a lengthy Instagram post about his appreciation for the Fugees.
"What A Night," he wrote. "In 1993 an unknown band called the Fugees (at the request of the record label i interned at @ruffhouserecords) opened up for us at #TheTrocodero in Philadelphia—-this was one of their first gigs since signing to a major label. They were there to help us celebrate our signing to @geffenrecords. Their #BluntedOnReality got released in early 93. We got our deal in Dec 93 & man…..
Now 30 years later & look at us now. What a journey. @MsLaurynHill did us a solid by letting us not only letting us celebrate with her the classic #MiseducationOfLaurynHill but she also made a moment by bringing together her bredren @WyclefJean & @PrasMichel ……in what could possibly be one of the last times we will see this institution together in this setting."
He added, "I'm giving all the gratitude for making this miracle of a night happen. On what woulda been my father's 87th birthday."
As Questlove insinuated, the Fugees likely won't reconvene—at least not anytime soon. In April, Pras was convicted on 10 criminal counts for helping Malaysian businessman, Jho Low, gain political influence in the U.S. in exchange for $100 million. He was originally facing 11 federal charges, including conspiracy, witness tampering and failing to register as an agent of China. He has yet to be sentenced.
In more positive news, the Roots Picnic continued to provide more memorable moments throughout the evening. At one point, GloRilla brought out a pregnant Chrisean Rock who promptly twerked.
Questlove is readying for more magic on Sunday (June 4). He added: "Although this year was drama filled, it was also one of the least stressful picnics ever (did I mention I got to live out my dream backing @TheIsleyBrothers earlier?) For those w FOMO, not to be outdone——@Usher will rock the house tomorrow. There are still tickets. Thank You All With The Upmost Sincerity."