When it comes to business, Snoop Dogg's portfolio is off the charts. Boasting endorsement deals with Tostitos, General Insurance and Corona (to name a few) as well as ownership of the Death Row brand, he's come a long way since "Gin & Juice."
Snoop Dogg can now add Jack in the Box to the list. According to a press release, the D-O-Double-G has signed on with the fast food restaurant for his own signature "Munchie Meal." The meal coincides with the 10-year anniversary of the late night offering and is apparently perfect for stoners like Snoop.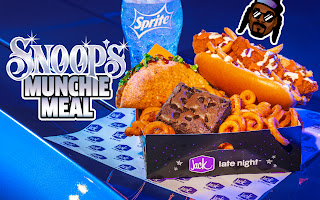 The meal features a "Spicy Sauced and Loaded Chicken Sandwich," classic taco, medium curly fries, a baked brownie and drink. Snoop Dogg shared a video clip to his Twitter account to plug the $14 mega-meal. It features Snoop walking down a hallway with the Jack in the Box mascot. He wrote in the caption, "Let's do this thang, Jack" in response to an online poll supposedly conducted by the restaurant.
Snoop Dogg has inspired many of his peers to hop in the endorsement ring over the years. In a 2020 interview, Ice-T revealed Snoop was behind his decision to hop in the ad game.
Considering Ice-T is behind the controversial 1992 single "Cop Killer," he assumed getting a gig in a television commercial would be impossible. But after seeing what Snoop Dogg was able to accomplish, he decided to give it a try.
"It was difficult because I'm the cop killer," he said at the time. "Everybody in the mainstream was like, 'They won't f### with you because you're too taboo.' And I was like, 'Right.' And then Snoop started knocking down walls. That's my brother. So Snoop was going through doors and I'm like, 'Look, Snoop's making it through these doors, let's try.'
"So the first big one I got was the GEICO commercial with the lemonade. The advertising world was watching and there was no blowback. From there, I did RXBARs, CarShield. You see, people don't understand but if you look at Shaq, like the one he does for The General, that could be eight to $10 million a year. The numbers aren't b#######. You know that b#### Flo from Progressive? Trust me, she lives in a mansion. Flo is caked out."