"We're the story of what happens when you don't give up," says rapper BMac. The 28-year-old San Bernardino County, California native has spent the last decade grinding towards his Hip-Hop dreams. 2020's "Far From Home" single has proven that the artist who balances lyricism, melody, and motivation is right on track. The self-released song has surpassed 500,000 Spotify streams ahead of its music video. Ahead of several significant tracks and his first-ever project, BMac states with intensity, "Success only provoked me to work even harder."
Before he was known as BMac, Kyle Randall was a gifted athlete living in Southern Cali's Inland Empire. Raised by a Japanese mother and a stern father from Oklahoma, both of Kyle's parents are of mixed race. With his diverse background, Kyle made a name for himself through football and wrestling. With scholarship offers on the table, a torn meniscus abruptly ended his athletic plans. However, as one opportunity ended, another opened. A dedicated fan of Eminem, Lil Wayne, and Drake, a rehabilitating Kyle thought to try his hand at rapping.
In those upper-teenage years, Kyle admits that music did not come as easy as sports. He laughs at countless freestyles, folders full of demo song files, and a lot of early experimentation. At parties, he would freely kick his lyrics to girls. Dubbed "Baby Mac Miller" after the emerging MC of the early 2010s, the teasing nickname stuck, only as BMac. However, the artist soon embraced the growth required to take Hip-Hop seriously.
"I got good at rapping by writing, spitting, and freestyling before every one of my gym sessions," says the fitness buff, inspired by Kobe Bryant's 100,000 practice-shot offseason regimen. Rapping 40 minutes a day, six days a week, showed tremendous results over the next eight years. BMac also studied the legends; he recalls viewing Ice-T's The Art Of Rap documentary nearly 100 times. This education led him to work on cadence, delivery, rhythm, wordplay, and compound rhymes. "I finally felt ready."
Trusting the process is much easier with a partner. Since the beginning, BMac worked elbow-to-elbow with his brother Camuncensored. Uncensored produces, mixes, and masters all of the songs they have released through their LTNT Records, an abbreviation for Like There's No Tomorrow. "We always bet on ourselves," BMac asserts, adding that he and Uncensored finance every aspect of their operation by each working multiple jobs. Throughout the last decade, the pair sacrificed their lifestyles to make the dream happen.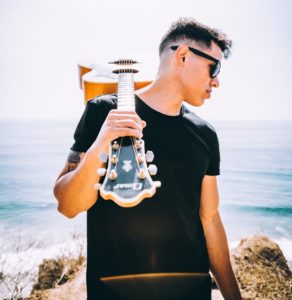 "We knew that if we could get this music to the people, they'd like it." That was affirmed in early 2019 when BMac released "This Way," featuring Arte. The music video crossed 10,000 views, reaching fans worldwide. "We really try to treat this globally," the rapper says. It's part of the reason why he shares his Japanese and South African heritage. "I want people to be aware of my makeup."
As BMac's fanbase is expanding, so is his sound. 2020's "Far From Home" focuses on melodies, bridging the rapper's lyricism with some pop-savvy sounds. "No matter the beat, when the verse starts, I'm coming with bars," he insists. The single is relatable, based on a romantic partner whose insecurities sabotage the relationship.
This theme is emphasized by a music video shot along the cliffs of Malibu. Gearing towards a 2021 debut project, BMac is excited to share some songs that tie into the storyline of "Far From Home," appeasing his listeners. BMac has plenty in store for the future, but he made it this far by living like there is no tomorrow.
[embedyt] https://www.youtube.com/watch?v=0DQezSavtsM[/embedyt]
Follow BMac on All Socials
Tweets by LTNTBMac
https://www.instagram.com/ltntbmac/
https://bmacltnt.com/