From Reel Block Pictures, Inc. and Select House Pictures, LLC. comes LOVE- A feature-length film by executive producers David Quinones, John Arrington & Clyde Salliey. Its a relevant and timely movie about two Africans-American lovebirds.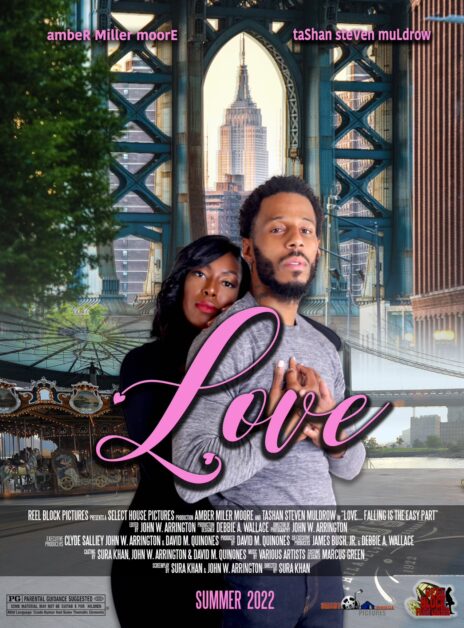 Say "Hello!" to Mason Moore (Tashan Steven Muldrow) and Brooklyn Jones (Amber Miller Moore). They are two ambitious souls who find out that falling in love is the easy part.
The film stars Mason (Muldrow), A wealthy successor to his family's wealth who meets Brooklyn (Moore), an
aspiring hardworking dreamer determined to lead the corporate office. The two share an instant connection after a glance meeting at a corporate party.
They soon begin a romance that finds them bonding over the love of music, food, and art. In a short time they become inseparable.
However, Brooklyn's boss- Mr. Bradson (Ken Driesslein) acknowledges that her hard work can make her an asset and eventually a partner. She decides to dig deeper and aspires towards her first love, success in corporate America. This leaves Mason alone and confused, and the couple's future stands in jeopardy.
LOVE is scheduled to premiere on Saturday, August 27th, 2022 @ 6:30 p.m.
at The Bombay Theater. The theatre is located at 6825 Fresh Meadow Ln, Fresh Meadows, NY 11365.
Immediately following the premiere, LOVE Producer David Quinones, Clyde Salliey, and John Arrington will join a Q & A reception with the stars Tashan Steven Muldrow (NY) and Amber Miller Moore MD).
David Quinones is also responsible for The Klein Syndicate, a pilot that is the Genesis of a New One-Hour Television Series that highlights turning points in the life of street hustler, Calvin "Klein" Bacote. He was also known on the streets as
The Brooklyn Don. The Series Pilot is a bridge linking to the Unfolding of a True and Profound Crime Saga.