Jake James is an anomaly in the music industry, and he's here to prove he has the talents and skillsets to make it in the big leagues.
Classifying himself as an "up-and-coming white hip-hop artist who's serious about his craft," the rising star sees himself on par with the greats such as Eminem, G-Eazy, and Mac Miller. From public housing to moving to Manhattan and working on Wall Street for most of his life, James creates music from the heart, touching on life topics and issues we can all relate to.
He states, "I got the business experience, I loved it but music has always been my passion since I met Mac Miller when I was a kid. Now, I'm transitioning into music full-time. It's been crazy. I think I'm applying more pressure than most artists out here right now coming up, that's my goal."
While he currently spends his day job working as an investment banker, Jake's whole trajectory on what his true dreams are have now completely shifted to music. With his undeniable lyricism and storytelling ability, James even caught the attention of GRAMMY Award-winning producer Street Symphony, who went on to executive produce his newest EP aptly titled The Earnings Season. The 6-track project is spearheaded by lead singles "High Grade" and "Count It Slow."
To coincide with the project release, James shut down SOB's in New York, bringing out special guests including Lola Brooke, HDBeenDope, Curly J, and Ace General.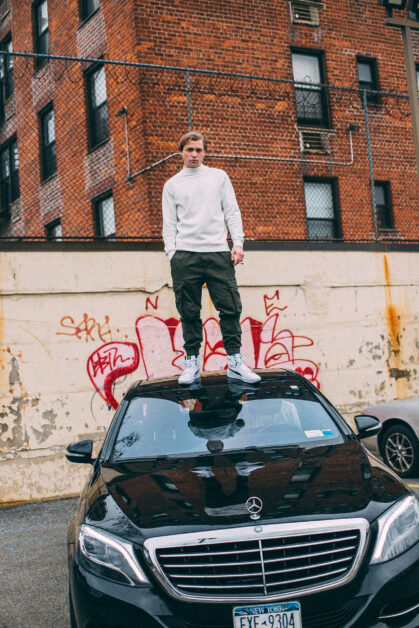 AllHipHop: What was a young Jake James like growing up in upstate New York?
Jake James: It was different, I grew up in a town with 1000 people. I now have 15K Instagram followers, so it was a weird feeling for me growing up around a lot of people who were cool with the middle-class normal life. I wasn't, I never thought that way. I actually left high school when I was 15 and ended up going to college. I skipped high school and started working in business on Wall Street when I was 17, moved to the city. It was a way for me to set my trajectory elsewhere and know what I wanted in life. I saw a lot of normal middle-class life going on. A lot of people are happy with that lifestyle or they pretend to be, I knew I'd never be. It's just a part of my process.
AllHipHop: At what point did you realize you wanted to pursue music as a career?
Jake James: I always knew I could. Because when I was younger, I started going viral a lot, just doing little remix videos in Upstate. I knew that I had a talent. I went down to Manhattan and started opening for people like Dave East, G-Unit, and a couple other people. I knew. Just the reception I was getting, I knew. I spent a lot of my life on Wall Street so this is my first year of releasing my music commercially. My first single dropped back in February. I dropped a video, it went viral, then Buckwild – who's a legendary producer – had reached out to me. That's how I dropped my first single.
AllHipHop: What was the music video that went viral?
Jake James: I dropped a remix of "Ribbon in the Sky" by Rod Wave. It got reposted by a bunch of repost sites, it got 70K views the first two days. Buckwild had DMed me. Buck produced "I Got A Story To Tell" by Biggie and a lot for Big L, so that was my introduction to hip-hop. Once that happened, I thought "there's a reason I'm doing this. There's a reason for me to be here, create this path." Hell yeah.
AllHipHop: What did Buckwild say when he DMed you?
Jake James: He just DMed me the prayer hand emoji. At first, I'm like "what? What's he DMing me the prayer hand emoji for?" We went back and forth, I sent him some music. I knew who he was because Biggie's my favorite rapper hands down, so I was very excited. He sent me a beat, he didn't even charge me for it. It ended up being my first single, "Boss Thoughts," earlier this year. Shout out to Buckwild.
AllHipHop: Were you opening up for Dave East and everyone before you ever dropped music?
Jake James: Yeah! Basically, I did a lot of footwork at first. I did showcases with a lot of people. I did showcases with Dave East, we did G-Unit. We did Moneybagg Yo. We did Funk Flex, DJ Clue, a lot of people. It was basically me getting my name out there in the early stages, but I knew I wanted the right team and right structure behind me before I really launched everything. That's where I am at now.
AllHipHop: What's it like working on Wall Street? You're still there right?
Jake James: I'm in my final days of Wall Street right now, because tour next year seems to be the plan. Early top of the year. I started on Wall Street when I was 17. I come from a low income background. Got evicted when I was young, ended up moving to public housing. I knew I needed to understand money to get where I wanted. Wall Street was the way for me to do that. At a young age, it was a way for me to get by in Manhattan. You ever move to Manhattan when you're 16/17 with no financial backing, it's a trip. Wall Street was a means to an end for me, but I learned a lot in the process.
Right now I work at an investment bank, one of the bigger ones in the country. I lend money to hedge funds, private equity and asset managers. It's a lot of hard work, but it teaches you the work ethic that you need to succeed in any industry. If you apply that same work ethic to music, there's no way you can fail by any means. Shout out to Wall Street, but the creative side of me is more important. [laughs] I got more to offer.
AllHipHop: You have a song called "Count Slow," which is a Wall Street anthem. Talk about blending both worlds.
Jake James: That was the first visual that really introduced the Wall Street life. That record "Count Slow" was produced by Street Symphony. That's my guy, Street's my A&R now. Street Symphony did a lot of Nipsey's later music. He produced Victory Lap, "Hustle & Motivate." He did "Young Black America" for Meek Mill. I got linked up with Street, he's a two times Grammy winner. I was hungry so we did a whole project together.
"Count Slow" is the first time I really introduced any of the Wall Street aspects into the music. We went straight to Wall Street with a motorcade for the music video, to show visually what life on Wall Street is like. Because a lot of people never met anyone from Wall Street. That video got picked up, started going viral in certain places. No Jumper reposted, shout out Adam22. I'm just trying to give the world something they've never seen before, it's my truest self.
AllHipHop: How does it feel to be working with these legendary people?
Jake James: It's a blessing. It's motivation for me. I've always believed in myself but having people who are platinum plaqued up and Grammy-winning, just shows me I can do whenever I want. There are not many white rappers that take them so seriously outside of Mac Miller, G-Eazy, and Eminem. Gotta be the next up at some point. [laughs]
AllHipHop: The Earnings Season EP out now! How are you feeling?
Jake James: Feeling great! It was a dope project. Me and Street, that was our first collaboration together. He executive produced that. Lots of long hours in the studio down in Atlanta. Did 100K the first day, which I was very happy about. Streaming very well. We debuted at SOB's. I'm not sure if you've ever been to SOB's in Manhattan, great little venue. Height of Covid, we debuted it. We brought out 300+ people, which was a surprise because a lot of people were afraid to pop out. It went really well so far, I'm going to keep pushing it. Street and I are going to work on a collab album for top of the year. That's the next step. Shout out to everyone bumping The Earnings Season, love y'all.
AllHipHop: What was it like having that many people come out? That's not easy independent.
Jake James: I had sold out SOB's a couple years ago, a showcase structure with many other artists. This is my first time trying to sell it out myself, with my name on the ticket. My manager and I booked the opening acts ourselves. We booked the venue directly so it's a lot more pressure that way. When you go into the venue and meet the venue owner like "okay, we got this." [claps]
We really had 10 days to pack out. We booked the venue 10 days in advance. For me, it showed me that I have a lot of love in my city. I wasn't expecting 300+. It's a 400 person venue, we damn near had it at capacity. It's a blessing for sure. I love performing, and I love being able to connect with people. You resonate more when you're in front of them, telling your story. I want to keep going bigger from 300 to 400 to 5K, 15K to 50K. We'll see.
AllHipHop: Were you nervous at all?
Jake James: Nah, I don't really get nervous. I was excited because I haven't performed in New York since Covid hit. This was my first performance since Covid, so I was very excited. I hadn't seen my NY supporters in a while. I moved to Atlanta for most of the year to work with Street, so this was my homecoming for sure. We had Lola Brooke come out and open. We had Curly J come out and open, HDBeenDope,
AllHipHop: How did you handpick the guests you brought out?
Jake James: We had some dope people. Lola Brooke came out , she's been going crazy. She's definitely one of my favorite female artists in New York. She bodied her set completely. We had HDBeenDope, he was formerly with Roc Nation. He's a dope artist, he killed it. It was a chance for me to let other people get to know my fans and spread the love. Oftentimes, New Yorkers compete too much. They don't come together to use their collective interest. I had K Goddess pull up on me to support.
AllHipHop: "Money Over Everything" is super vulnerable. What were you going through recording this one?
Jake James: Damn, nobody ever asked me that question yet. [laughs]. As I entered the music industry, my life changed a lot. I used to live in Manhattan, had a very structured life working on Wall Street. I had a nice luxury apartment in Midtown. It was every day the same schedule. With that comes relationships. You're around people a lot more, you can develop closer relationships. Once music started taking off, I ended my lease. I started traveling, lived in hotels all around the country. Five, seven different cities. For me, I ended a serious relationship partially because of music. Music was taking off. It has some negative impacts on people when stuff goes well in the music world.
AllHipHop: She wasn't supportive?
Jake James: She was supportive, but you can't always give people time to the extent that they want it when you're trying to come up. I'm sure you've probably seen that in your own career a couple times. Sometimes you just need to go your own way, especially if you're never going to be around in your city. [laughs] It's something that keeps happening back to back with me. Even though you want love, love is great, you meet lots of beautiful people, it's not always the right time. God dam, mama raised a heartbreaker I guess. [laughs] We here.
AllHipHop: How important is money to you?
Jake James: Money is super important. It's an instrument though, it's not important for the sake of being rich. I've always wanted to be wealthy so I could help people. I was evicted when I was young, I moved to public housing. Money doesn't make you, but it can definitely break you. At that point, I was at rock bottom when I was 16 years old. I never wanted to live off of food stamps for the rest of my life. For me, it was a tool. I know with my experience on Wall Street, I was able to raise money with my independent label privately to fund what I'm doing, instead of going the major label route off rip. Money is important, but it's important to understand that it's an instrument, a tool. It's not the end goal by any means. Nobody denies wanting money. [laughs]
AllHipHop: You're into cryptocurrency, also a financial advisor. How do you balance everything?
Jake James: Yeah, without a doubt. I'm a crypto trader, definitely. It's a little crazy, you have to stay engaged. I'm passionate about trading and finance too, it's always been a passion for me. It's nothing I had to go out of my way to learn or force myself to do. I have a nerdy side, I have a hip-hop, street side to me. Crypto is super important, it's a way for me to earn passive income. I made thousands of dollars in crypto that I used to pay for stuff like hotel rooms and flights, all that stuff. Rather than having a label advance, when you can make it on your own it's helpful for you as an artist. I'd encourage any artist to learn about crypto and investments. It takes a little bit of time but if you take a couple hours a day, you could really run up some crazy money.
AllHipHop: You have a song called "Big Dreams." What are your big dreams?
Jake James: I feel like the dreaming phase started when I met Mac back in the day. At first, I wanted to be an influential artist who helps people believe in themselves. Go take the reins of your own life, that was really my goal at first. But now, it got way bigger. Now that I see that I could actually do it, I could scale my music career and scale the business side of things. My long-term dream: I want to be one of the biggest white artists of all-time. Like I said, the Mac Miller's, Eminem's, the G-Eazy's are top-tier. Nobody's really broken that. I work with G-Eazy's team a lot so shout out to G, he showed me love this year.
For real, I want to build my career to the highest point it could be, and add the business aspect to It. Add the enterprise mentality like a Jay-Z. No white artist has really done that yet. I want to start my own fund, my own investment company, like J acquired portions of different companies and really built an empire. All love to Mac Miller, that was never really his goal. He was just an artist. For me, there's a business side to things as well. Once I get my initial come up, initial network, I know how to scale that and build a real business out of it. My clients right now manage anywhere from 35 billion to 6 trillion. I've moved billions of dollars myself. I've moved over $3 billion this year. If I apply that same knowledge, same skillsets later in my life, I could really build something big.
AllHipHop: What're you most excited for next?
Jake James: There's a couple of things coming up next year which I'm really looking forward to. Top of the year, I'm really focused on this collab album with Street Symphony. I've never had features on my projects before so this would be the first time I'm introducing features. My first time really getting the co-sign from a major producer like Street, so I'm excited for that. Y'all could keep a look out for that.
We're looking for a tour announcement pretty soon, y'all will see that. We're going to go on tour next year, which I'm excited about. That's been a big thing with Covid that I haven't been able to do, but looking forward to it. Trying to hit as many cities as I can. Project with Street, tour, and something more recently that came up, like I said I came up loving Mac Miller in the early days. His music didn't speak to me as much later in his life, but me and Big Jerm are working on a tape. Jerm is Mac Miller's main producer and engineer. I had sent him a lot of music. Some I did with Street, he really loved it so we're working on something. More to come on that announcement. Street project, Jerm project, and tour.
AllHipHop: How old were you when you met Mac Miller?
Jake James: What's crazy, I met Mac when I was probably 13. VIP tickets at one of his shows. That's really what inspired me to start in the early days. Rest in peace to Mac Miller.
AllHipHop: What was your favorite song of his?
Jake James: That's hard. "PA Nights" is one of my favorites by him.
AllHipHop: Anything else you want to let the people know??
Jake James: If you guys haven't, please check out my second EP The Earnings Season. Out on all platforms. Much love to everyone who came out to SOB's. Keep a look out for next year, we ain't stopping. We ain't slowing down. I'm excited.