KIR is Philly's best-kept secret. When it comes to Hip-Hop, KIR delivers on all fronts.
Aptly titling his new EP Hometown Hero, the rising star speaks his truth with each bar, each punchline, each lyric. The 8-track project details KIR's journey from the bottom, as he works his way into the mainstream light focused on nobody but himself.
"I'm different," KIR states, "I'm living proof of what all these rappers speak about. Who they say they are, I really lived this stuff. My message comes different, especially to the people that know where I came from."
KIR is living proof of his rhymes, spitting nothing but the real of things he's been through and had to overcome. Those who are familiar with his background already know what type of time he's on: constantly giving the masses motivation in some form or another. Whether it's an old fan or new, KIR hopes his listeners can realize this is something everybody can get through. Being real is more authentic, and people are able to relate.
AllHipHop: You're from Philly, what was the household like growing up?
KIR: I had a big household: grandma, 12 cousins. I learned a lot from my cousins, especially my little female cousins. My mom went over to the war, she went back and forth from Iraq. My dad wasn't really around, I had to depend on my family to show me the roots and all that.
AllHipHop: Biggest influences coming up?
KIR: When I was younger, I used to listen to a lot of T.I. and Jay Z. Now around this time, I like Tory Lanez, the Drake's. I like all types of music. Not even gon' lie, it's not even rap. I like all genres. That's how I come up with a lot of my music, I listen to all of the genres of music. Depending on what type of music I'm in, I'll listen to another genre of music, but rap's the most influential in my music career.
AllHipHop: Who are your favorite MCs? Because you're a real spitter.
KIR: Hov is one of my favorite MCs, T.I., Beanie Sigel, Jadakiss. I had a couple, it's really a lot to name for real for real. Jeezy, I used to love 50 Cent a lot. They're my type of artists.
AllHipHop: At what point did you realize you could do music for a living?
KIR: I played ball, I didn't really rap. I was in college for basketball, but I had a homie that rapped. I was managing him, he was a little lazy so I decided to do it myself one day. When I went in there and did it, the response I got from everybody was positive. I continued to put out music. After I started gaining a little fanbase, it gives you even more of a push when people telling you you motivate them. It made me want to keep doing it, keep motivating other people.
AllHipHop: Mont said you went to jail, came back home and got the streets poppin'. How long were you locked up for?
KIR: I was locked up for 2 months. I got locked up back in 2019, it was almost 2 years for attempted murder. I ended up bailing out. My whole thing was when I was locked up, when I get home I'm doing everything I didn't do. When I came home, I took advantage of every opportunity I had. Being home, people don't really take advantage of the opportunities they got. They think they have enough time. When I got locked up, damn let me think ahead within the snap of a second. I gotta take advantage of every opportunity I got while I was there. When I came home, I went all in.
AllHipHop: What did you learn from behind bars?
KIR: Appreciate everything you've got and the people in your life. They can be gone, especially being from the streets. The things people go through in the blink of an eye, your life can be taken away or someone close to you. You gotta appreciate the people and things in your life. Before I got locked up, I was super materialistic worrying about the wrong stuff. When you're in jail, none of that is there. It's walls and beds, all you can rely on is the people you can call and the people that's gon' keep your mind right. When I came home, I'm strictly family. I don't even call people friend no more, because they're the same people who tried to tarnish my name when I got locked up. It's strictly family, that's what I cherish the most. I try to tell other people: cherish what you've got.
AllHipHop: What was the inspiration behind your name?
KIR: My name's Shakir, so KIR is short for it. That's my neighborhood name. I ain't gon' change it too much. No confusing name, I kept it simple.
AllHipHop: You released your new project Hometown Hero, how you feeling?
KIR: I feel great about it. I haven't dropped an EP or a mixtape in 5 years. I only didn't do that because I felt when I dropped a project, people looked over a lot of the music that I'm like "yo, you all hear this?" I started focusing on singles and gaining the attention. When I felt I had enough people listening, alright I'ma drop an EP. My whole team said "yeah, you need to drop the EP" I dropped it. First week and a half, it did 200K streams so we capitalized off that. We piggybacked off that. We got a lot of announcements coming soon, we keeping the momentum up. It felt like the right time to drop the EP, it was a goal.
AllHipHop: Why do you feel like the Hometown Hero?
KIR: For real, the EP was named In Due Time at first. I always wanted the next tape I drop to be In Due Time, but we all sat down and I've been the hometown hero in my area for forever. I was going to name it Neighborhood Hero but a homie of mine had a mixtape like that so I wanted to make it different. I made it Hometown Hero because around my area, a lot of people not doing what I'm doing. When people say they in the trap, they really trap. In their minds, the only way out is to sell drugs. I'm living proof of somebody in the streets that went to college, came back, got twisted up in the streets again, got right back out and started doing music. Nobody believed in me to get anywhere with music. Now everybody in my neighborhood, my city's looking like "yo, you got it." It's hard to gain people's attention like that, make people pay attention. For people to already think I made it, I don't even think I'm a quarter there. In their eyes, they looking up like you're a hometown hero.
AllHipHop: Talk about the meaning behind the cover art, you got the street signs and the photos in the background.
KIR: It really doesn't seem like a whole lot of thinking, but it really was. The bulletproof vest represented where I'm coming from with all these deaths, shootouts, all this crazy stuff I got going on in my life. I wanted the bulletproof vest to represent protection, but the street signs were my area. The pictures are all memories of homies that passed away or blessings that came into my life: my kids or me achieving something. Every picture had me achieving something, a blessing, or me losing something. I wanted to put that all in one.
AllHipHop: You say you slept down in basements, now you have racks on racks. How do you view your come up?
KIR: When I first started the music. it was the hardest thing ever because I didn't understand business. I'd see an artist shout out another artist like "damn I was just around this artist, they ain't pay me no mind." It's politics, it used to frustrate me a lot. When I was down and out, I didn't have nobody to promote my music or no cosigns, it depressed me. It kicks you down, you gotta overcome that. All that I'm achieving now, I appreciate it but the sky's the limit.
AllHipHop: How does it feel to reach over 4 million YouTube views on your channel?
KIR: That's a big achievement for me, I used to get 100 views a week on my videos. Once you understand the business and how to market your music, that's what I really want artists to understand. Everything else is good, the cosigns, but you want that core. You want that dedicated fanbase because that's what matters. We're about creating leverage over here. To be honest, I could've been signed a deal but it wasn't going to be right for me. I wanted it to be right and make sense to me, the only way to do that is if I had some type of leverage. I had some type of footwork put in where I could do this on my own. What somebody else brings to the table would be nothing but building the brand.
AllHipHop: Talk about becoming a DIY marketing pioneer in Philly, I know you run your own Youtube and IG ads.
KIR: I'm on that heavy. So many people haven't seen your music. With the internet being out, there's no way people should be complaining about nobody seeing their music. You need to be putting your money in the right places. The ads are important, whether people believe it or not. These labels are putting hundreds of thousands into ads, people don't really see that. That's another thing, people aren't getting the business part. I'm here to shed light because a lot of artists don't know about that. Everybody wants somebody else to jump up and do something for them when you can do it yourself.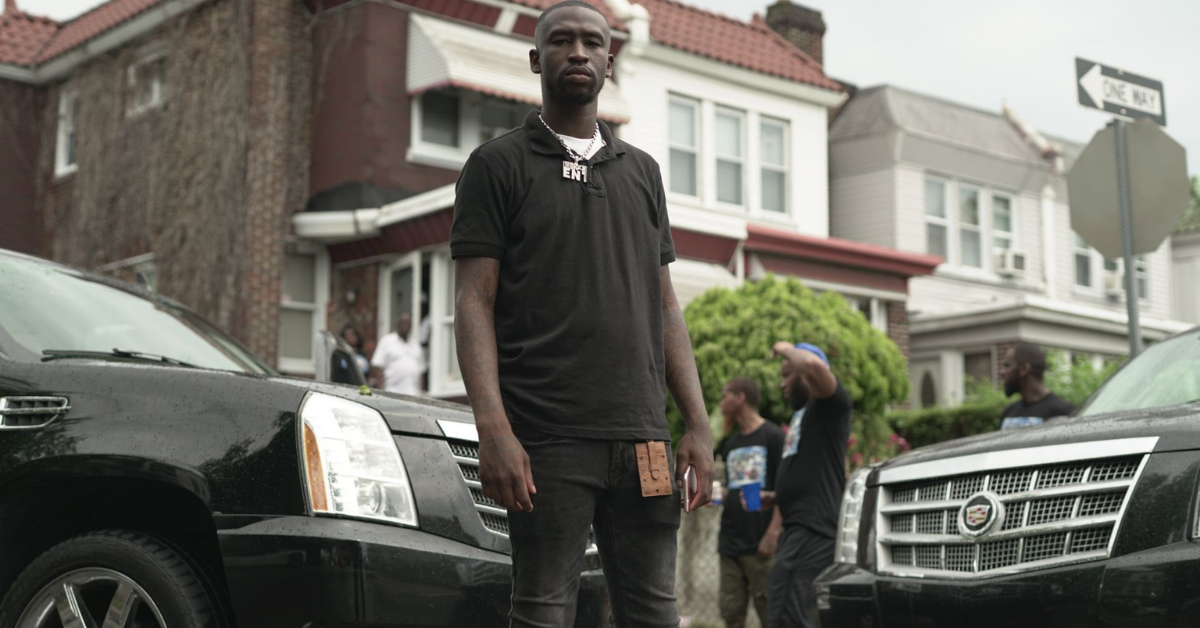 AllHipHop: You've received a few label offers, talk about the independent grind and why you chose to stay independent.
KIR: I wouldn't never throw no dirt on a label, right now it's the best thing for me to stay independent because I have so much more to do. If the right deal came, I'll be able to sign right now. It's highly unlikely that what I want is going to come today. I want it to make sense to everyone around me. When I get on, I don't want me to be on, I want everybody around me to be able to benefit. When the team's strong, there's no falling. We're trying to put everybody in a position where everyone can benefit off the situation.
AllHipHop: What is the situation you'd be looking for?
KIR: I'm not picky, but I got a lot of little things I need. Not one thing but all in all, I need something putting me and my brand on the frontline. To be like that, you have to be rolling already. Have things going already. You can't be a low class act coming in saying "I want to be on the frontline." If you got the footwork in, you already frontline in the streets and you're trending, they have no option but to jump on this. I want that to be the main thing that'll make me serious when they talking to me. "If we jump on this, we need to put this ahead of a lot of things because it's poppin' right now." I'm poppin' in my own way. I know it's going to happen when you gain those fans everyday, it's a matter of time.
AllHipHop: What does it mean to be spreading the "Ghetto Gospel"?
KIR: That song was from the heart. I lost someone close to me. That 's off the top of my head, really some pain music. I cried after that song, that really means something to me. That's why I didn't shoot the video yet, I can't. It's a lot behind that. Out of all the tracks on the EP, that's the most emotional track.
AllHipHop: What were you going through?
KIR: 2019 before I went to jail, my homie died. A crazy series of events the way he died, it touched me. I done lost friends behind the situation, people I thought were close to me. Me going to jail right after, I went to jail the same day as the funeral so I didn't even get to see him. I put all that in the song, a special song right there. When I shoot that video, I know a lot of people fon' feel that. I want people to be able to feel it so I don't want to rush it.
View this post on Instagram
AllHipHop: How does it feel to have the co-sign from Charlamagne?
KIR: That was fire. Charlamagne, Jadakiss blew up my music. I appreciate all that because there was nobody co-signing or speaking on my name. There was nothing, I was a neighborhood rapper. To hear people like that shouting out, that's dope. Means a lot.
AllHipHop: What about PnB Rock and Jadakiss?
KIR: PnB Rock, that's my guy. We had dinner when I was out there in LA. Jadakiss, we had a conversation a few weeks ago in the DM. He's telling me to keep going. As long as you're doing what you gotta do, somebody's going to notice you. You gotta keep working. I used to get discouraged about nobody noticing but as long as you're working, somebody will see it.
AllHipHop: What made you do no features on your project?
KIR: That was a real big issue, my team always wanted me to do features with people. I don't have no problem getting features but I want to show people you don't have to do the typical "we gotta get someone on the song." I want people to listen to my EP like "yo, he's fire." Not "this song's fire because of this rapper." I wanted them to hear it like "this song's fire because it's fire." I want it to be undeniable. It's been so long since I dropped a tape, I wanted all the feedback to be about me and how people felt about that EP.
AllHipHop: What can we look forward to next?
KIR: We got some big announcements. I should be having a show with Moneybagg Yo and Roddy Ricch in February. I'ma keep knocking these videos out, I definitely have some features coming up. Now I'm going to start dropping the feature tracks I've got since the EP's out already. Definitely expect good things, you'll all be hearing my name way more.