Bullpen Battle Rap League's Mecca card proved to be the surprise battle experience of the year, while also serving as a triumphant homecoming for its boss, John John the Don.
The battle rap culture has been preoccupied with rumors about who people are dating, Jimz being exposed as an alleged racist and people violating contracts. It's nice to have an event where the entire buzz around it was "who can rap better."
Held at the Yonkers Arts Project Space, the event kicked off with two electrifying undercard battles: CNG TY vs. Quwan Da Rebel and Taj Milli vs. Wavyington. However, the real magic ignited when Cortez and Philly Haze took the stage as the main event.
There was something special from the jump when they both took the stage. The battle was top-notch good and a great introduction to the Mecca event.
The battle between these two Latino kings was nothing short of extraordinary, with both MCs delivering hard-hitting bars and clever jokes. Philly Haze showed immense promise as a rising star, impressively holding his ground against the seasoned veteran, Cortez. 
He was clean, clear and consistent— which for a battle rapper is always a plus. He also did an insane freestyle that used every word on the wall, displaying his talent and showing his teeth—he wants another plate.
Cortez was his extraordinary self, leaning on his pen and personality to comfortably amuse the crowd before him. When the Murda Ave vet gets in his bag, with flow switches and name flips, it's hard to deny the Puerto Rican king is one of the best to ever do it.
This was one of the best offerings either have had this year.
The intensity continued with Lady Caution and Bonnie Godiva stepping up next. The clash between these two queens was nothing short of an inferno, leaving fans in awe of their lyrical prowess. Fans were treated to a confident LC215 that's been cooking all year.
She admitted Bonnie was her first vet and she treated her with the respect she deserved. Bar heavy, it's easy to forget just how small-framed Philly princess is. She barks like a Mastiff.  For Bonnie, she was home and comfortable in her pocket. As a Yonkers native, she knew the crowd intimately and gave them what she's known for and what they all wanted: bars, jokes and clever wordplay. Another classic (and sure the word gets thrown around a lot but …) battle.
Next up was another female battle between the godmother of battle rap, E-Hart, and Cashflo Rizzy.
E-Hart is another Yonkers native, born and raised on the streets of one of New York's extra boroughs. Her opponent was Norfolk's Cashflo Rizzy.
Rizzy was getting crazy with her offering. She had to—she was standing in front of one of modern-day female battle rap's first few real legends. She stood 10 toes down on the stage and competitively earned the respect of other lyrical giants in the building. She was amazing. But … E-Hart was more amazing. Like Bonnie, she was home and not leaving the stage without a body, pulling out all of the things that has made her so revered.
Watching E-Hart rhyme is akin to watching Floyd Mayweather box. Just like others walk away from a Money Team event with a complete sense of satisfaction (regardless of how great the other opponent appeared to perform), that's how it feels seeing E-Hart.
The headliner featured John John Da Don facing off against Jae Millz in a battle of swag and lyrical prowess. Jae Millz brought his star power to the stage, backed by the likes of Murda Mook and Loaded Lux, promising an epic show.
The former Bad Boy star was in his bag. His rhymes were concise and relevant, flossing on JJDD with the 20 years of experience he has under his belt. He was funny. He was present. He had people on JJDD's side grimacing and in the haymaker of the night had Tay Roc and Smack White, who were in the building going crazy.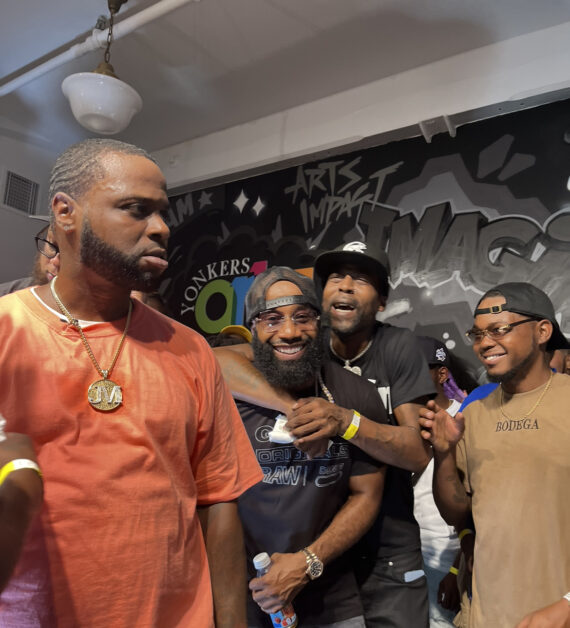 Now, John John was classic John John: EXTRAORDINARY!
One of the best to do it, it' shocking he was able to pull the event together and rap had such a high capacity. That's what's interesting about JJDD—he just performed at NOME IMPACT and washed two of the Ultimate Rap League's top newest talents and now, he's standing in front of Jae Millz, who was on the first SMACK battle ever with the same energy and hunger. While this battle is arguably one of this writer's favorite back-and-forths of the year, it's important to note the Yonkers/Atlanta MC has another battle coming up in a few weeks (as well as hosting a tournament for his Bullpen league).
The event drew a star-studded audience, including battle rap luminaries like Ike P, Krissy Yamagucci and Phara Funeral, as well as members of the Ultimate Rap League team who brought the "HBO Real Sports with Bryan Gumble" film crew to capture some footage for an upcoming piece on the league.
Smack White was there to give a Certificate of Recognition from the Yonkers' City Council that read: "We, The Yonkers City Council, join with the City of Yonkers in Honoring John McGhee, a young African American raised in Yonkers, who went on to become a renowned battle rapper, creating his own league. Going on countrywide tours and lending financial advice as well as exposure to up-incoming battle rappers."
It was a good call because Bullpen represented all the phenomenal things that are right with the culture with the card— and if you want to check it out, the Pay-Per-View is available on Caffeine on Sunday (July 30) 4 p.m. local time.