Recently surging Memphis rapper AR the Mermaid spoke about her run of successful releases and the label bidding war that culminated with her signing to 300 Ent.
Concluding 2022 with her futuristic visual for "Get it Straight," and a follow on Instagram from none other than Drake himself, AR has set the bar high for 2023.
Hailing from East Memphis AR the Mermaid got her start in music singing in the church and spending her time in and out of singing groups until she eventually started rapping solo in 2018. 
From there AR the Mermaid started gaining momentum with her smoked-out gun-toting music video for "Let A Hoe Play." In an interview with Jake Crates, AR the Mermaid explained her rise to success.
"It's smooth when it comes to the rap sh*t now, I just got their attention with the rap sh*t. I don't even know how the Youtube videos went viral other than the marketing we did on Let a Hoe Play, it's all just my fans and supporters."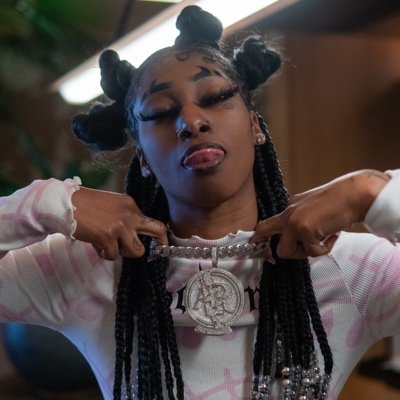 Interweaving her bars with R&B vocals, AR the Mermaid has struck a chord with the underground Memphis rap scene and freestyle rap fans alike.
"My music is so f**king crazy right now, I don't even know how to describe it. It's a mixture of a whole lot of sh*t, it's versatile as f**k. I got a joint from Sada Baby, I got some s### in the works with Rico Nasty. I really just got a whole lot of songs with a bunch of artists coming for fans real soon. 
Culminating 2022 with a highly regarded Instagram follow from none other than international superstar and OVO ringleader, Drake, one could make an argument that this 25-year-old talent is next up when it comes to female rappers. 
East Memphis artist AR the Mermaid reveals how Drake followed her….
Completely surprised by the unexpected follow, AR the Mermaid said Drake liked her story or an image, so she checked her DMs to see if he reached out. 
"The first thing he said is he f#### with Memphis," AR the Mermaid said. "I don't know, I just saw he liked some sh*t or something. I was like, 'ain't no way it's Drake.' Then I went to his page and I followed him back, I checked my DMs to see if he messaged me and he said he couldn't sleep and s###. Said he was checking out my flow and said keep going on the s###." 
Highlighted by her unique Gengar Pokemon-inspired eyebrows, AR the Mermaid has a style that's all her own. 
"I love the color black, but my style is a mixture of how I may feel on any given day. I may do a 70's look with my hair or whatever, I just do what's me and how I feel.  I would say it's really weird but it's just a mixture of a lot of s###. Like my eyebrows are from the Gengar character in Pokemon."
With a strong independent mindset and an entrepreneurial spirit, it's obvious why the major labels are in a bidding war for her unique personality and music. 
"I'm from East Memphis, I grew up in Mississippi too, but I grew up in the church. I started off doing R&B singing, then I joined a lil group at like 15,  I left them at like 17 and then took a break, then started rapping at 21 – I'm 25 now, so I'm ready to get to it."