If you're a fan of the television show BMF, then you're probably excited as ever as Season 2 is officially underway. The series is inspired by the true story of two brothers, Demetrius "Big Meech" Flenory and Terry "Southwest T" Flenory, who rose to become two of the biggest drug lords in the history of the United States.
Currently two episodes deep, this season sees a much larger role from La La Anthony, who plays Markisha Taylor, wife to a flamboyant drug dealer. This time, women are at the center of the storyline… and who better to call on for the part? La La Anthony has come a long way since she was a VJ on MTV, and her enormous platform continues to inspire and motivate females all across the world.
BMF is 50 Cent's newest passion project, following the success of Power — in which 50 also casted La La in a major role as Lakeisha Grant. In fact, La La recalls hearing about the BMF story when she was in high school and Atlanta. Talk about full circle!
AllHipHop spoke with La La via Zoom, the same day Episode 2 aired. Read below as we discuss her excitement for BMF, knowing 50 Cent for over 17 years, producing a film with Issa Rae, love for hip-hop, dating, averaging 4 hours of sleep a night, and more!
AllHipHop: How is your day going?
La La: Good, I'm just wrapping up the day. I had an early early start today, I was on the TODAY show this morning. I got started at 5am so I'm dwindling down, but I'm good.
AllHipHop: BMF out now, episode 2 just dropped. How are you feeling, now that the show has kicked off?
La La: I'm so excited. The feedback has been amazing, people love the story of Meech and Terry and BMF. The first season was incredible. The first episode, people went crazy for us. Everybody's locked in now, watching the episodes and getting more invested in the story. This is the first season where you see my character a lot. You see that relationship between my character and Terry really start to form and everything that comes out of that relationship. It's a very complicated, toxic at times, interesting relationship that all women could probably relate to, in some sense. It's a good ride that these two take the audience on, for sure.
AllHipHop: How do you prepare for a role like that?
La La: The great thing is BMF is inspired by a true story. It's about the Flenory brothers, Meech and Terry. We were able to talk to people in their family. Obviously, Lil Meech is playing his dad, so you can ask him all the questions about his dad. Everything we needed was right there with us. 
For a lot of BMF, we shot in Detroit, which is where the BMF story started. We got to meet the family, we filmed in the house that Terry and Meech grew up in. To go back to their house that they grew up in was crazy, to be able to film there. It's great when it is based on a true story because you have the resources you need all around you.
AllHipHop: How was it filming in Detroit? Was it cold?
La La: It was cold, but it was fun. Detroit is such an incredible city, and just going as a cast. We hung out together, had dinners together. There's casinos in Detroit, so we were able to have fun. We really made it a great experience. Being able to see the places that Meech and Terry grew up at, the places they used to hang out at. The places where certain memorable moments happened at. To be able to be there and film in these places and see that was such an incredible moment. It adds to the authenticity of the show.
AllHipHop: Do you have a favorite scene or standout memory from filming?
La La: Definitely. In Markisha's marriage, because she's married, she's dealing with domestic violence. Domestic abuse. I wanted to handle that really carefully and safely for women out there who have been through that, just honor women who have been through that and made it out. Women who are going through that, support them. There was an episode where we dealt with that. That was really hard for me, but I just hope I handled it in the right way. Really took some time to give love and support to women who have made it out of those situations and women that are still in those situations.
AllHipHop: Coming up in Atlanta in high school, hearing about BMF. Did you ever think you'd be here now playing in the actual TV show?
La La: Definitely that thought never crossed my mind. To be able to be a part of it and be a part of anything that 50 is involved in is something I'm always so excited about. I'm always ready to go. Coming off of Power, which was such an incredible show, and now being on BMF is a dream come true for me. I don't have any complaints on this side. I'm definitely super excited. We're about to start filming another season of BMF, which is exciting as well. It's great that we're able to keep it going.
AllHipHop: What was your initial reaction when 50 Cent came to you with this?
La La: I was like, this is incredible. We love working together. I've learned so much from 50. He's such a mentor for me, he's such a smart person. When he said it's time to rock and roll on the BMF side, I said tell me when you need me and I'm there! We just got it going. It's been an amazing experience.
AllHipHop: Talk about the bond that you and 50 Cent share.
La La: We've known each other for 17 plus years from the Get Rich or Die Tryin' days, when I was a young MTV VJ and he was a new rapper promoting his stuff. We hit it off then and we've stayed friends through all these years. We always said when it made sense to collab on something or do something together, we would do that. We did Power, BMF, and we're producing some content together. We're keeping it going. 
Just great to have people in your network that are smart, are successful, can help you with opportunities, things that you guys can do together. That's how people continue to grow and build. Most importantly, continue to make opportunities for other people that are coming up in the game.
AllHipHop: You said you're producing, do you have any ambitions of doing more in the film industry?
La La: For sure, producing is it. It's amazing to be able to identify content that you feel is important and bring it out to the world. I have a movie I'm producing with Issa Rae called Juju. 50 and I have a couple of projects together. Producing is another incredible way to get stories told that need to be told, and that are important to us as a culture. I'm happy to be on the producing side as well, and acting is my passion and what I love to do.
AllHipHop: How did you and Issa Rae come together to work on a film? That's epic.
La La: We had been friends. I told her I had this idea, we sat down for dinner one day. I said this idea would be great, she loved it. We partnered up and the name of the film is Juju. We're in the works now to get that into production, hopefully really soon.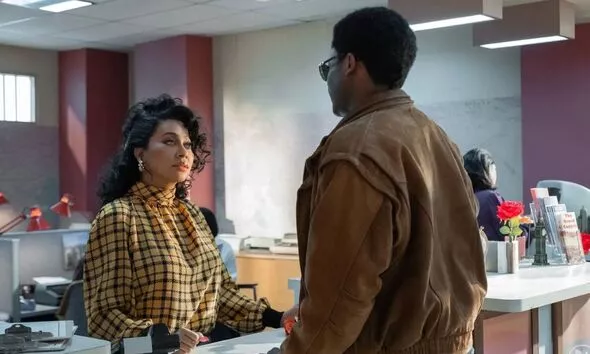 AllHipHop: Can you give me a teaser on what Juju is about?
La La: Juju is like Mean Girls meets The Craft, so it's really cool. It's set in New Orleans, high school kids that want to be cool. Want to fit in. Whether it's through social media, all the things that people use now to feel like they're cool. They start dibbling and dabbling in witchcraft and realize that things don't always go as planned. But also realizing that it's better to be a leader than a follower. Embrace your flaws, embrace what makes you different. It's such a powerful message, especially for younger teens out there that are dealing with self-esteem issues and issues of fitting in. It touches on all of that, so I'm super excited about it.
AllHipHop: You're a mother, you do so much with your career.How do you balance everything?
La La: Well, I never sleep. I've realized, I never sleep. That's the way I balance it all, I don't sleep. And that's not a good thing,I need to sleep more. But I'm blessed with incredible family and friends that helped me to be able to do it all. Every mom says that about their kid, but my son is the most incredible human and he makes my job of being a mom so easy. I love him so much. We all band together as a family and we figure out ways to make it work, to where everyone feels supported. Feels loved. They say it takes a village, we all gotta work together.
AllHipHop: Kiyan had some basketball scholarship offers, how does that feel? Just following in..
La La: His dad's footsteps, it makes me really proud of him. He works so hard. I've never seen someone so dedicated when it comes to being in the gym and working out, staying so focused. Still paying attention to his grades as well, he's just on it. He deserves everything that comes his way, he works really really hard for it. We're going to continue to support him. If it's God's will for him to go far in the NBA, we'll be right there cheering him on. If it's not, whatever he decides to do, we'll still be there cheering him on.
AllHipHop: You've stated that men in their 20's are DMing you, what is it like dating in your 40's?
La La: [laughs] Listen, whatever God and the universe has for me is for me and I'ma leave it at that. I'm enjoying this new chapter in my life, this phase of my life, just having a good time. Whatever's meant to be will be. 
AllHipHop: How do you stay so snatched?
La La: I told you, I don't sleep. [laughs] I should be in the gym a lot more. The thing about me is I haven't been consistent. I love boxing. I'll get my modes where I'm super focused, then I fall off. I'm definitely trying to find some consistency in my routine for sure.
AllHipHop: Can you tell us about the Murda Mamis?
La La: Oh my gosh, that was when I was so so young. It was a group of female DJs that band together and looked out for each other. That's when I was on the radio on Hot 97, we banded together. It was all about female empowerment, supporting females in the communication space and everything. Shout out to them, it was awesome.
AllHipHop: Have you ever tried to rap?
La La: When I was younger, I did. I was younger, I just knew that I was going to be a rapper. Clearly that didn't work out but that was then, and this is now.
AllHipHop: How serious was it?
La La: It was serious. As a teenager, I really thought that's what I was going to do. But my career, my life took a lot of different twists and turns. I'm still happy to do what I'm doing and I'm still in the music business. It's great to still be able to be in the entertainment music business, in a different capacity. I'm such a fan of hip-hop and music, so I get to still be a part of it.
AllHipHop: This year, Hip-Hop celebrates its 50th anniversary. What does Hip-Hop mean to
you?
La La: I always say hip-hop is the soundtrack to my life. I started my career as an intern because I was such a fan of hip hop, that I wanted to be around music all the time. I started interning when I was 16 years old at a radio station, just to be around music and my favorite artists. Just be able to embody that. That's how I started my entire career, was chasing hip-hop. It's definitely the soundtrack to my life and the springboard into how I became what I am today.
AllHipHop: Do you have a Top 5 all time?
La La: All time MCs? Oh Nas, everybody knows that. I don't think there's anybody — Nas is 1 2 3 4 and 5 for me. When it comes to lyricist and MCs and everything, I've been a NAS fan since I was 14, 15 years old.
AllHipHop: Do you like his new record with 21 Savage? 
La La: I do. I like how they came together as brothers and  got on that track together after people were trying to say different things. It was such a mature way to handle that, definitely a way to show other people in the industry how to handle stuff when the media or the naysayers tryto cause division and beef between people. It was great that they were able to do that.
AllHipHop: It's 2023, do you have any New Years resolutions?
La La: I just said I want to balance my life a little bit better. Have me time, have time to do more trips. I work a lot, I'm with Kiyan a lot. I could probably balance my schedule and my life a little bit a little bit better, so that's definitely something I want to work on in 2023.
AllHipHop: You said you don't get any sleep. How many hours are you averaging per night?
La La: Oh my God, it's not good. Probably about 4 hours? That's what I'm working on that too. I had a friend recently tell me I need to get a sound machine. I need to do this, I need to do that, to get myself more relaxed before bed. Look, I'm open to trying anything. So I bought a couple of new things that'll hopefully get me to sleeping more, so I can keep doing what I'm doing. 
AllHipHop: That reminds me of Nick Cannon, he said he doesn't sleep either.
La La: I know. It's like our minds are constantly going and constantly thinking about the next day what you need to do. It's nice to shut down sometimes though. I'm definitely gonna take the advice of a sound machine, a sleeping mask, whatever it takes to zone out and be able to go to sleep.
AllHipHop: Do you have a favorite thing you do for self-care?
La La: Honestly, when people think of self-care, they say "okay that's me time." But my self-care, I love being with my son. I love going to his games, that's actually fun for me. I love being able to step away from what I'm doing, be there for him. Hanging out with my son, to me is my self-care because I enjoy it so much and we have so much fun together.
AllHipHop: What're you most excited for next?
La La: Definitely BMF, the rest of the season. For people to watch it, see what people's reactions are. I have a new movie coming out on Netflix at the end of this month with Eddie Murphy, Jonah Hill, Nia Long, Lauren London, so many amazing people. It's called YOU PEOPLE, Kenya Barris directed it. I'm looking forward to that, some really cool projects coming coming down the line that I'm looking forward to.
AllHipHop: I was with Nia Long at the Missing red carpet premiere. Talk about the synergy on set with so many legendary actors and actresses.
La La: It was amazing! You want to be on a set that feels like family, and that's how that set felt. We all got really close on that set. Hung out together, had dinners together, did things together. It was it was an incredible experience and that will shine through, even in the film. Because the film's about two families from completely different backgrounds coming together. You'll see that family loving vibe, even when you watch the movie. I'm glad we were able to do it and feel that love. I made friends on that set that I'll have friendships for life, that's always a great thing.
AllHipHop: Thank you so much La La. Anything else you want to let us know? 
La La: Nah, that's it. Thank you so much for today. Thanks for the interview. I've always been a fan of you guys. Thank you so much.