Millions tuned in to see the Jake Paul versus Ben Askren fight on Saturday, April 17 on the Triller Fight Club card, hoping to see if the social media influencer will emerge victorious. They also wanted to see if Snoop was gonna win that $2 million bet he made with Dana White.
Well, the action pack night made those folk very happy— as Jake Paul and Snoop won real big.
URKEL IS BACK!
In addition to the fights, viewers were entertained by top-tier talent curated by Snoop Dogg, one of the Triller investors. The pre-show skits were hilarious but might have hinted at another business deal from the "Gin and Juice." Jaleel White appeared as his popular TV character Steve Urkel. The spoof pretended that Urkel was an executive at Triller giving Snoop a contract. He also pitched a street fight component to Triller where people can upload hood bang-ups to Triller for fans to watch like a boxing Onlyfans app. This form of User Generated Content would make money for both Triller and the amateur brawlers and they would do a subscription-based revenue share.
White also took advantage of the throwback by promoting his cannabis line, Purple Urkel.
Plot twist of the decade so far is Jaleel White, who fought to be known as something OTHER than Urkel, embracing the character again for a new business venture lol https://t.co/OOf419IwIh

— Monsieur Moderna (@PercivalPenman) April 18, 2021
The main event didn't go on until almost 1 am, Sunday morning but the whole event was enjoyable from soup to nuts. Dashed in between the fisticuffs were performances. At 9 pm (EST), The Black Keys opened up the night.
Here for @theblackkeys! #TrillerFightClub pic.twitter.com/8H9WHllcN5

— TRILLER (@triller) April 18, 2021
The was the Reykon battle against Joe Fournier, where the Columbian reggaeton performer lost his first fight.
Down goes Reykon!!#TrillerFightClub pic.twitter.com/rQ2Svvwrz7

— FITE (@FiteTV) April 18, 2021
The newly single Saweetie took the stage to perform "Best Friend" with Doja Cat, "Tap In," and her hit song, "That's My Type."WESTMORE DEBUT!
MT. WESTMORE DEBUT!
You can do it put your back in to it. #TrillerFightClub pic.twitter.com/s1oHGv4p4Q

— TRILLER (@triller) April 18, 2021
While those Billboard Top 40 acts are attractive and sure to bring in a particular population, the real attraction (even over the fight) is the premiere of the Hip-Hop mega-group, Mt. Westmore.
Mt. Westmore is a collective made up of Snoop Dogg, Ice Cube, E40, and Too Short. All four of the stars have not only experienced an exponential level of success with songs that canvas over four decades, but they are also simply iconic.
First up was E40 who was stunting with a black and white Louis Vuitton bomber with a fur collar. Dripping with the Yay all over him, he performed some of his hits: "Choices (Yup)" and his part on Big Sean's "I Don't F**k With You."
Next from the group was Too Short who did some of his party-starters, "Ain't Gone Do it," "Blow the Whistle," and  "Shake that Monkey"  featuring Lil Jon & the East Side Boyz.
Ice Cube then took the stage to perform two songs from his catalog, "It Was A Good Day" and  "You Can Do It."
The last of the West Coast mega-group was Snoop Dogg, the person pulling everything together. He performed "Gin and Juice" and "Drop It Like It's Hot." During the Pharrell-produced song, the Death Row superstar had pole dancers come out as he swagged all over the place with his personalized Snoop Lion mic.
Snoop also premiered a new song – "How You Feel Now."
Now for the moment, everyone had been waiting for … the stage is dark and the fans see four black thrones with red lights illuminated from the back with the rap stars sitting from stage left to right: Too Short, Snoop, E40, and Ice Cube.
🔥🔥🔥🔥Mt. Westmore💥👊🏼💥💯💯💯👑👑👑👑 pic.twitter.com/pbPTIeRTEp

— KillAtWill (@RawFootageDiva) April 18, 2021
The new song is fire as the chorus ranged out with, "Big soft woofers in back, plus I blow the windows out the frame; it's a party when I pull up!"
It's a party when I pull up 💨 #mtwestmore #bigsubwoofer #TrillerFightClub pic.twitter.com/5fcyMHguST

— Too $hort (@TooShort) April 18, 2021
The performance was only the start, according to sources the group is working on a project — sure to revive the West Coast dominance that they established in the mid-90s.
Snoop will drop a project on April 20th — three days after this historic night — titled From Tha Streets 2 Tha Suites.
RIC FLAIR, PETE DAVIDSON, AND THE SLAP CONTEST
No one expected the two Staten Island brothers to have one of the most bizarre and entertaining portions of the show. The Hall of Fame wrestler, formerly a Horsemen from the iconic NWA wrestling league, said that he said that he heard that the women in Buckhead called him "Peter the Pumpkin Eater." Clearly still a live wire from the 80s, he saw a young woman in a top and shouted with a loud "Woohoo, hey girl in the high school sweater!" To which Pete Davidson said, "You can't say that!"
The duo were the hosts for the Slap Strike competition between Da Crazy Hawaiian and The Bear Man. Slap Strike is a contest where opponents slap each other in the face super hard and the winner is the one that does not respond. Fans took to Twitter to share how much they enjoyed this part.
Da Crazy Hawaiian just knocked out The Bear Man in the SlapStrike exhibition during this Jake Paul vs Ben Askren PPV. Ric Flair was the "special guest" referee.

4th round.

— Ponza / Gordon (@PonzaLT) April 18, 2021
Ric Flair refereeing a b#### slap contest is still better than what he's doing on WWE TV. #slapstrike #woo

— Rudo Del P### (@ElRudoDelPedo) April 18, 2021
Slapstrike is ELECTRIC pic.twitter.com/YUIOMSmHWl

— The Reattack (@TheReattack) April 18, 2021
Might not speak Spanish, but it says it all.
Tengo entendido que en este show rancio de Box, habrá una pelea de cachetadas (slapstrike) y el réferi será Ric Flair.#TrillerFightClub pic.twitter.com/dus5gpUrtn

— Jabroni (@Jaburoni) April 18, 2021
The winner was Da Crazy Hawaiian and let's just say you don't ever want to get him mad.
DOJA CAT DOES HER VERSION OF JANET AND JOSIE
Doja Cat ruled her performance when she and her background dancers came through with black double-breasted suit jackets on, sick choreography reminiscent of Janet Jo's "Rhythm Nation" uniform. The outfits were perfectly tailored to show off their bodies and the itsy bitsy briefs underneath the jackets. Doja Cat's hair was coiffed with a wet curly wig and her caramel-complected face was accented by violet-purple eyeshadow.
The next song that she did for the views was "Freak," the single that has sparked the viral  #silhouettechallenge. When you see the dancers, they are now stripped down to hot pink cheetah-print teddies, looking like the Black girl from Josie and the Pussycats. The next time we see the singer, born Amala Ratna Zandile Dlamini, she is in a pink cheetah latex bralette with straps that connect down to matching bottoms with fishnet stockings with a Dolce Gabbana belt.
Another costume change was in order for when she did, "Kiss Me More" a new jam featuring TDE's SZA.  The South African-Zulu and Jewish-American mixed chart-darling rocked a cheetah bubble jacket over her bathing suit. It is clear by her performance that she is watching the vets.
Snoop and the Triller team then announce their new NFTs based on Jake Paul's last battle's knockout and the one from that night. Within three minutes of the announcement, the auction of the first NFT was over $1 million.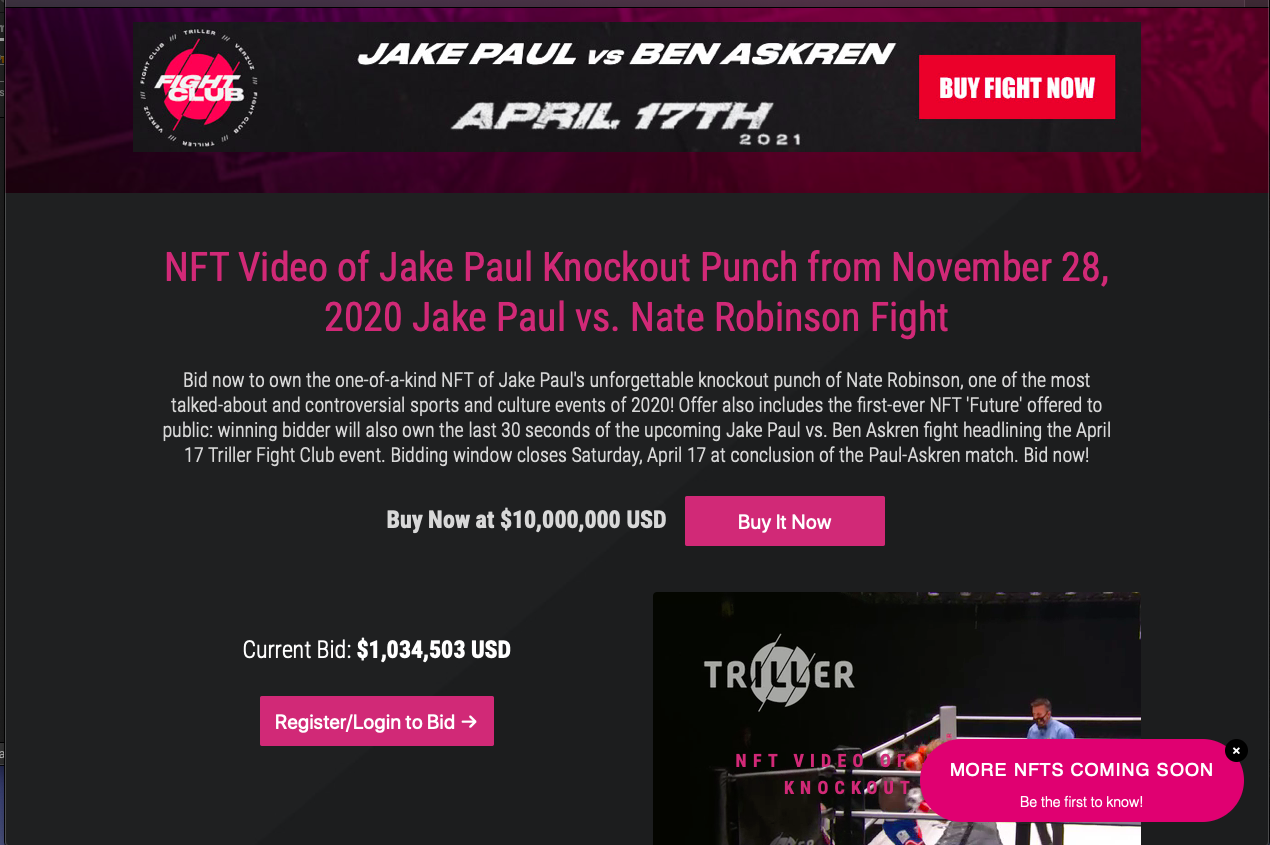 After this announcement was a touching tribute to DMX.
OSCAR DE LA HOYA COMMENTATES AND DROPS NEW FIGHT
Oscar de La Hoya pulled up to the "Triller Fight Club" to announce his new fight on July 3. While he did not say who is his competitor, he did say that it would be someone great. He also said that he was inspired by Mike Tyson to get back in the ring after 14 years of retirement.
He joined the team to analyze the Frank Mir and Steve Cunningham fight.
The highlight of this bout was that Frank Mir's daughter Jennifer, an MMA champion, was in his corner helping coach and refresh between rounds. The professional boxer was up against former Navy vet, Steve Cunningham who in 2013 beat Tyson Fury, who was noticeably smaller than Mir (75 lbs. less).
#SteveCunningham vs #FrankMir is LIVE NOW on #TrillerFightClub! @thefrankmir pic.twitter.com/PxtjXcPFGF

— TRILLER (@triller) April 18, 2021
Triller's Fight Club is totally different from any other boxing league anyone has ever seen. Noticeably, the commentators were a mixed bag of funny. De La Hoya was leading the jokes as he appeared either drunk or high. In fact, one host said that they all have contacts from the weed in the air.
Steve Cunningham for the win!! #TrillerFightClub pic.twitter.com/78RchiV2X6

— TRILLER (@triller) April 18, 2021
At the beginning of the fight, Oscar kept commenting on Steve Cunningham's physique, saying that he loved it — highlighting his abs.
.@usscunningham takes the decision victory over Frank Mir!#TrillerFightClub pic.twitter.com/7052HIkj3G

— FITE (@FiteTV) April 18, 2021
The next performer was Major Lazer who rocked his jam, "Diplomatic" featuring Guaynaa.
DIPLOMATICO LIVE ON #TRILLERFIGHTCLUB WITH @GUAYNAA_ @TRILLER pic.twitter.com/fchHUPQ8bz

— MAJOR LAZER (@MAJORLAZER) April 18, 2021
WAIT … JUSTIN BIEBER DON'T WANT TO BE BLACK NO MO'
There is something about these Justins (him and Timberlake) that jump in and out of Black music. As the anchor artist of the Triller Fight Club event, he basically told his "urban" fans that he ain't care about which Biebs we wanted to see. He was gonna give us his new beige version, steep in his Canadian roots and not the swag Atlanta groove that put him on.
Justin Bieber gave us out-of-tuned versions of "Hold On," "Somebody" and ending with the no longer R&B pop version of "Peaches."  Usher's old protégé is pure vanilla, purposely not singing melodically (not caring about the soul-light runs he used to present).
He didn't dance like he used to…  alternatively opting for stomping across the stage in a stiff (dookie pants) shuffle. Orange beanie, white top and black skinny jeans, and pyro elevated by "I am really mean this" stomp with a slam-dancing prance across the stage.
MAIN EVENT: JAKE PAUL VS. BEN ASKREN
.@jakepaul vs @Benaskren is LIVE NOW! #TrillerFightClub pic.twitter.com/vBXmfPYJry

— TRILLER (@triller) April 18, 2021
For this fight, the main event, Triller brought out celebrity ring announcer, Mike Buffer.
Part of being a star is knowing how to make an entrance. Jake Paul, the Problem Child, came in with an 8-foot robot that looked like a Transformer.
RT @SavinTheBees: Jake Paul: My security guard passed away

Robot:🕺🕺🕺🕺 pic.twitter.com/81LlZpeHv4

— #RapidReplay (@RapidReplays) April 18, 2021
One of the best entrance songs in the business.

Here comes @Benaskren #TrillerFightClub pic.twitter.com/chnOQ9rzyA

— FITE (@FiteTV) April 18, 2021
Ben came in … but it was uneventful. Just like the fight … which was over in 1 minute and 59 seconds.
Will @jakepaul get Ben Askren out before the second round?#TrillerFightClub pic.twitter.com/FEjkVdA3EJ

— FITE (@FiteTV) April 18, 2021
Jake Paul, who has been under a cloud of frustration over the last few weeks, won with a knockout. Ten days ago, his bodyguard Shadow died. Just this week, he was hit with sexual assault allegations (one that Pete Davidson brought up to him in pre-fight banter). But the spirit of his friend must have been present because just as Shadow predicted, Jake Paul won in the first round.
.@jakepaul has stopped Ben Askren in the FIRST ROUND!

Did you agree with the stoppage?#TrillerFightClub pic.twitter.com/GqbsSlnuxA

— FITE (@FiteTV) April 18, 2021
Shadow cast some light on Snoop too, as Uncle bet Dana White $2 million that the YouTuber would win over Ben. Snoop was quick to say, "pay up."
How it started. #TrillerFightClub pic.twitter.com/AqR5Q6ibMk

— TRILLER (@triller) April 18, 2021
Round 1. #TrillerFightClub pic.twitter.com/3BMU7043yq

— TRILLER (@triller) April 18, 2021
Congratulations @jakepaul! #TrillerFightClub pic.twitter.com/Zb61yoSnhE

— TRILLER (@triller) April 18, 2021
Reacting to Paul vs Askren R1 👀 #TrillerFightClub pic.twitter.com/pjwbouXz9H

— TRILLER (@triller) April 18, 2021
One fan will also have to pay up, as they purchased the last knockout as an NFT for $1.1 million.