Real talk. Real Education. Real Solutions. Rahiem Shabazz has been on the front line in this conversation around the ills within education and has put much of what he has found in "Educational Genocide." a DVD that chronicles the school to prison pipeline. AllHipHop talked to the ATL rep and got his thoughts on the topic and then some.
Talk about systemic racism.
America began as a settler state with deep roots in white supremacy and evolved into what we call today, a national security state. Our problem in America is a continuum problem; it's a problem of white racial domination in all sectors of society. We don't have to look no further than the police force and educational system to see the reality of racism and white supremacy.

Why is it hard for people, Black, white and others, to identify this as fact?

I believe those who live far outside the colonial enclaves can't identify that systematic racism exist and possess a vastly different view from the rest of the world. In West Baltimore, one in four juveniles is arrested and the unemployment is 58%. In Ferguson, MO last year, 86 percent of stops, 92 percent of searches and 93 percent of arrests were of black people — despite the fact that police officers were far less likely to find contraband on black drivers (22 percent versus 34 percent of whites).
Both cities are entrenched in poverty and became the focus of the media attention, due to riots.
What made you create the documentary, "Elementary Genocide"?
For me it's always very important to find a way to put myself in the struggle and facilitate the use of my knowledge and experience. I took great pleasure in doing so as a hip-hop journalist and now I find it equally rewarding, to do the same as a filmmaker.
After becoming aware that our public education system was suffering from illiteracy, racial discrimination, I knew I had to tell this story. I had to tell it in a way that would resonate with educators, community leaders, stakeholders and concerned parents. Elementary Genocide is more than a documentary; it's a call to action.
What do you think about what is going on in cities all over the nation, particularly Baltimore and other hotter spots?
We are living in a historical moment and time, where the youth will not allow our elected officials to espouse their neo-liberal economic policies, that is nothing more than plantation politics.
Our struggle today comes out of the struggle to redefine humanity. Whether, it was the movement for independence of Africa, the civil rights or the Black Power movement, all of these struggles were attempting to redefine what it means to be human to the oppressor.
In the 60's they said, "Black Power" today the youth say, "Black Lives Matter".
The community of Baltimore and Ferguson lived under a state of Emergency their entire life, it's just recently the world got a glimpse of what that life is like.
If this generation can't break and shatter the glass ceilings in the ivory towers of corporate America, so they are afforded equal opportunities, then the glass on the store front windows of corporate entities, will become shattered by bricks and lit ablaze by Molotov cocktails.
Where does education factor in? What about education out of the classroom?
The public education in the United States doesn't afford black and brown youth the same opportunity as their white counterparts. It's just as racist as the police force. We see this with the suspension and expulsion rates. Across age groups, black students are three times more likely than white students to be suspended. Students who are suspended or expelled from school are more likely to drop out, and those dropouts are more likely to end up with criminal records. This is what fuels the school to prison pipeline. There is a need for restorative justice and to re-examine the need to suspend students for minor infractions.
We must also look at the teacher force in America, which is 73% white and mostly female. The majority of them are culturally, racially; linguistically different than the students they are entrusted to teach. We are the only group of people who allow those who oppress us to educate our children. The teacher needs to reflect the community they teach in and possess a deep affinity for children.
This is why I support home schooling. I believe, the family is the community's smallest school and the parent is the first teacher.
Do Black people need white people in this struggle? As you know, historically whites have played a role.
Historically, white played a role in the struggle. Today, I see many of them joining in the protest, seeking to be on the right side of history. However, being black will always separate one from the poor whites, who masquerade as allies of the struggle. They can change into a thousand dollar suit and pretend not to be in our class or belong to our struggle. Our suit is permanent.
White allies want the youth to be more like Martin Luther King Jr., and often times seek to change the narrative from "Black Lives Matter" to "All Lives Matter". White lives don't need to be affirmed–a whole society exists where the affirmation of white life is a basic premise.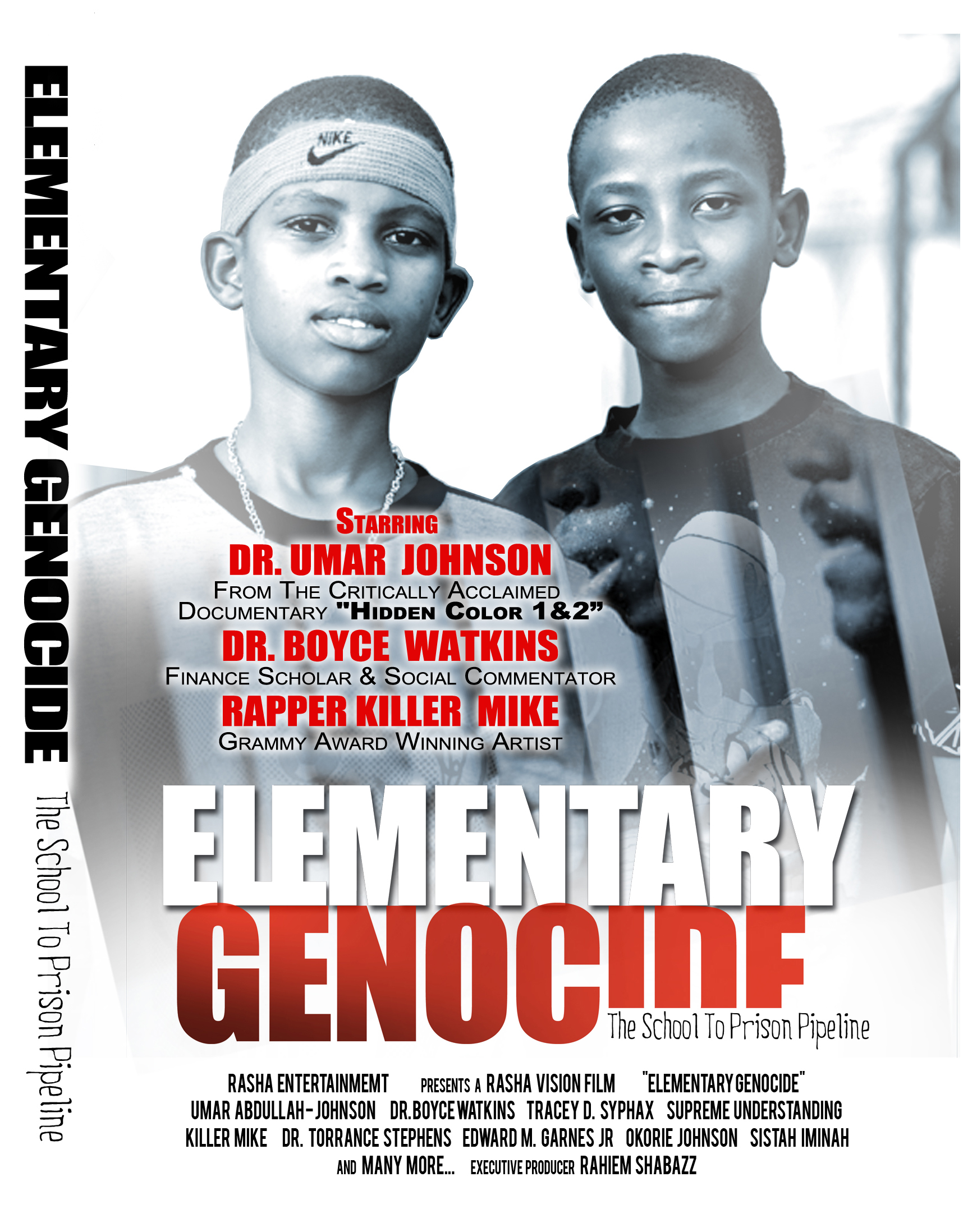 I think society underestimates the rage blacks have been suppressing since the days of the civil rights movement. The youth today will not compromise their principles or barter away their humanity.

What is next?
Currently, I'm continuing the conscience-raising dialogue generated by "Elementary Genocide: The School To Prison Pipeline" with the equally hard-hitting "Elementary Genocide 2: The Board of Education vs The Board of Incarceration". The documentary features interviews with noted educator and Black psychologist Dr. Umar Johnson, fearless former U.S. Congresswoman Cynthia McKinney, former political prisoner and Black Liberation Army co-founder Dhoruba bin Wahad, popular social commentator Dr. Boyce Watkins, award-winning education reformer Dr. Steve Perry, White House champion of Change Winner & Author Tracey D. Syphax and more.
The Board of Education vs The Board of Incarceration uncovers the true purpose of today's educational system and how it's failing the African child. Going beyond the school-to-prison pipeline headlines and conspiracy theories, The Board of Education Vs. The Board of Incarceration proves that something sinister is afloat by digging deep to explore its origin, its existence and how to plot its destruction to save every Black child.
Twitter: @RahiemShabazz
Facebook: Facebook.com/RahiemShabazz
www.ElementaryGenocide.com
Elementary Genocide: The School To Prison Pipeline
[youtube https://www.youtube.com/watch?v=rgMvXoj_LXY]
Elementary Genocide: The Board of Education vs The Board of Incarceration
[youtube https://www.youtube.com/watch?v=UOqaPZh_VIg]