Another New Skool Rules festival is in the books.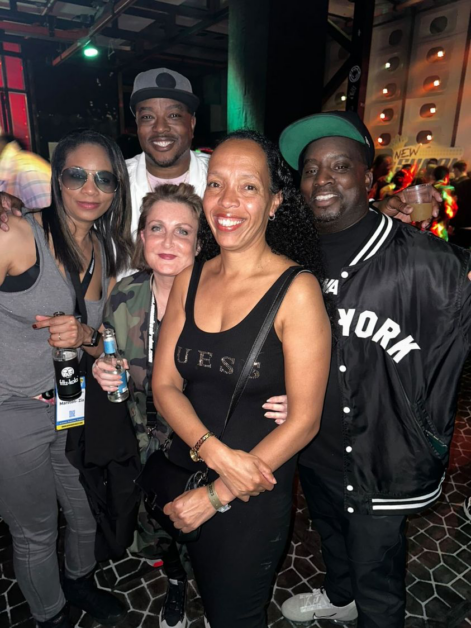 The Rotterdam, Holland-based festival attracted thousands of attendees and managed to compete with a number of events. The festival is a unique value proposition in the global music landscape. Music industry professionals from all over the world come to Rotterdam to exchange ideas, network, watch performances and more.
New Skool Rules is not your average music festival. It is a unique platform that celebrates the artistry and diversity of urban music genres, including Hip-Hop, R&B, Afrobeats, and other eclectic, global sounds. Artists, producers, and industry professionals from all over the world gather in Rotterdam to exchange knowledge, share their experiences, and connect with like-minded individuals.
The parties are always lit as well.
The brainchild of Henca Maduro (seen center above), New Skool Rules completed its 11th year on Sunday May 14th. This year Henca and partner Greg Struiken continued their advances with the New Skool Rules app, streaming portions of the festival and also offering a dynamic social media presence. New Skool Rules delegates did not disappoint with an amazing range of music offerings down to complex, organic networking. 
After the festival, Henca expressed relief, exhilaration and thankfulness for another NSR completed. 
"I'm still exhausted and overwhelmed even a little bit with gratitude," she said. "So many people participated in the jam sessions, writing camps, panels, workshops, demo listening sessions, rhymes and beats, speed dates. From more than 20 countries. We are blessed and grateful."
One of the highlights of the festival was a friendly "hit maker" battle with Bongo (Kanye West, The Game, Lecrae, Teyana Taylor), Troy Taylor ( Troy Taylor, The Isley Brothers, Aretha Franklin, Whitney Houston, Boyz II Men) and Verse Simmonds (Chris Brown, Usher, Rick Ross). 
Other featured speakers included lawyer Bob Celestin, digital maestro CL Llewelyn, AHH's Chuck "Jigsaw" Creekmur, Vanessa Cito, social media maven, Ben Wynter (UK label honcho), music business educator Ekaterina Bazhanova, music executive Sterling Simms, Gurj Summan, Live Nation concert/festival promotor and a host of volunteers, workers and contributors.
Oddly, some unexpected excitement came as Feyenoord, the Rotterdam soccer team, won the Dutch league title, causing a chaotic celebration during New Skool Rules. While it did not interfere, it did add an element of excitement. 
The New Skool Rules festival has continually fulfilled its mission of nurturing creativity, fostering collaboration, and promoting cultural exchange. It had become a beacon of inspiration for aspiring artists and a testament to the universal language of music.
The legacy of New Skool Rules continues, its influence moves far beyond the boundaries of Rotterdam. The festival continues to be a representation of artistic freedom, innovation, and the boundless possibilities that music holds.
For more, go to https://www.newskoolrules.com or @NewSkoolRules.