Russell "Block" Spencer has deep-rooted connections in the music industry, spanning from the Dirty South to the West Coast to NYC. This industry veteran's extensive career includes stints with 2Pac and the Outlawz, Suave House, Noontime Music, Sho-nuff Records, and Bad Boy South.
A decade ago, Spencer launched his own venture, Block Entertainment, and he's now in the process of rejuvenating his label with a fresh vision – "Rebuilding Hip-Hop Block By Block." This motto also serves as the title of an upcoming musical project from his company, which is home to artists like Gorilla Zoe, Kris Kelli, 48 Slim, Retro Tha Kid, and more.
Block is on a mission to reshape the landscape of Hip Hop culture, with a particular focus on nurturing the next generation of emerging talents. With a track record that includes helping kickstart the careers of artists such as Rick Ross, Young Jeezy, Yung Joc, and Ciara, Spencer possesses the insider knowledge required to identify future industry stars.
Spencer himself reflects on his journey, saying, "Noontime taught me how to craft a record, Suave House taught me how to nurture an artist, and Pac taught me the importance of relentless dedication to the grind."
AllHipHop.com delved deeper into Russell "Block" Spencer's insights, discussing his company's new social media campaign, upcoming projects, collaborations with a renowned actor-turned-singer, his role in shaping the next generation of music industry leaders, and much more.
AllHipHop: First of all, tell people a little bit about yourself and how you came to this place today. 
Big Block: Initially, I was… You know, I did a bid, and I… because I was raised in Atlanta, back and forth to LA, Watts, and I've always had an idea and a concept to do a rap group called Boyz N Da Hood. 
And that's all I wanted to do. I wanted to get out. You know what I'm saying? I get into the hustle and then do that group, and I was just going to retire. But coming through the music business, through Tupac and the Outlawz, to running Suave House, to running Noontime, which was a big production company. And then creating Sho'Nuff Records, me and Jazze Pha, which we founded Ciara and Jody Breeze. And I ended up signing Jeezy with Boyz N Da Hood, and then Jody, Big Gee, Big Duke with Boyz N Da Hood. And Jacquees, Gorilla Zoe, Yung Joc. 
AllHipHop: It makes sense now, because when Boyz N Da Hood came out, I was like, Boyz N Da Hood? It's Atlanta, why are they calling themselves that? It didn't make sense at the time, but you had-
Big Block: Yeah. My pops would watch… Since I went back and forth, so I got that culture in me too. You know what I'm saying? 
AllHipHop: Now how did that go? Because at that time, to give people perspective, Jeezy was probably the hottest in the streets, so to speak. 
I mean, as far as we were concerned, from the outside. And then he's also got this situation with Def Jam and Diddy. Diddy's in the mix, at that time. And that deal was with Bad Boy. 
AllHipHop: But how did you get Jeezy to even do this project? 
Big Block: Well, I managed Jazze Pha, so Noonie had the record business side, I had the street side. 
So every time Jazze would do some records for the street, they call me. So Meech called me and said, "Hey, I got an artist that I want Jazze Pha to produce." So when he pulled up, I was working on Boyz N Da Hood. And at that time, me and Trick Daddy was doing it. Yeah, yeah. Trick Daddy initially was one of the guys that I partnered with to do Boyz N Da Hood. Because at first, it was going to be like, a supergroup. It was going to be Trick Daddy, Sean Paul from Youngbloodz, T.I. and Jody. 
AllHipHop: Wow. 
Big Block: But I was like, that's a supergroup. People going to come back and say, "Oh, anybody could have done that," so I said, "No. Let's do some raw cats." So when Jeezy pulled up and I asked him then, like, do you want to be part of the group, he said yeah. 
So it went from there. Because at that time, a lot of people weren't dealing with the real street music in Atlanta. Radio wasn't playing nobody, all that. So I was in with Puff, and that's how that went. 
AllHipHop: How did you get down with Puff? Because that was kind of odd too. For me at least. 
Big Block: Well, coming through the whole Pac and Outlawz situation… because I was family with Pac and them family. I was family. 
AllHipHop: We're going to get there. We're going to get there. 
Big Block: Yeah. Because a lot of people like to ride the name and drop the name, but I was strictly family with Pac and I was just a person that was just there and I did what I had to do. But Kim Porter, she… When I met Kim, and Kim… Kim used to come around Kim heard the songs, and she gave it to Puff. 
AllHipHop: Oh, okay.
Big Block: And then Puff was like, "Man, let's go." But Dr. Dre was on it, and I was going to take it to Dre at first, but Puff didn't have nothing. And I just felt like that's better for me. 
AllHipHop: Yeah. I like how you're casually throwing names out there, like Dr. Dre. You know what I mean? 
Big Block: Just the truth. 
AllHipHop: Definitely. So Boyz N Da Hood, it kind of fizzled quick. Why did that happen? Is it because Jeezy left or is it because-
Big Block: Well, see, a lot of people think Jeezy left. Jeezy didn't leave. It was like, when I did the deal, it was supposed to been like Menudo, like when one make it, then I bring another one. 
And then the person that make it can come back and just help the next dude I bring in. That's what happened. Jeezy was on the side for two deals. Two albums. It was supposed to be the first album and then the album at the end of… If I do 10 albums, and then everybody come back and do the album. 
AllHipHop: Right. 
Big Block: So Jeezy was on the side, really, for one album.  Yeah. So he didn't leave. But what happened, him and Jody Breeze, they didn't get along. 
AllHipHop: Okay. Got you. 
Big Block: I wish now, I would have just told both of them just go do a one in the back, get that s### over with. You're f###### up my money.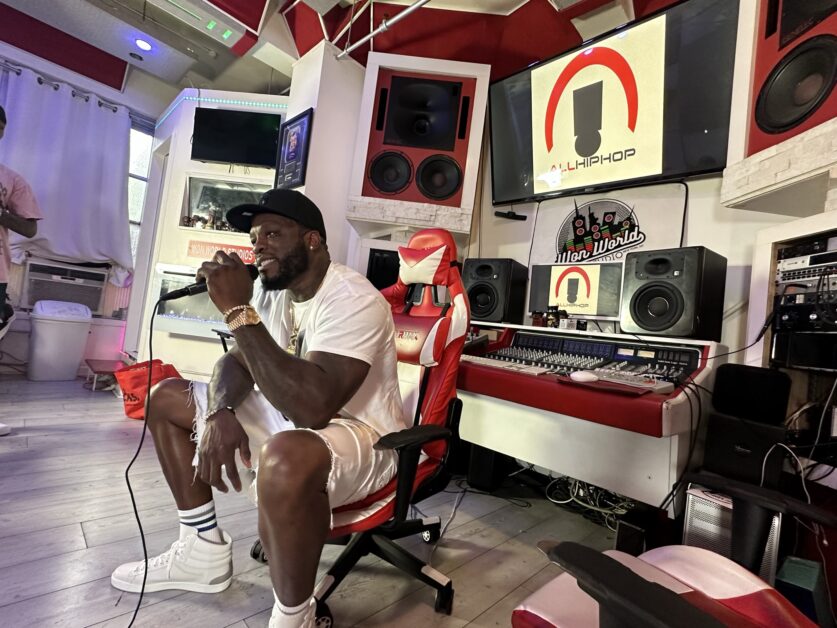 AllHipHop: Jody Breeze was a star at that time too, like-
Big Block: Man, man, Jody still the star.
AllHipHop: Yeah. 
Big Block: Hey, man, I got Jody too now. 
AllHipHop: Yeah? 
Big Block: I said, "We'll be back." Yeah. 
AllHipHop: Okay. Yeah. I liked him a lot. I liked him a lot. 
Big Block: Yeah, Jody the man. 
AllHipHop: So talk about your relationship with the Shakur family and Tupac and things like that, because that's something I really didn't know at first. 
Big Block: Yeah. I mean, that's how I got in the music business. I was introduced to Pac through his sister. I had a great relationship with his sister, and then I was just around. And I was just blessed enough to be around the family to see things and… You know what I'm saying? Like go in the studio and just see things, and kind of learn the business. 
AllHipHop: Yeah. 
Big Block: Just sit aside. 
AllHipHop: Yeah. 
Big Block: And then I ended up meeting Tony Draper.  One love to Greg Street, because Greg Street got some…And then Draper put me in position and that's when I signed Ross. I took Rick Ross over there to Draper, and then once-
AllHipHop: You had the jersey Ross, with the jerseys on and all. 
Big Block: Yeah. Yeah, yeah. Well, you know I had Ross when he was Teflon Don.  Yeah. So when Draper walked away from the game, then me and Greg Street took him to Ted down at Slip-N-Slide, and then Ted took him to Jay. 
AllHipHop: Got you. 
Big Block: Yeah, well that s### took us 10 years. From '96 to '05, '06. 
AllHipHop: Yeah. People don't know that. That-
Big Block: Yeah, this s### take time, man. 
AllHipHop: Yeah. Definitely do. Did you learn anything from Tupac? Did he-
Big Block: Man, you know what I learned, man? Stay in the studio and work, man. End up setting yourself. You know what I'm saying? Everything spiritual, man. 
Yeah. That's what I basically learned. Hard work. 
Watch the whole interview below.