By C. Dot
Something was in the air at Something in the Water 2023. The popular festival, founded by musical and conceptual genius Pharrell Williams, returned to Virginia Beach for the first time since the Covid-19 pandemic. The swirling rainstorms , thunderstorms and tornados disrupted much of the weekend that still managed to bubble over with with iconic moments. The festival also highlighted local businesses and state-grown talent. 
Day one of the festival, a Friday, started later in the evening due to the aforementioned weather. When things did clear up, fans were blessed with performances from Babyface Ray, Jazmine Sullivan, Polo G, Wale, Kehlani, Skillex, Kennybeats  and etc. Jasmine Sullivan sonically sounded amazing with her band and received praises from the adorning crowd. Wale's performance was dope, highlighting his Go-Go roots , and he also bought out his D.C. brother Fat Trel. Technical difficulties temporarily detracted from Kehlani's set, but once they were resolved, it was all good. On top of that, the Oakland, California native had a number of medical emergencies with fans during her set. She stopped her performance every time they happened.
EDM artist Skrillex had a very energetic and hype-beast set, but he wasn't even there. He defaulted to Kenny Beats because of the weather. Kid Cudi brought out Pharrell Williams, but that did not stop attendees from leaving early on the first day.
The second day was tough and the weather was more agreeable. The most best performances came SWV, Coi Leroy, Latto, Machine Gun Kelly, Kaytranada, Lil Wayne , Umi and Pharrell's and Friends set.
Some of the best, most interesting moments came outside of the actual performances. Coi Leray gave a motivational  speech at the end of her set, effectively engaging with the crowd. Rumors started that she was sneak dissing Latto. Latto reportedly returned fire and rumors quickly spread that there was a fight backstage. Whatever happened, did not metastasize publicly.
Latto set was very interactive, but her raunchy performance almost gave fans several wardrobe malfunctions.  Nevertheless, she utilized props, and her own energy to overcome any adversity. The Georgia rep also took a political stance for black women bodies during her set. When's he stepped down from the stage, she graciously took pics with fans and signed autographs. 
Pharrell and Friends was the best set of the night. P-Real brought out all of the heavy hitters like Busta Rhymes, P Diddy (who managed to go viral with his clothing) and son King Combs, Coi Leray, Pos of De La Soul, Lola Brooke, Chris Brown and more. All praise was due to the Neptunes King. Coi Leray thanked Pharrell and told crowd we need to respect our legends more. Similarly, Diddy forced the more-than-willing crowd to give Pharrell his props for the putting the festival together.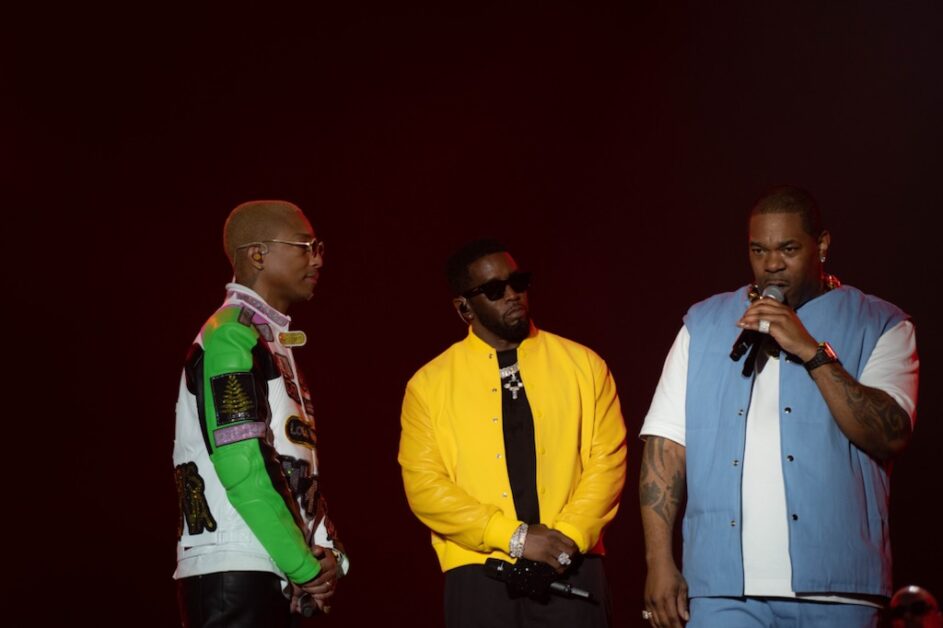 Day 3 was delayed for several hours and then cancelled. Fans missed  Grace Jones, the Clipse, Wu-Tang Clan, Nile Rodgers & Chic, Lil Uzi Vert, 100 Gecs, Aminé, Flo Milli, Lil Durk and more thanks to a looming tornado
Immediately, "what's going to happen next?" queries began to float around.
Pharrell revealed that next year's date for the festival would be different to address the changes in weather. The festival also suffered in 2019 due to the weather. We'll be here for the next one!