Will the real Nikki Hardy please stand up! 
Nikki, a tattoo enthusiast and world record holder for most tattoos of the same musician, is an ultimate Eminem super fan whose body is a canvas adorned with countless tributes to her favorite rapper, Marshall Bruce Mathers III.   
From the first time she heard "Stan" from the album The Marshall Mathers LP at 14, Nikki was smitten by Eminem's lyrical storytelling.   
After getting her first portrait tattoo at 19, she fell in love with the art of tattooing and just had to get more. Her passion for the rapper has led her to ink 50+ tattoos inspired by him on her body – and counting!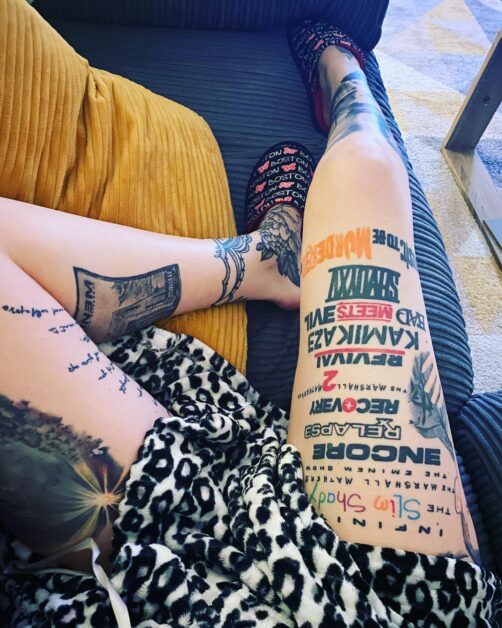 The 35-year-old, who lives in Aberdeen, Scotland, and works as a nail technician, never planned on becoming an obsessive fan of Eminem. She claimed "it was a gradual process" and that her love for the rapper "grew over time."   
She saw him perform for the first time when she was 17. She has since attended six more live Eminem performances, including a trip to New York to see him perform at Yankee Stadium in 2010. 
She regularly receives Eminem-themed merchandise such as t-shirts, hoodies, posters, and concert DVDs as gifts during Christmas.   
Reflecting on her first tattoo, Nikki explains she was 18 when she started getting small tattoos. A year later, she cemented her love for the rapper with a tattoo – a backward "E."   
"It's super tiny, like the size of a coin," Nikki laughed. "I wanted it because it's not too obviously Eminem, but that's kinda funny considering where I am now."   
Today, she holds the Guinness World Record for having the most tattoos of the same musician – with 60% of her body inked. Nikki required two tattoo artists and a dermatologist to verify the number of Eminem tattoos she had to be officially handed the world record.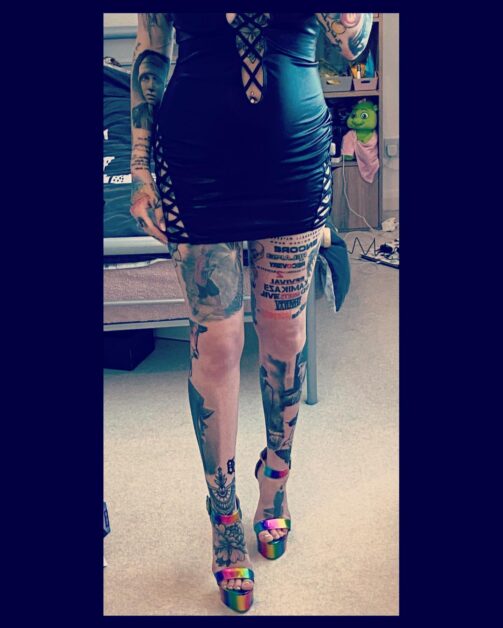 Hardy has 54 tattoos on her 5-foot-6 frame. 16 are portraits of the rapper, and 28 are Eminem-themed. She previously had some smaller tattoos featuring the rapper's lyrics, but her first portrait of Eminem was inked by tattoo artist David Corden in 2017. 
She stated this tattoo transformed her life and helped her shift from self-loathing to self-acceptance, especially regarding her body weight struggles. Subsequently, she visited Corden eight more times and had additional tattoos done by artists Yarson Stachowicz and Jay Hutton.   
Nikki showcases her tattoos on Instagram, informing her followers about media coverage and upcoming tattoo plans. Despite beating the world record, the attention she has received online has been overwhelming and challenging, as she has faced criticism and negativity in the form of comments calling her a stalker or questioning her marriage. 
Some comments focus on her love life, as people find it difficult to comprehend that her husband is attracted to her. She feels that these comments are based on her appearance and don't take into consideration her background or circumstances. 
"My Instagram is aimed at getting Eminem's attention, and I've even created the hashtag #SignMeShady to show my desire to get his signature tattooed on me," she added. "However, the negative comments have been difficult to deal with."   
Despite some criticism, Nikki is proud of her tattoos and loves to show them off.   
"Most people have known me since before I got the portrait tattoo and have seen what it has done for me," she explained. "It's only strangers on the internet that have a problem with it."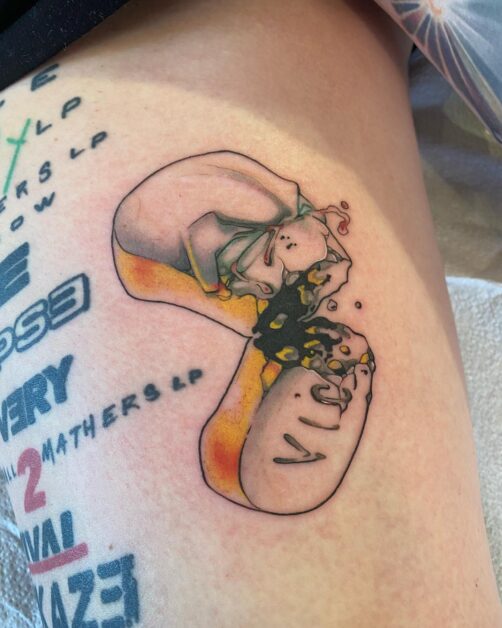 Nikki is a nail technician and a proud mom, and her tattoos don't define her. Nikki's husband, Kris, is also an Eminem super fan, but he doesn't have as many tattoos of the rapper. 
The couple connected instantly and knew they wanted to get married.   
Initially, they planned to marry in Boston, but after considering the idea of getting married in Eminem's hometown of Detroit, they made it happen. They got married at St Andrew's Hall, where Eminem first performed.   
Nikki's love for Eminem and tattoos is not slowing down anytime soon. She plans to add at least two or three more portraits of the rapper to her collection. 
"There are definitely more tattoos planned; it's just a matter of finding space," she confessed. 
Eminem has been a controversial figure throughout his career, with many of his songs causing uproar and offense. But despite this, Nikki remains a steadfast fan, and she even credits his music with helping her through difficult times in her life.   
She's not just a collector of tattoos; she's a curator of memories, each one a reminder of the emotions and experiences she has felt while listening to Eminem's music.   
"Eminem's music has been a constant in my life, and I feel like I've grown up with him," she explained. "You can't count on everybody, but nobody can ever take music away from you."   
She added, "He does know of me. I know that for a fact. I like to think he'd think it's cool, but who knows? My ultimate dream is to meet him, have him sign me, and then get the signature tattooed."