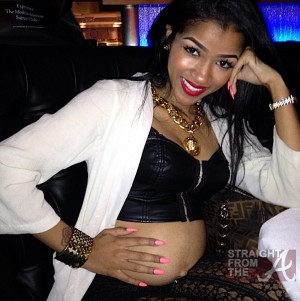 The streets are just talking and I hope they are wrong, because it seems like Future got a good thing going with Ciara. They seem to really like each other. And on the flip side, it seems like Shawty Lo doesn't need another baby momma. Anyway, there is some chick named Jai Jai. I never heard of her, but she's quite the vixen. Apparently, before this Future rumor, she was Shawty Lo's main piece. Now, they are saying that the chick is pregnant and it may be one of the two. Nobody is saying a lot. I've heard people say that its definitely Shawty Lo's 12th kid and I've heard its one of Future's growing flock. Honestly, she's flaunting the baby crazy. She must be proud. Are babies the new rap video for vixens, because a lot of them are getting knocked up.
Oh…she's not a vixen. She's a rapper. So vixens are the new rappers.
HERE'S THE NUMBER:

They keep us talking, but if we stop talking about them then they should worry! -illseed.

Illseed, Out.
GET INTERACTIVE WITH ALLHIPHOP.COM!
Follow us on Twitter! Like us on Facebook!
Email illseed rumors: kingillseed@gmail.com