As part of Hip Hop's 50th anniversary in 2023, Amazon Music will explore the contributions of Latin recording artists. The Hip-Hop X Siempre campaign features exclusive curated programming and editorial content.
"Latinos have been an inherent part of Hip Hop from its start, and Hip Hop continues to inspire our culture and past, present, and future generations," states Rocio Guerrero, Head of Global Latin, Amazon Music.
Guerrero continues, "Latino artists take inspiration from Hip Hop beats and lyrics, infusing them with traditional Latin rhythms to make the genre our own, ultimately aiding in its global reach and relevance. Hip-Hop X Siempre pays respect to this shared history and its impact on our culture by highlighting the diverse and intergenerational voices that are part of the movement."
New Amazon Music playlists include "Hip-Hop x Siempre," "Sin Filtro," "pov: ur hyped," "Puro Trap," and "Puro Rap." The streamer focuses on acts like Fat Joe, Big Pun, N.O.R.E., Bad Bunny, Myke Towers, Snow Tha Product, Residente, and Eladio Carrión.
Artists Reflect On How Hip Hop Impacted Their Lives
"Hip Hop is my closest friend; it's always been there for me," says Kansas City-born Reggaeton musician Eladio Carrión. Puerto Rican entertainment veteran Residente offers, "Hip Hop is respect for the spoken word. To use the power of spoken word as a tool for social change."
Snow Tha Product expressed appreciation for how Hip Hop culture directly affected her life in positive ways. The daughter of Mexican parents discussed taking a different route than her loved ones wanted.
"It was a rebellious act to listen to it, even more rebellious to join it and become a rapper, when [my family] wanted me to be a traditional mariachi singer," reveals Snow Tha Product.
The To Anywhere album creator also adds, "They wanted me to be a Catholic woman and get married, do all these things, and then I've become what I am now. If it wasn't for Hip Hop, I wouldn't know what I'd be doing. [Hip Hop] became my life, my family, the reason my son's gonna have a good life."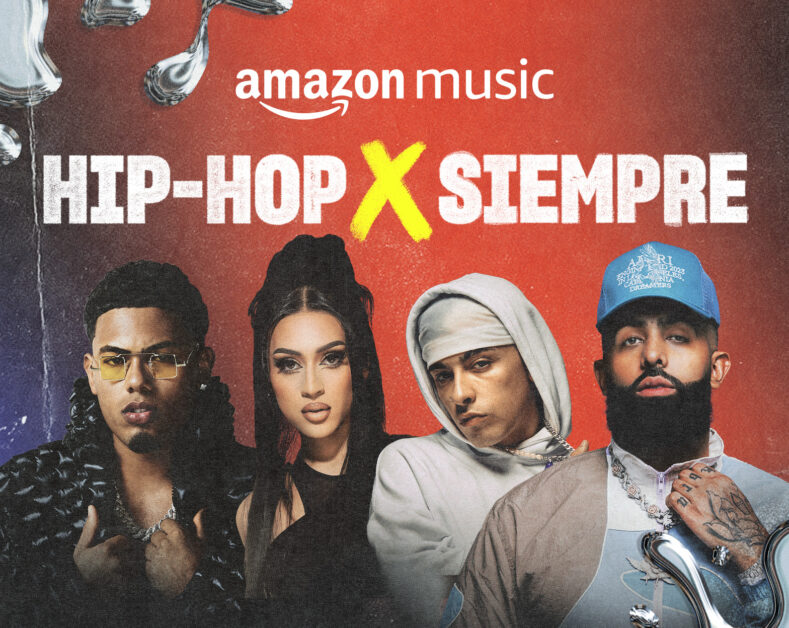 Amazon Music Will Premiere The Hip-Hop X Siempre Film
Dominican filmmaker Jessy Terrero executive produced a Hip-Hop X Siempre documentary. The film will receive a global live premiere on May 24 on the Amazon Music app and the AmazonMusicEnVivo Twitch channel.  The doc will screen at the 2023 Los Angeles Latino International Film Festival as well. 
Jessy Terrero plans to take part in a panel discussion at an event in New York following the documentary's debut. Plus, Hip-Hop X Siempre will feature an exclusive Amazon Original soundtrack song by Eladio Carrión.
Additionally, Amazon Music worked with producer/rapper DJ Tony Touch to create an original Hip-Hop X Siempre score titled "Toca's Theme." Puerto Rican multidisciplinary artist and storyteller COVL created visuals for the Hip-Hop X Siempre campaign.
Amazon Music's celebration of Hip Hop's 50th anniversary includes the 50 & Forever initiative. 50 & Forever pays tribute to some of the culture's most iconic moments. For example, the Generational Queens short film came out in March.