Drake has been dragged into the alleged marriage breakdown of podcaster Bobbi Althoff after wild speculation erupted online following their hilariously awkward viral interview. 
Althoff's notoriety rose to new heights after she snagged Drake for just her fifth podcast episode. Clips of the interview quickly spread across social media, with viewers sharing clips of the comically cringe-worthy conversation.  
The podcaster remained in character while attending a recent Drake concert. She posted a video from the show where she stood awkwardly with her arms crossed, between two friends vibing to the music.  
However, the first signs of drama began a day after sharing the concert video. Despite garnering over 10 million views on YouTube, the Drake podcast episode mysteriously disappeared. Then, eagle-eyed fans noticed the pair had also unfollowed each other on Instagram. 
Barstool Sports' Dave Portnoy then drove speculation into overdrive during a recent episode of his BFF's podcast last week. He revealed that he heard a rumor Bobbi Althoff and Drake slept together, leading her to get a divorce. "I asked her. I DMed Bobbi," he shared. "She's like, I'm not commenting on that publicly." However, what he says next is bleeped, suggesting he said something he shouldn't have.  
"Wait, so you just outed her?" his co-host asked. "You just outed her not-public comment?" 
Bobbi Althoff Shuts Down Drake Rumors
Althoff then flat-out denied the rumor in her Instagram Story Wednesday night (August 16). She shared a screenshot of a message exchange between herself and Dave Portnoy.  
"I am not commenting publicly but off the record, you're right that is not true," she said, responding to Portnoy's question about hooking up with Drake.  
Althoff also added a note to the post, explaining that this is the only time she intends to address the drama.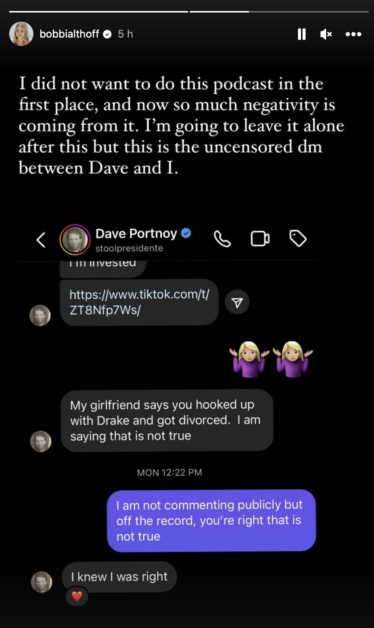 "I did not want to do this podcast in the first place, and now so much negativity is coming from it. I'm going to leave it alone after this but this is the uncensored dm between Dave and I." 
For his part, Dave Portnoy has now apologized for posting the misleading clip.