Casanova faces a minimum sentence of 15 years with a potential maximum of 60 years following his alleged involvement in the notorious Untouchable Gorilla Stone gang. 
The rapper's lawyers confirmed Casanova has already admitted his guilt, candidly discussed his membership in Gorilla Stone and acknowledged he promoted a gang lifestyle in hopes of getting a lighter sentence.
The rap star was among the 18 individuals indicted in the comprehensive RICO case that emerged in December 2020. The gang has been accused of a myriad of crimes, including drug trafficking, violent assaults and even the murder of a 15-year-old boy in Upstate New York.
Casanova, who had a successful music career since 2016, initially pleaded not guilty, maintaining that his high-profile status and connections made him a target for the authorities. 
However, a superseding indictment in November 2021 claimed he, along with another Gorilla Stone member named Jarrett "Jayecee" Crisler, shot a member of the Crips gang in front of the King of Diamonds strip club during a dispute over gang signs. 
Additionally, he admitted to being the shooter in a July 5, 2020 incident at a Florida party involving other gang members, an altercation that was instigated over a gambling disagreement.
In his guilty plea, he admitted to his membership in the racketeering enterprise, complicity in a conspiracy to distribute between 100 and 400 kilograms of marijuana and involvement in a robbery committed on August 5, 2018.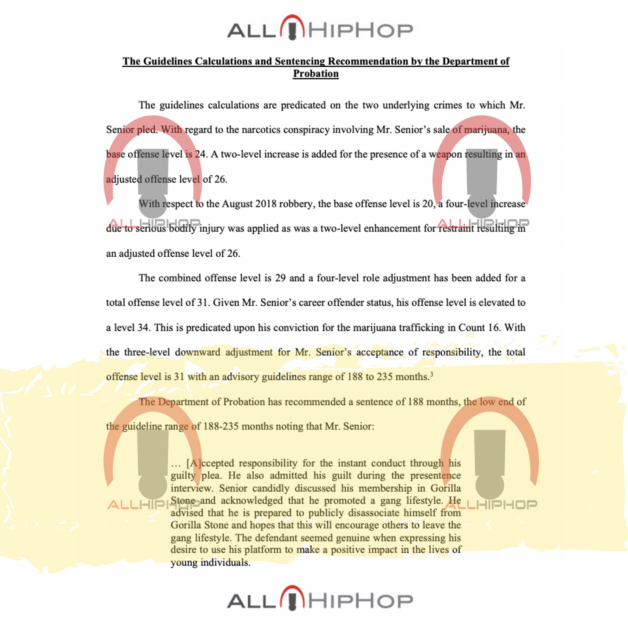 He also confessed to selling marijuana to supplement his income during the pandemic but emphasized that he was not sharing the proceeds of his marijuana sales with the gang.
During his upcoming sentencing hearing, he plans to completely renounce his membership and involvement with the gang, which he has already done in a letter to Judge Philip Halpern. 
"I am telling you and anyone that will listen that I wanted out before I was arrested and I am out. I learned through my music career that people will listen and that I don't need to associate myself with a gang to succeed. I don't need to associate with a gang even if I don't succeed.
"I thought I needed to stay in the life in name because it was a way to promote my career. I don't care what the government tells you. I am telling you the truth. I was not involved in the daily activities of this gang. I wasn't anyone's boss. What I was and I regret this was a person that they could use to promote themselves in a world I swear to you I was trying to leave. I clearly did not do a good enough job of this as I did find myself in one bad situation after another.
Casanova's sentencing is scheduled for June 27, 2023. Casanova's full letter is below: