Chika is never one to hold back how she's feeling, but a recent incident prompted her to lock her Twitter. On a recent red-eye flight, the Warner Music Group artist was seeing red after she was abruptly woken up by a pair of screaming toddlers.
According to Chika, she was peacefully asleep in first-class when they allegedly started crying. Rather than tolerate it, she hopped on Twitter to rant about the situation.
"The lady next to me who thought it would be a good idea to buy yourself and your twin infants first class seats on a red eye flight, who just woke me up by bringing your screaming bastard to OUR seats to soothe her, I just bought $34 wifi at 4am to call you a stupid b####," she wrote.
"P.S. I hate you and hope you get a paper cut between each finger tomorrow, you senseless w####. Like are you literally mentally delayed? What makes you think a 1 y/o will shut their b#### ass up on a 7 hour flight that takes off at ONE F###### AYE EM. You ALREADY had them up past bedtime. Idc the circumstance. Take yo ass to economy at LEAST."
The woman clarified the two children were actually her 4-year-old daughter and 2-year-old niece fired back on social media.
It was also revealed one of the women involved was Zonnique, the daughter of rapper T.I. and Tiny—meaning one of the kids was also the famous couple's grandchild.
"It was me her dumb ass was sitting next to and let me enlighten the situation, they weren't twin 1 year olds it was my baby a 4 year old and my niece a 2year old who slept most of the flight but she woke up out her sleep and cried for three mins as I picked her up and calmed her down being it was pitch black and she was startled so I needed her to know I was right there to hold her tightly," the woman explained.
"Crazy s### is this bih wasn't even In her right damn seat she switched seats with someone else and brought her funky fat ass next to me while whispering 'oh those are some really good girls' you a fake ass to than go 'vent' about your true thoughts while paying for some Wi-Fi which is also another lie cause it was free. You talk all this mental health s### than on your disrespectful ass rants but I'm the b#### you referring to and that bastard was my niece. Can't wait to run into your ass in first class again Pooh."
Chika initially believed she handled the situation correctly. She tweeted, "I extended grace by not giving her a hard time while she was having to quiet a belligerent baby. talking about it in a vacuum doesn't mean i treated her poorly."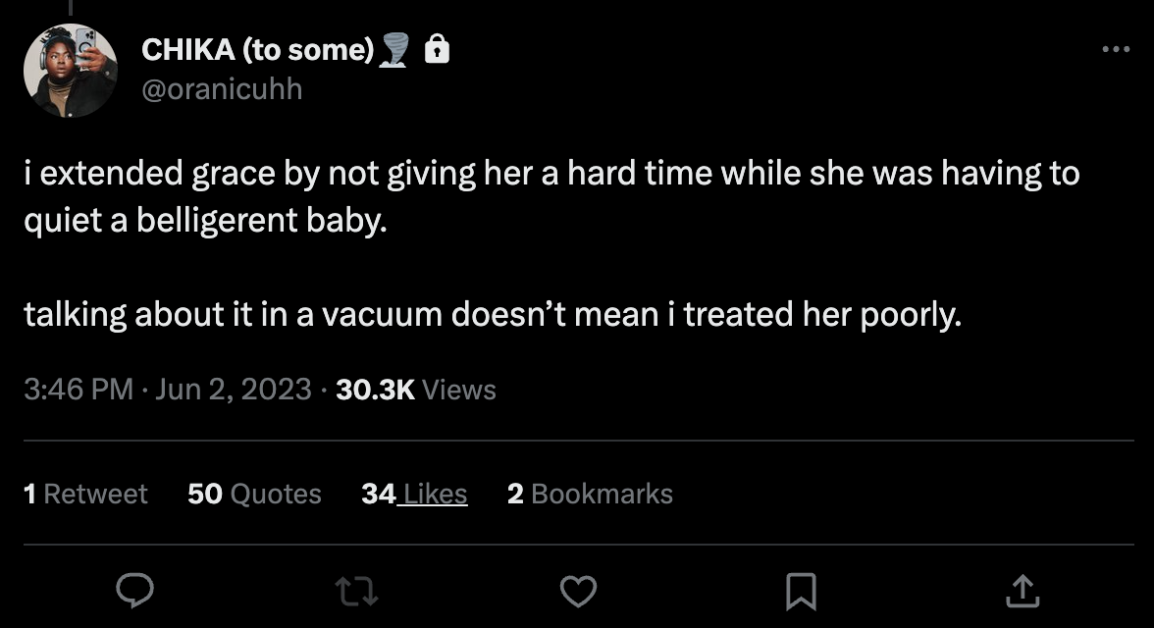 Chika ultimately issued an apology before she locked her account. She wrote: "Posting because I think it's important & because I understand that people who actually do want to support me were also offended by my inflammatory thread yesterday. I'm sorry cuz it was triggering/infuriating to many. I just don't like being seen as someone I'm not."
Chika also included several text messages explaining her side of the story. But the woman, Zonnique and Tiny evidently doesn't want to hear it. She added: "wait I'm in tears not chika boo was mad my child was cutting it up in first class. you should have just sat there and been mad babe. she sky priority AF."
Chika just released her first single since 2021 titled "Requiem For A Dream." Find it here.