Cypress Hill will headline one night of the inaugural Miracle In Mundelein festival in September. Queens, New York-raised MC Action Bronson is also part of the lineup.
Presented by RYTHM Premium Cannabis, Sacred Rose and Dayglo Presents, The Miracle In Mundelein will be a history-making event. According to organizers, the two-day festival will be the first music concert to permit onsite cannabis consumption in Illinois.
"It is no surprise there is a rich and deep history between music and cannabis. We believe that the two together can create more connectivity, positivity, and well-being," Ben Kovler, CEO of Green Thumb Industries, said. "The Miracle is our way of celebrating this unique intersection – with amazing music, high-quality weed, and a welcoming community. We are excited to put on an incredible show while providing a safe, legal space for cannabis consumption for everyone 21 and over."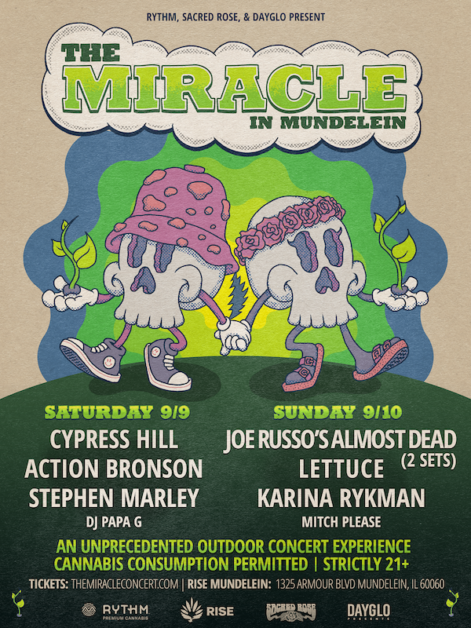 Miracle in Mundelein Is Meant To Be A Testament To The Union of Music & Cannabis
The sale of cannabis won't be permitted inside of the event, but The Miracle will take place across the street from RISE Dispensary Mundelein. Eventgoers will have access to a dab bar, cannabis beverage garden, joint rolling, chilled bongs and more
"Over the years, I've had the pleasure of producing many live music events, but this is truly a first," Peter Shapiro, Founder of Dayglo Presents, said. "The Miracle in Mundelein is more than just a concert, it is a testament to the relationship that music and legal cannabis can have when brought together in the right way."
Shapiro added, "We named the event, The Miracle, because it really is remarkable that we can now bring cannabis and music together in 2023, and it is permitted and legal. Our goal is to create a new type of event, which showcases the uplifting impact of cannabis in a legal environment, while also supporting and growing a real community."
The Miracle In Mundelein takes place on September 9 and September 10 in Mundelein, Illinois. A ticket presale begins on June 8 at 12 pm CT. General admission tickets will be available beginning June 9 at 12 pm CT.