Doja Cat fans were divided when the "Get into It" hitmaker shared a "thirst trap" selfie on social media, showing off her bare skin with no makeup. 
Days after sharing her new polarizing new single, "Paint The Town Red," the Grammy-Award winner took to Instagram to post a natural skin selfie that highlighted her skin imperfections.  
She captioned the image: "thirst trap," and added a blowing a kiss emoji. While some fans dismissed the post as a troll, others praised Doja Cat for showing off her natural skin unashamedly, acne and all.  
One user's "Like this as a "unlike button" comment garnered over 6,000 likes in a few hours, while one commenter declared, "doja exposing how god awful society is in this comment section." 
Another person commended Doja Cat for showing that wealthy celebrities aren't immune from blemishes.  
"Is it only me or ? I just love this post," the fan wrote. "She's encouraging people who have acnes and feel insecure about it. She's showing that having acnes on ur skin is normal even your hot af celebrity crush get pimples sometimes. "IDGAF" on other people's commenting on how weird she is. She's still stunning." 
Doja Cat Responds To Fan's Question About Devil Worship
One user asked, "Devil worshiping doesnt clear up acne?" presumably reacting to the controversy to the visuals for her latest single. While they probably didn't expect a response, Doja Cat replied, "no it gives you cysts." 
She also trolled fans with her "secret skin care routine" in another response. Check out her replies below.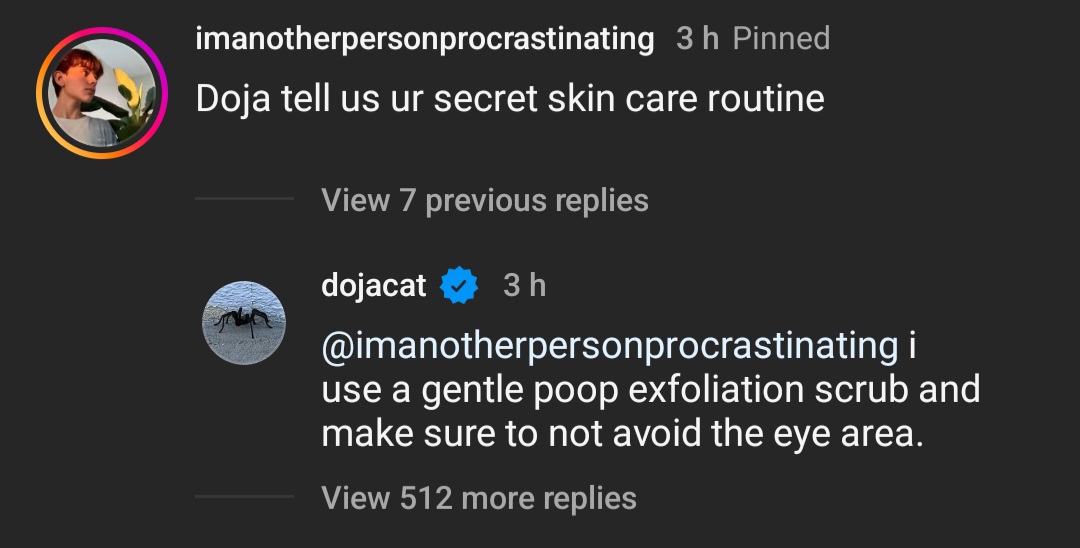 "Paint The Town Red," has amassed nearly 4 million views in just three days. Fans accused Doja of satanism and worshipping the Illuminati, something the singer has long been accused of. However, she plays into the rumors, admitting trolling her followers over Illuminati conspiracies brings her "joy." Watch the video at the end of the page.
Meanwhile, fans reportedly unfollowed Doja Cat in their hundreds of thousands after she went on a rant over a name for her fanbase.