Donald Trump has broken his silence over Ye's claim that the former U.S. President "screamed at him" during a meeting in Florida this week.
Trump took to his TruthSocial platform and said Ye showed up uninvited and brought on far-right commentator Milo Yiannopoulos as his campaign manager. 
Ye also brought Nick Fuentes, a white supremacist banned from YouTube for hate speech, and Karen Giorno, Trump's former campaign advisor, to the dinner.
"This past week, Kanye West called me to have dinner at Mar-a-Lago. Shortly thereafter, he unexpectedly showed up with three of his friends, whom I knew nothing about," Trump explained. "We had dinner on Tuesday evening with many members present on the back patio. The dinner was quick and uneventful. They then left for the airport."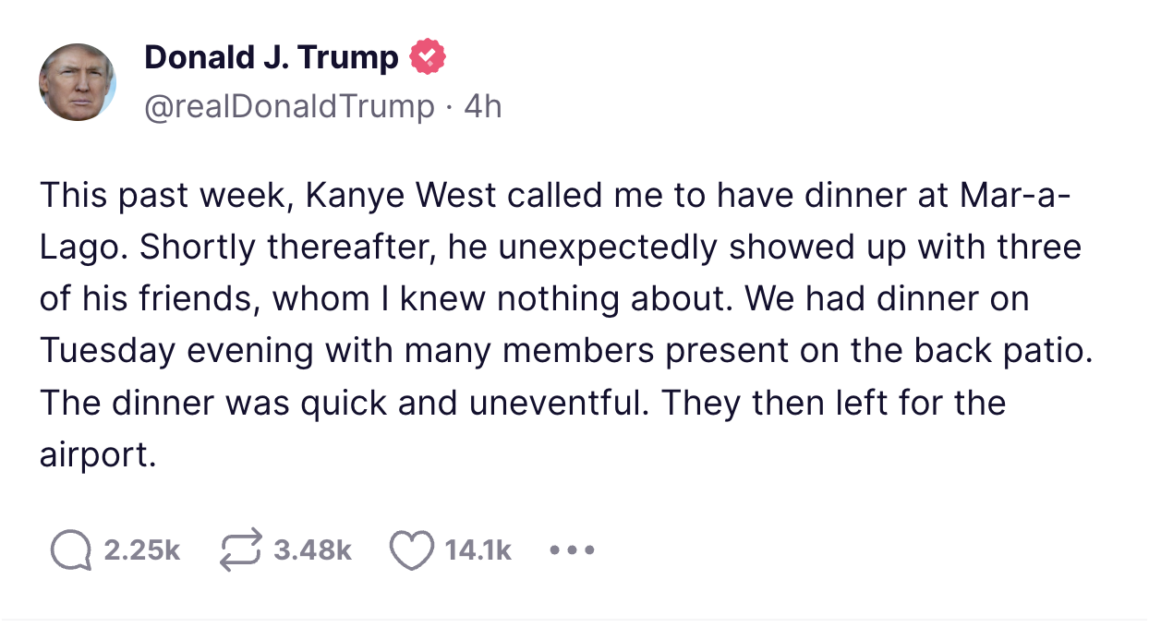 The rapper and former leader separately announced their intention to run for U.S. President in 2024 recently, and they met up at Trump's Mar-a-Lago resort in Florida this week, where West surprised Trump by asking him to be his running mate.
In a "Mar-a-Lago debrief" video posted on Twitter on Thursday, West claimed that Trump was "perturbed" by his request and yelled that he was going to lose his campaign during their dinner.
"I think the thing that Trump was most perturbed about, me asking him to be my Vice President. I think that was lower on the list of things that caught him off-guard. It was the fact that I walked in with intelligence," West said.
"When Trump started basically screaming at me at the table telling me I was gonna lose, I mean, has that ever worked for anyone in history? I'm like, hold on Trump, you're talking to Ye."
According to Donald Trump, the pair mainly business, including Ye's recent difficulties after he was dropped by GAP, Balenciaga, and Adidas. 
"Ye, formerly known as Kanye West, was asking me for advice concerning some of his difficulties, in particular having to do with his business," Trump added. 
The former POTUS admitted he told Ye not to run for President and rebuffed his request to be running mates.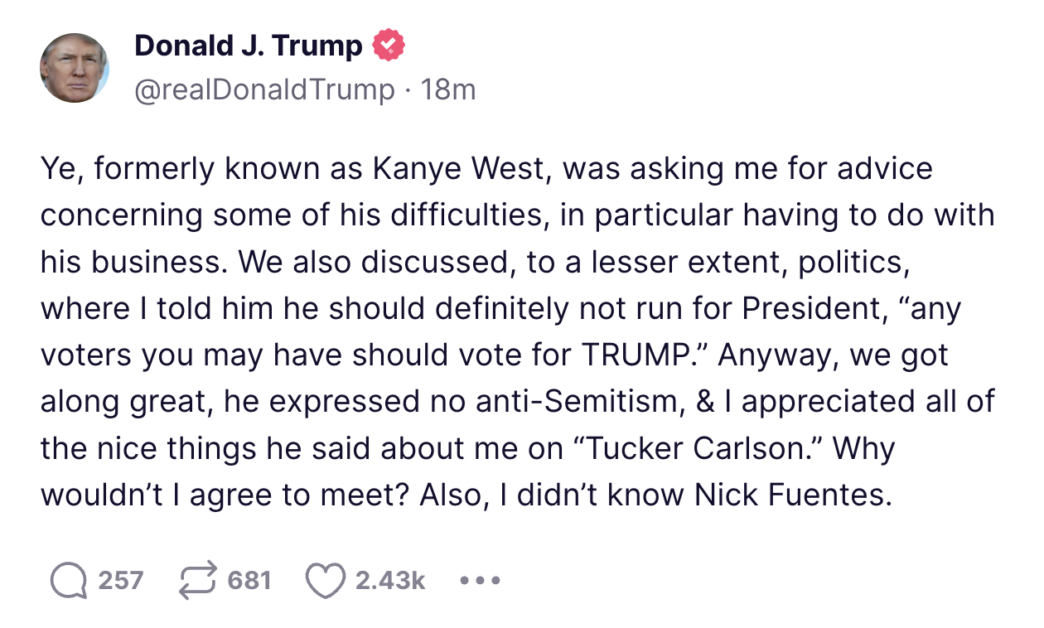 "We also discussed, to a lesser extent, politics, where I told him he should definitely not run for President, 'any voters you may have should vote for TRUMP.' Anyway, we got along great, he expressed no anti-Semitism, & I appreciated all of the nice things he said about me on "Tucker Carlson." Why wouldn't I agree to meet? Also, I didn't know Nick Fuentes," Trump added.
Trump did not address Ye's claim that he allegedly made a derogatory comment about his ex-wife Kim Kardashian.