Drake has volunteered his services to 50 Cent after the G-Unit founder jokingly complained that he doesn't get treated like the Canadian superstar. 
In a hilarious video shared on Instagram earlier this week, Fiddy teased his staff for not giving him the Drake treatment and complained that fans don't toss their bras at him, unlike Champagne Papi.  
"They don't treat Drake like this," 50 Cent began. "Drake, they throw him bras. What do I get?"   
Fiddy then asked a staffer, "please go get me some Drake fans," before teasing, "S### just don't feel right, I need to feel special around here. I need them to treat me like I'm Drake."   
Drake caught wind of 50 Cent's post and stepped up to help his fellow rapper. He shared the post on his Instagram Story Wednesday (August 23) alongside several crying-with-laughter emojis and a proposal.  
"Fif lemme pull up for a pep talk," Drake offered, tagging 50 Cent.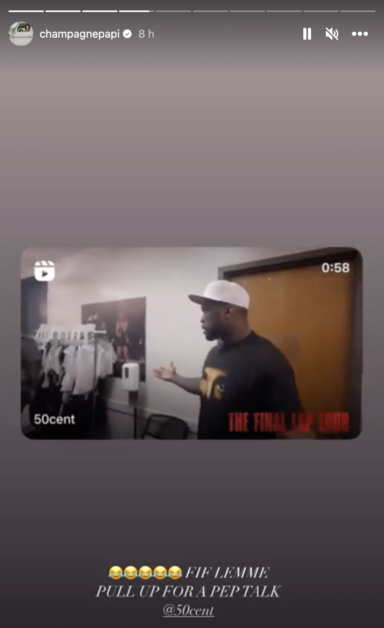 The OCO honcho has credited 50 Cent as a significant influence on his rapping style. "'21 Questions' will probably be my most inspiring example of a guy who's not supposed to be singing, singing," Drake revealed in his 2019 Rap Radar interview.  
50 Cent returned the compliment during an interview with Variety the following year. He branded Drake's remarks " the coolest s### in the world for him to say." However, Fiddy did concede, "I can't sing as good as he sings."