A Los Angeles Police department Sergeant is the Police Chief for millions for making comments about the murder of rap star Nipsey Hussle.
Sergeant Joel Saydanmaa filed the lawsuit against the LAPD, and Chief Michel Moore filed the lawsuit against his fellow officers after he was disciplined for discussing a variety of topics, including Nipsey's murder.
Sergeant Saydanmaa says his First Amendment rights were violated, after he claimed Nipsey glorified gang violence shortly after the rapper's murder on March 31st, 2019.
Nipsey was murdered by an alleged Crip gang member named Eric Holder, who has since been charged with gunning down the rapper in the parking lot of his Marathon Store during a brief argument over Holder's status as an alleged snitch.
Sergeant Saydanmaa, who is a 24-year veteran of the force, says he commented about Nipsey's murder on April 8th, 2019 for and a post that Drew over 1,300 comments.
One of those comments labeled Sergeant Saydanmaa a p****, while another branded him a f****** pig, a fascist, and a nazi.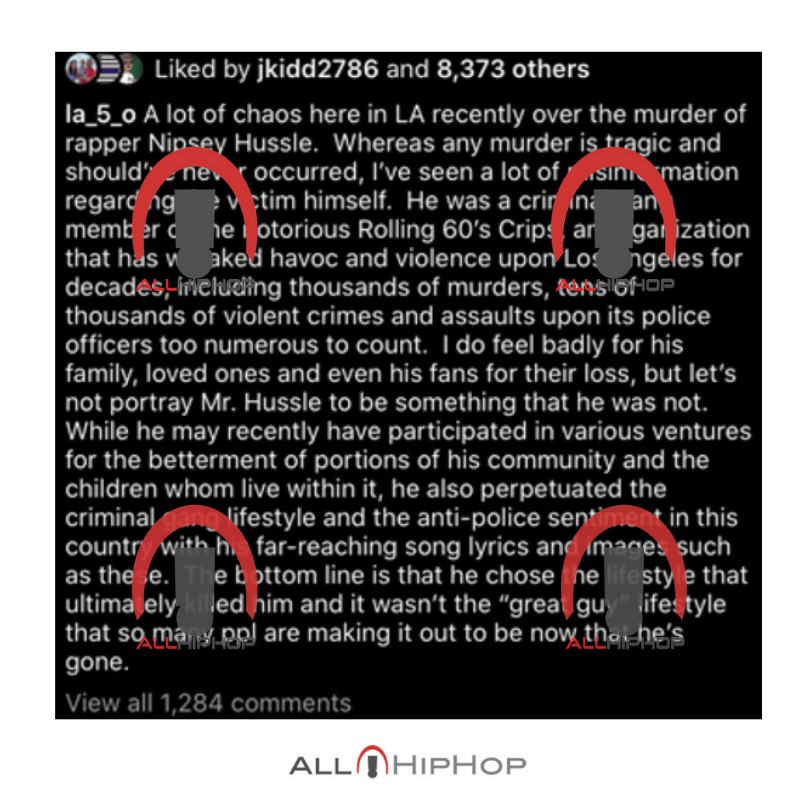 Sergeant Saydanmaa didn't take the insults lightly and replied: "Here's an idea. Next time you need help, call a crip, not 911."
Sergeant Saydanmaa was brought before LAPD internal affairs Detective Sherry Cardona who labeled Nipsey and "inspiration to us all."
On October 5th, 2020, Sergeant Saydanmaa was hit with a one-day suspension for his comments, which eventually triggered his lawsuit.
"A public employee simply cannot be subjected to discipline or retaliation consistent with our Constitution, for the statement SGT. SYDANMAA made about Nipsey Hussle. The LAPD cannot take the position that expression of opinions praising Mr. Hussle is allowed, but expression of opinions criticizing Mr. Hussle is prohibited and subject to discipline. Yet that is exactly what the LAPD has done," according to Sergeant Saydanmaa's lawyer Caleb E. Mason.
Sergeant Saydanmaa says Chief Moore ratified and personally participated in the disciplinary proceedings against him, regarding his statements about Nipsey Hussle.
Sergeant Saydanmaa is suing the LAPD for $1 million for retaliation based on his right to exercise free speech as a private citizen. He is also seeking general damages for mental and emotional injuries, distress, anxiety, and humiliation.