Finesse2Tymes has apparently been arrested. According to a post from the Rap-A-Lot Records rapper, it seems he might be looking at some federal time, but details are scarce. The Memphis native posted a message to his fans via Instagram Stories.
"These folks won't let me be great, just came lock me up for a warrant in 2018," he wrote. "I'll be back yaw." He added in a separate post, "What don't break nyga make a nyga," again ending it with the 100% emoji.
His last mention was a flick of him with black Versace slides and socks, saying, "I'm out numbered I gotta against the Feds, AND The opps." This time he ended the message with a palm face slap emoji.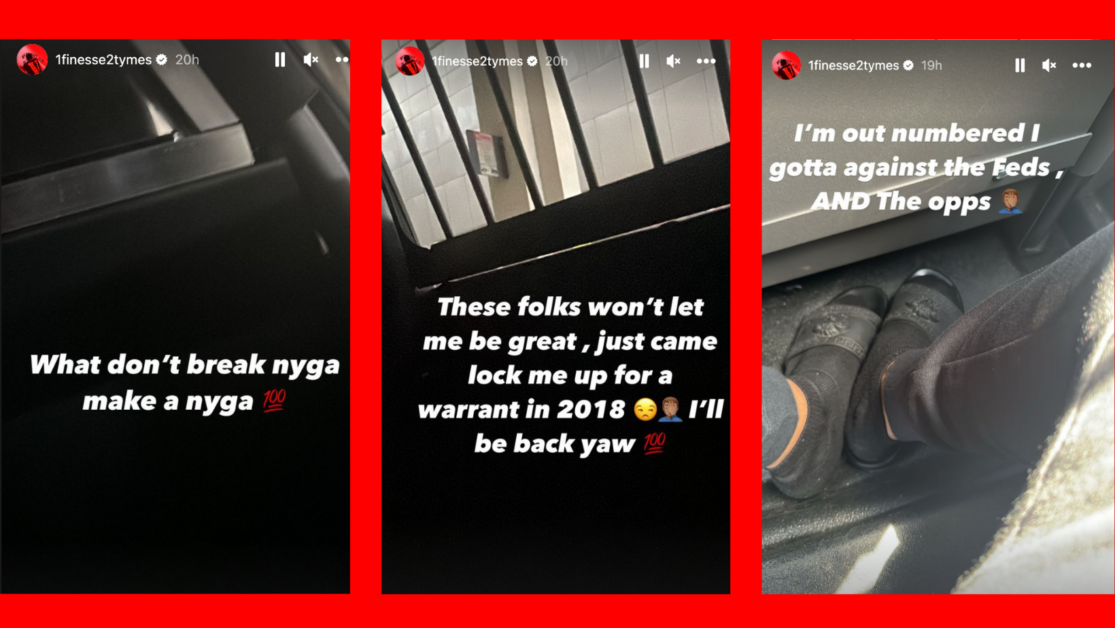 While there's little information on this alleged 2018 federal case, the Houston Police Department recently issued a warrant for his arrest for stealing a rental car, according to ABC 13.
He was charged with felonious theft between $30,000 and $150,000, after his friend rented a $72,000 Infiniti QX80 SUV on February 28 from a Houston Enterprise rental and didn't return it when it was supposed to be back on March 10.
The rapper had the car and told the rental company on April 20 that he had it in Atlanta. He claimed he would pay for it in a few days because his Zelle was "tied up."
Police found the car outside the recording studio in Houston on April 25. AllHipHop.com previously reported he was charged for stealing the car, but those charges were dropped.
Finesse2Tymes was supposed to be starting his Larger Than Life Tour this weekend.