Flavor Flav is doing some damage control after a misleading headline about his iconic clock went viral. On Friday morning (July 7), the Public Enemy legend shared a screenshot with the headline: "Flavor Flav Says Iconic Clock Necklace Was Inspired By A 'Crackhead.'" He laid into the person behind the misinformation and quickly corrected it.
"FROM FLAVOR FLAV HIMSELF," he wrote in the caption. "Whoever wrote this headline is a complete A##HOLE!!! If you read the story, I never said the crackhead inspired the clock. I said THAT
MY BOY BAZERK PUT THE CLOCK AROUND MY NECK AS A JOKE!! that's were the inspiration came From. NOT THE CRACKHEAD you a##hole writer GET IT RIGHT."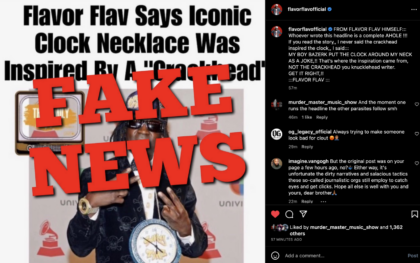 Flavor Flav has told a similar story before. For this particular interview, Flav sat down with Roxanne Shanté at the Rock & Roll Hall of Fame from the SiriusXM studio in Cleveland as part of her "Have a Nice Day" show. He and Shanté chopped it up about Hip-Hop's 50-year anniversary and his career, which included the story behind his iconic clock chain.
"So one day, as a joke, this crackhead came through my projects, you know what I'm saying, selling these shower clocks that she stole from a place called Fortunoff," he remembered. "She went to Fortunoff, stole this big box of shower clocks and came through our projects selling them. So my boy, Son of Berserk, took the stopwatch off my neck and put the clock around my neck. Everybody was laughing. It was a big joke.
"So they dared me to wear that clock on stage but during the show. So when we went to open up for the Beastie Boys in Passaic, New Jersey, 1986, I wore the clock, Roxanne. And then the next day on the front page of Newsday, New York Times, New York Post, the look of the clock was dope."
It's unclear who initially misconstrued his words, but Flavor Flav certainly isn't happy about it. The issue could possibly strike too close to home. Over the last few years, Flavor Flav has been on the road to sobriety, and it seems to be something he's extremely serious about.
On June 16, Flavor Flav opened up about his recovery journey. He mentioned not only has he stopped smoking cigarettes, but he's also creeping up on three years sober from alcohol.
"I've changed," he wrote. "Today I am 3 years clean from cigarettes that I started smoking when I was just 6 years old. Soon I'll be 3 years sober from alcohol. And I've been 15+ years sober from drugs. I'm proud to share my sobriety journey and Thankx to my friends and family and those who support me.
"To everyone out there struggling with addiction, it is a real battle you fight every day. But I'm still here and you know what..I DID IT.. and if I can do it..anyone can do it!!!"
View this post on Instagram