Less than a year after giving birth to her son, Onyx, the sometimes controversial Australian rapper Iggy Azalea has broken up with her boyfriend and the father of her child, Playboi Carti. 
Iggy noted that she was raising her son on her own— leading some people to speculate that she is calling Playboi Carti a deadbeat dad.
READ MORE: Is Iggy Azalea About To Hit Playboi Carti Up For Child Support? Sexy Pic 'Say Yes!'
Some stans clapped back at the way the Australian presented the information, stating just because they are broken up doesn't mean that he cannot be in the child's life.
Iggy responded to the backlash by adding context or correcting her first statement. In her IG story, she wrote against a black background: 
"What I meant last night was that I'm raising my son alone and I'm not in a relationship," Iggy Azalea stated.
This public statement comes as a surprise to some who took her for her word about discretion.
In June Iggy said that she was a private person, which is why no one knew about her pregnancy — not that she was hiding it from the press, label people, or fans.
"I have a son. I kept waiting for the right time to say something but it feels like the more time passes the more I realize I'm always going to feel anxious to share news that giant with the world,' Iggy said on Instagram. 'I want to keep his life private but wanted to make it clear he is not a secret and I love him beyond words."
Another outburst has fans questioning her intentions for floating this single mom narrative.
She wrote: "'You lost a real 1!!!! People take loyalty for granted & That's why I'd rather be alone [vomiting emojis]."
According to the National Center for Institutional Diversity, there are two large issues with the term, "single mom." 
One, most people assume that "single" means "sole" or the "only" one in the parental equation. They use the analogy that no one says "married parenting" because it isn't a "thing" since status and parenting are two different things.
READ MORE: EXCLUSIVE: Shy Glizzy On Future Plans, Fatherhood And His Own Cannabis Strand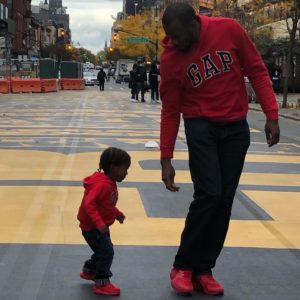 A report published by Medium says, "This is evidenced by a recent Pew Research Center report that categorized unmarried parents according to (1) cohabitating dads; (2) cohabitating moms; (3) solo moms; and (4) solo dads. In this instance, "solo" expands the notion of "single" to more broadly reference parents raising a child with no support (parent or partner) in the home, versus the Census's definition referencing a spousal arrangement." 
The second issue is that Black men are often made to be invisible in these conversations, disqualifying their presence because the cultural narrative is that they are deadbeats.
Iggy and Playboi might not be together, but that has nothing to do with his parenting. That said, he could be a straight goofy…but until that is proven, subs can be damaging and unfair.