J. Prince issued a warning to NBA YoungBoy, telling the Baton Rouge, Louisiana rapper to end whatever beef he has with Drake, whom he referred to as "my son." 
Last week, NBA YoungBoy took aim at the Rap-A-Lot Records founder and Birdman as well as Drake on the shots-filled "F### the Industry Pt. 2" cut on his new album, Richest Opp. 
He targeted Birdman and J. Prince, rapping, "N####, bring your bold ass to Salt Lake, you a gangster, n####/Go ask J. Prince, I'll kill your daddy, b####, I ain't worried, n####/I got Stunna with me and, b####, I got Fee, that's to get money with me." 
J. Prince took to Instagram on Wednesday (May 17) to address the track. He shared a photo of himself alongside Birdman and NBA YoungBoy alongside a lengthy caption.  
"As you all can see, I had a good time kicking it with the homies in Utah," he began. "On behalf of the Lil Homie YB, me and my brother Birdman were able to have a real conversation face to face."
He continued, "I must address the song where my name and drakes name were mentioned." 
The Mob Ties honcho then addressed NBA YoungBoy's beef with Lil Durk, which YB referenced in "F### the Industry Pt. 2." YoungBoy said he's not cool with Drake because of Drizzy's relationship with Lil Durk who is embroiled in a long-running feud with YB. 
NBA YoungBoy Targets Drake
NBA YoungBoy shared the lyrics on Instagram last week, highlighting Drake and Durkio's names in red.  
"B####, I send them hitters to hit at you, boy, don't say s### to me/Talk to Drake, cross FaceTime, he wasn't feelin' me," NBA YoungBoy raps. "Told me that he f### with Durk, damn, that s### was gettin' to me/Told me that he like the s### I'm doin', but can't do s### with me/So when we cross our ways, f### what you say, b####, you my enemy."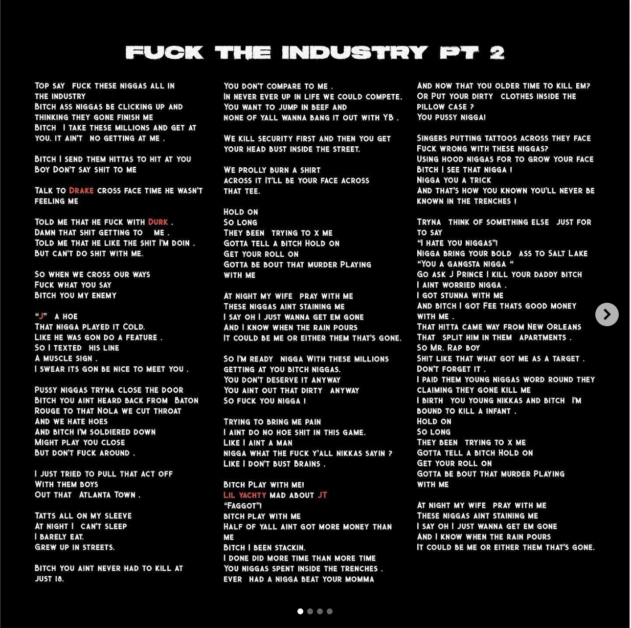 J Prince Claims He Tried To Mediate Between Drake And NBA YoungBoy
J. Prince claimed he and Drake have "nothing but love for Durk," and attempted to get the Toronto rap superstar on the phone with YoungBoy to squash the beef.  
"To the lil homie, as I said to you privately, I say to you publicly that Drake is my son, he roll with me. Therefore, I think it's a good idea to take him off your enemy list," J Prince continued. "Because the truth of the matter is that we got nothing but love for Durk and your accomplishments. When I put Drake on that facetime call with you, my intent was for y'all to move forward, not backwards. Two things we get every day is a chance and a choice. The choices we make determine our destination." 
Check out his post in full below.