Entertainer/entrepreneur Jeezy (born Jay Jenkins) wrote a memoir titled Adversity for Sale: You Gotta Believe. The book covers the 45-year-old Georgia rapper's life journey from the streets to the Billboard charts.
"Sometimes you have to go through some things – even some things that are excruciating and that you think you'll never survive – in order to get where you want to be," said Jenkins in a press release about Adversity for Sale. 
The Let's Get It: Thug Motivation 101 album creator continued, "Through this book, his goal is to give everyone from the block to the boardroom a message of hope to get through their days." 
Let's Get It: Thug Motivation 101, Jeezy's major label debut studio album, dropped in 2005. Prior to that LP coming out via Def Jam, the CTE World label founder released several projects, including 2005's Trap or Die mixtape.
Radio personality Big Tigger of Audacy's V-103 spoke to Jeezy to promote Adversity for Sale. The Big Tigger Morning Show conversation also featured the "Soul Survivor" hitmaker reflecting on dark periods during his life.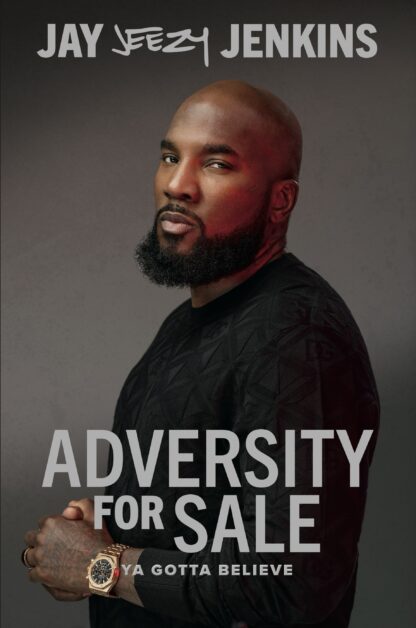 Jeezy Uses Adversity for Sale To Reflect On His Mental Health History
"My first three albums and two mixtapes, I was probably the most depressed I'd ever been in my life," Jeezy stated on V-103. "And I didn't even know what depression was. Anxiety, all these things, I didn't have the words for. As I started to learn and peel back the layers, I'm like, 'Oh, this is what's going on.'"
He also added, "For the most part, you're thinking something's wrong with you. You don't know that you got all these traumas from your childhood and you're dealing with it. Even writing the book, it was just like, 'Oh, that's why I react like that to that.'"
Jeezy managed to chart three albums at No. 1 on the Billboard 200 throughout his career. 2006's Thug Motivation 102: The Inspiration, 2008's The Recession, and 2016's Trap or Die 3 each reached the top spot on the weekly rankings.
Adversity for Sale: You Gotta Believe by Jay "Jeezy" Jenkins is available through the HarperCollins publishing company. His most recent music project, the Snofall joint effort with DJ Drama, hits DSPs in October 2022.