Kevin Durant is giving out flowers to his favorite battle rapper, Nu Jerzey Twork. While the New Jersey artist is considered a legend within the battle rap community, his talent is well known among Hip-Hop heads, including the Phoenix Suns superstar forward who recently reached out to show love.  
On Tuesday (June 13), Nu Jerzey Twork took to Twitter to share a screenshot of a DM from Kevin Durant.  
"BRUH , THIS N#### KD JUST TOLD ME I WAS THE BEST EVER," the "Murdertown" hitmaker shared.  
"Yo you really the best ever," KD told Twork via IG Messenger. "U really a talented n#### man." 
Durant revealed he's also a fan of New Jerzey Twork on beat, praising his 2021 album Jerusalem. However, his compliment left some on Twitter believing KD heard a preview of the highly anticipated follow-up to his debut project.  
Although fans began excitedly anticipating a rollout, Jerooz quickly silenced the rumor. He clarified KD is a fan of Jerusalem "too," and not "2!"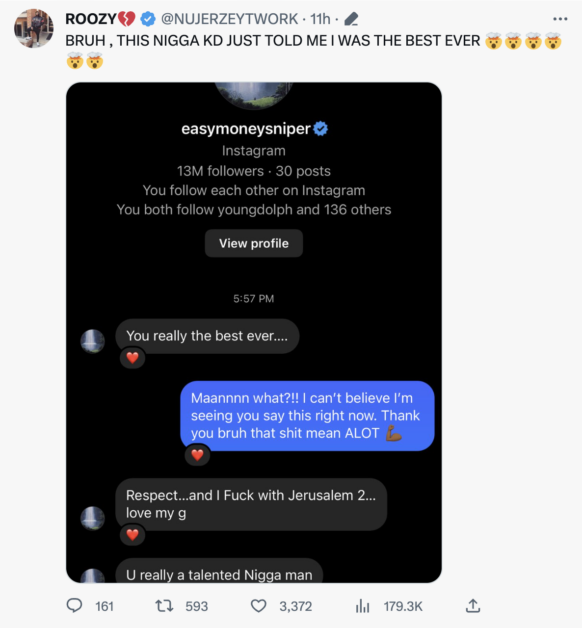 Kevin Durant Teams Up With Tsu Surf
As well as being a Nu Jerzey Twork supporter, Kevin Durant is a longtime fan of the sport. He's often quoted in battles and uses classic battle rap verbiage to clap back at his critics. KD even showed he's got bars too and isn't afraid to go toe-to-toe on wax with a battle rap legend. He teamed up with one of the most successful battle rappers to make music a few years back, laying a verse on battle rap legend Tsu Surf's 2018 banger "Want It." 
Kevin Durant didn't say what prompted his DM but probably caught wind of Nu Jersey Twork's latest clash. He teamed up with Rum Nitty to take on Tay Roc and Geechi Gotti in a legends-only two-on-two war at URL's NOME Impact last weekend.