Wyclef Jean, Pras Michel, and Ms. Lauryn Hill will reunite once again this fall. The trio, collectively known as the Fugees, are set for a 17-date global trek.
Hill announced "The Miseducation of Lauryn Hill 25th Anniversary Tour" to commemorate her 1998 debut solo album The Miseducation of Lauryn Hill. The Fugees will also co-headline the North American shows.
"The Miseducation of Lauryn Hill is and was a love song to my parents, my family, my people, my musical and cultural forebears, my teachers, my loves, my Creator," explains Hill. "I wrote love songs and protest songs— (still love songs) about the subjects and interests that inspired and moved me."
She continues, "I was confident that what inspired me would resonate with an audience that had been led to believe that songs of that kind could only live in the past. I loved music, I loved people, I truly felt grateful to God for my life, and genuinely blessed to have a platform where I could share wisdom and perspective through music."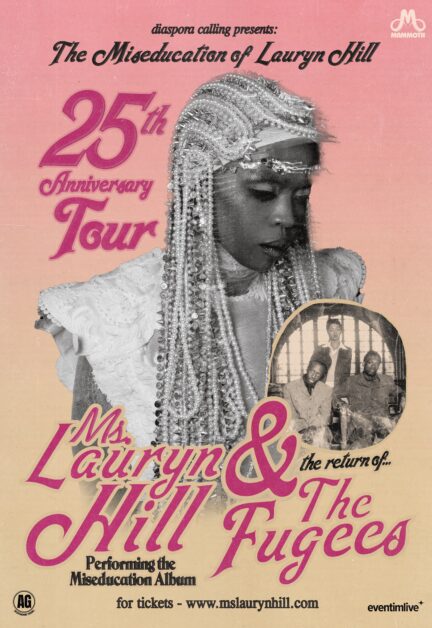 Lauryn Hill Created A Timeless Classic With The Miseducation
"I felt a charge to challenge the idea that certain kinds of expression and/or certain kinds of people didn't belong in certain places. I loved showing what could work or happen provided there was imagination, creativity and LOVE leading the way," adds Lauryn Hill.
Many Hip-Hop historians consider The Miseducation of Lauryn Hill as one of the culture's greatest bodies of work. The RIAA certified the project as Diamond (10 million units). The Miseducation also became the first Hip-Hop album to win Album Of The Year at the Grammy Awards.
In addition, the Fugees released Blunted on Reality in 1994 and The Score in 1996. That latter studio LP earned 7x-Platinum certification and took home the Grammy for Best Rap Album in 1997. Both Wyclef and Pras also released solo efforts.