A new album by the late Raqhid "Lil Keed" Render will arrive on Friday, March 17. Keed Talk To 'Em 2 will host a star-studded line-up of guest features.
Fellow Young Stoner Life Records roster members Young Thug, Dolly White, and Karlae contributed to the upcoming body of work. Keed's brothers Lil Gotit and StickBaby will also appear on Keed Talk To 'Em 2. In addition, the posthumous project will include NAV, Big Sean, Trippie Redd, KayCyy, and Fridayy.
Lil Keed's daughter, Naychur Render, is an official executive producer for Keed Talk To 'Em 2. Naychur's grandmother first announced the studio LP with a personal, heartfelt note about her son.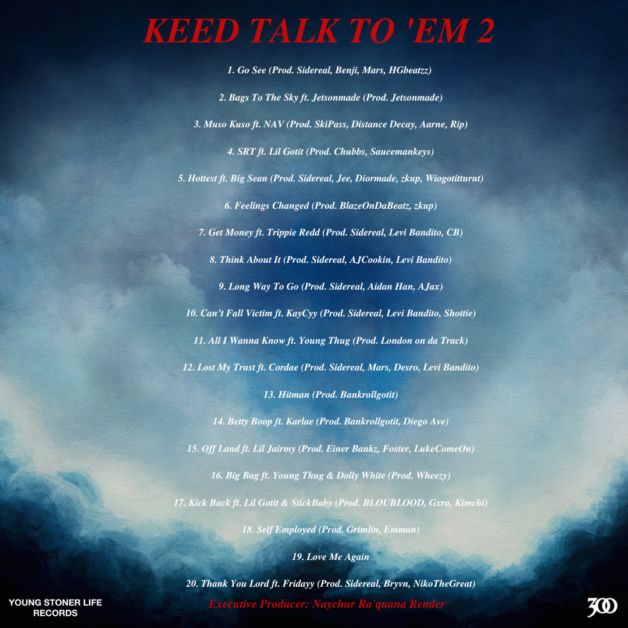 "On May 13, 2022, I lost my son Raqhid Render – who many of you knew as the artist Lil Keed. While this journey through the different phases of grief has been indescribably hard, a way that I have found to cope is through his music," wrote Keed's mother Tonnie Woods-Reed.
She added, "Right before his passing, Keed was hard at work at what would've been his highly anticipated next album Keed Talk To 'Em 2. As much as he was a great father, son, and friend – he was also an artist who (thanks to many of you) lived and continues to live through his music."
The Raqhid Render Estate released a music video for the "Long Way To Go" single on February 3. The Mikey Rare-directed visuals have amassed more than 1.3 million views on YouTube. Lil Keed's "Long Way To Go" collected over 1.1 million streams on Spotify.
Prior to his death in 2022 at the age of 24, Lil Keed dropped the Long Live Mexico album in 2019 and the Trapped on Cleveland 3 album in 2020. His discography also contains mixtapes such as 2018's Trapped on Cleveland and 2018's Keed Talk to 'Em.