Megan Thee Stallion is gearing up for an epic comeback after the trial and tribulations that followed the Tory Lanez shooting, teasing "Act One" of her return to the spotlight.  
While the H-Town Hottie said she wanted to surprise her fans, she also hinted at a "spooky season" release. Her latest social media postings indicate a Halloween release could be on the way.  
On Thursday (October 12) Megan Thee Stallion updated her Instagram grid with a trio of images that combined to spell out the words "Act One." The letter "O" was replaced by an ouroboros symbol, which depicts a snake or dragon devouring its own tail. The sign is often used to represent the eternal cycle of destruction and rebirth, suggesting Megan will return reawakened.  
Meanwhile, on her IG Story, fans were greeted with a raunchy image of Megan Thee Stallion. The "Bongos" hitmaker appears completely nude with her hand clasped on her throat, kneeling in front of another woman lying down. Photo editors protected Megan's modesty with some strategically placed pixelation.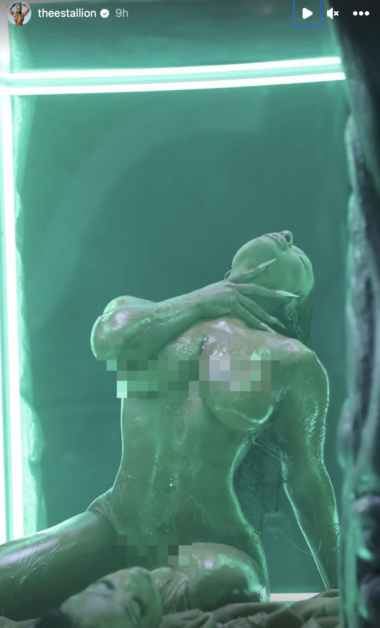 The three-time Grammy-Award winner also shared a spine tingling snippet over on X (formerly Twitter). Megan flashes a pair of vampire fangs in the brief clip captioned, "Let's begin…" 
Last month, Megan Thee Stallion warned fans to get ready because new music was coming.  
"I like to surprise the Hotties so I'm not gonna say how soon. But just be expecting it," she said during an appearance on Entertainment Tonight. "Everybody knows spooky season is my favorite season, so just be on point."