(AllHipHop News) N.O.R.E. has delivered fans an Easter Sunday gift in the form of a new mixtape titled Crack On Steroids, hosted and presented by DJ Green Lantern.
Crack On Steroids features appearances from Green Lantern, as well as verses from the likes of RZA, Gunplay, Busta Rhymes, Game, Waka Flocka, Wale, Bumpy Knuckles, Cassie, M-1, Action Bronson, Styles P., Raekwon, and many more.
N.O.R.E. recently spoke on the RZA assisted "Hare Krishna" record from Crack On Steroids during one of his video blogs, "The beat is just so crazy, and I've always been a fan of RZA. His stock is always up because the fact is RZA doesn't work with a lot of people. Last time you heard RZA on a joint was with Kanye West. And the last time before that was Kanye West and Jay-Z. I thought it was told that RZA actually gave me a party hook."
The mixtape's production is handled by Just Blaze, DJ Premier, Will.I.Am, Beat Butta, Fame, Young Zack, DJ Fricktion, SPK, and more.
N.O.R.E.'s 25-track mixtape acts as a precursor to his upcoming, sixth solo studio album, S.U.P.E.R.T.H.U.G., which is set for release later this year on SMC, Ice H20 Records, and Conglomerate Records. S.U.P.E.R.T.H.U.G. is set to feature previously released records like "Nutcracker" with Flavor Flav, "Finito" with Lil Wayne and Pharrell, and the Pusha T and Meek Mill-assisted "Scared Money".
Check out the artwork and full tracklisting for Crack On Steroids below: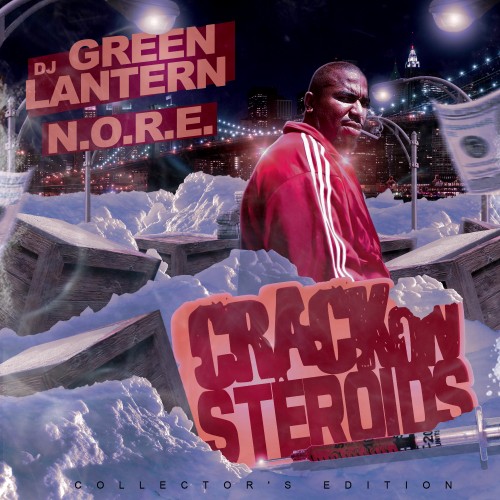 Download Crack On Steroids Exclusively On LiveMixtapes.com