NLE Choppa is speaking out after his mother reported him missing last week.
The 19-year-old rapper explained his whereabouts in one of his recent Instagram Stories, but was clearly uncomfortable with the allegations he was "missing." As he wrote, "I appreciate y'all showing concern but the missing narrative isn't cool, especially knowing that people really do go missing everyday. I took a little time to myself to get back to my roots, but trust I'm all good. Apologies to anyone that was worried. We don't run from battles we take em up chin up. IM BACK."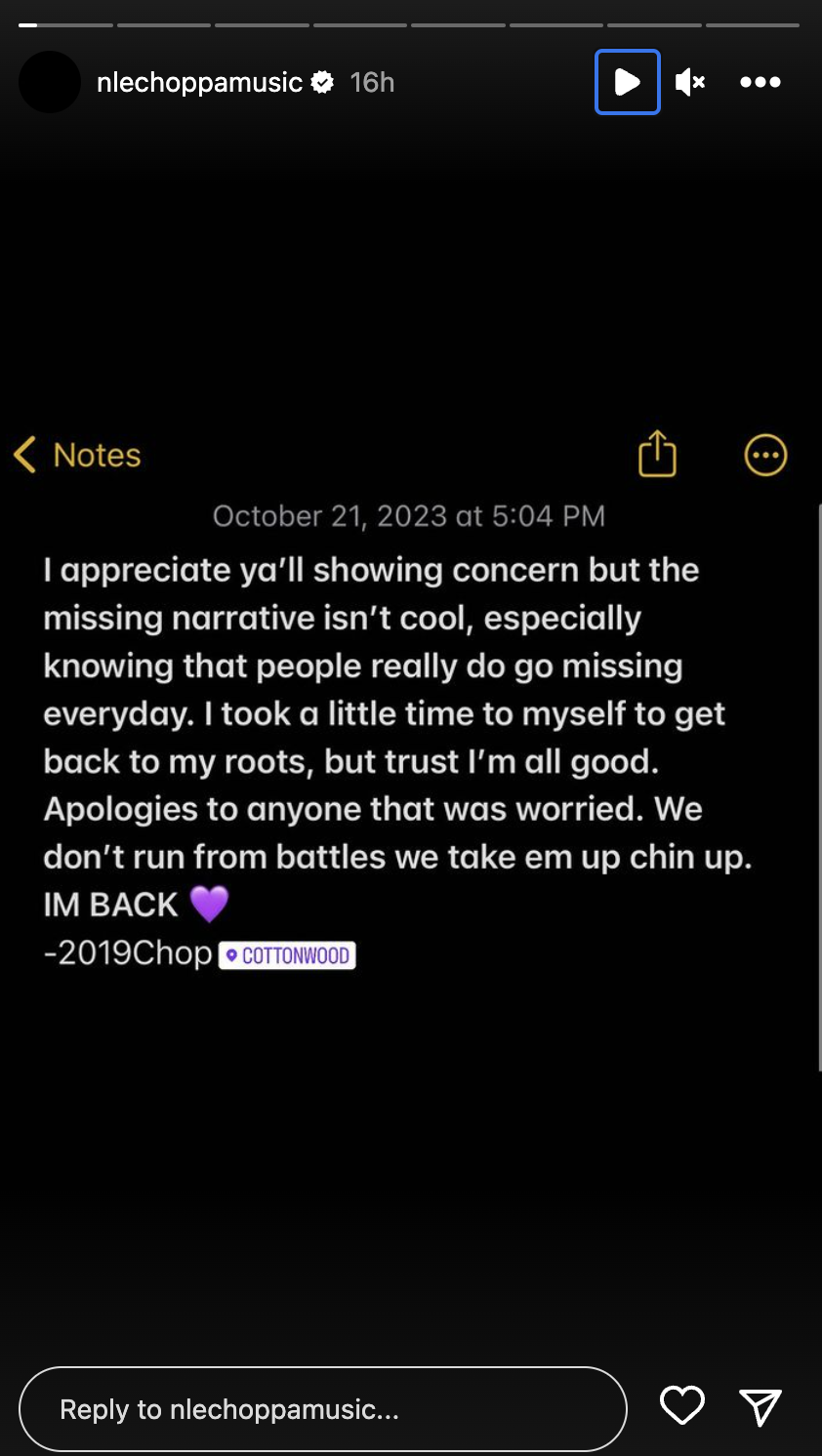 NLE Choppa's mother, Angeleta Potts, alarmed his fans on Thursday (October 19) with a social media post that read: "I haven't heard from my son in hours, which is highly unusual for him. One thing I've always known about my son is that he never disappears without explanation. Another post from "management" encouraged anyone who has seen Choppa to get in touch with Potts.
Less than 24 hours later, Potts returned with a promising update, explaining, ""Thank you for the PRAYERS and SUPPORT," she wrote. "Choppa's ok he just needed a minute, but didn't communicate it to his love ones. I never intended to scare anyone with my post nor did I expect for people to think he is missing But the frustrations of being the mother of a celebrity can be a bit much and overwhelming at times."
NLE Choppa released his second studio album, Cottonwood 2, in April, which included the singles "S### Me Out" and "Do It Again" featuring 2Rare. But just days ago, some of his fans accused the Memphis-bred rapper of falling off, which perhaps explains he need for a break.
"Folks pissing me off," he tweeted. "What NLE y'all watching bug beg it up […] Y'all keep asking for old NLE like the music I ain't been giving y'all recently ain't getting plaques! I'm tryna grow as [an] artist but y'all want me backtracking on BS. But bet that up. I'm on straight dirt y'all got me f##### up. One of the most streamed artists this year BUT BET."