OMB Bloodbath, a rising female rapper from Houston, Texas, has been indicted on a RICO (Racketeer Influenced and Corrupt Organizations Act) charge for her alleged involvement in aiding her gang, the 100% Third Ward, in committing a murder.
Investigators claim that OMB Bloodbath, whose real name is Alexandra Elizabeth Nicks, is a leader of the 100% Third Ward and relayed messages from an imprisoned 103 leader to 103 gang members on the Houston streets.
They allege that she also organized and directed violent crimes committed by the gang.
According to court documents, on October 16, 2017, OMB Bloodbath and others murdered Sam Johnson on behalf of the 103 gang.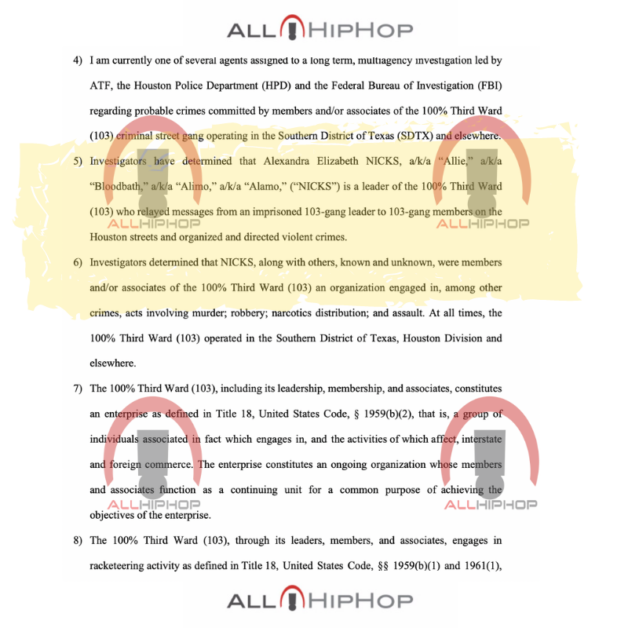 Johnson was found lying in the front yard of a residence in Houston, Texas, with shell casings scattered in the nearby street. Another victim, identified as a rival gang member with the Young Scott Block (YSB), was also injured in the shooting.
Investigators obtained video footage from nearby surveillance cameras, which depicted two people, including Johnson and the injured victim, walking towards a residence when a stolen Mazda drove by and began shooting.
The victims tried to run for cover, but the shooters continued to fire from the vehicle, even as it crashed into a drainage ditch. Four men jumped out of the Mazda and ran down the street towards a motel, firing their weapons toward the residence.
Three of the shooters then physically threw a woman and her infant out of a Kia Sedona that had been idling in the street before fleeing in the car.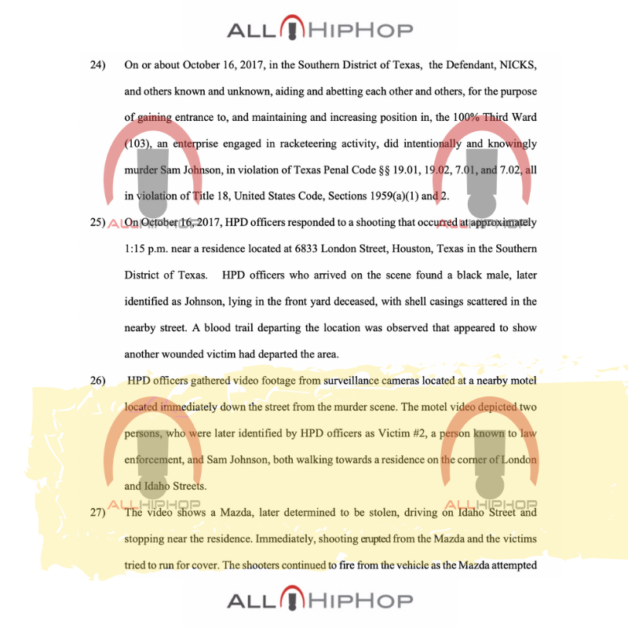 Following the shooting, investigators reviewed jail calls of known 103 gang members and obtained jail calls between OMB Bloodbath and a known 103 gang leader who was incarcerated in Harris County Jail.
During the recorded calls, OMB Bloodbath and the gang leader discussed drive-by shootings conducted by a rival gang and planned retaliatory attacks.
OMB Bloodbath also told the incarcerated leader about her upcoming record deal and said she would pay the "youngins" to shoot. She further discussed finding a car for the shooters and said she did not want to "just dry shoot at windows."
"You're going to have some good news in the morning when you turn
on channel 13," OMB Bloodbath told the gang leader the night before Johnson was murdered.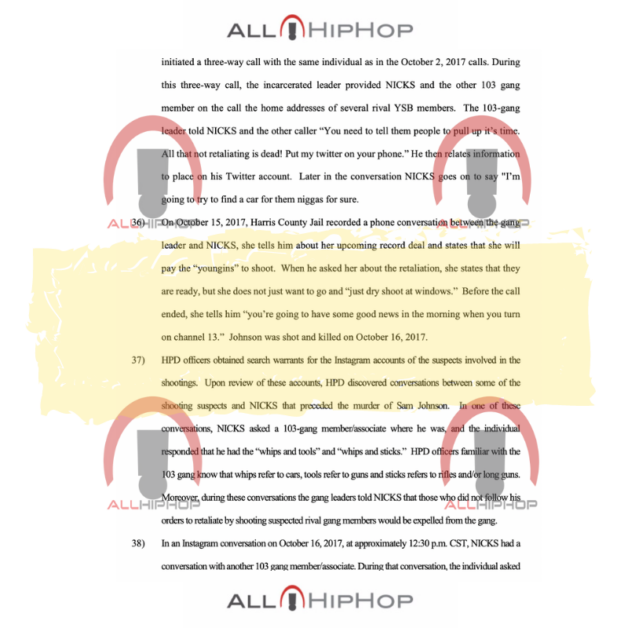 Upon further investigation, Houston Police Department (HPD) officers obtained search warrants for the suspects' Instagram accounts, where they discovered conversations between OMB Bloodbath and some of the shooting suspects that preceded the murder of Sam Johnson.
OMB Bloodbath, who is signed to Love Renaissance and Interscope Records, has been indicted on a RICO charge for aiding and abetting the murder of Sam Johnson and other crimes committed by the 103 gang.
The case against OMB Bloodbath is ongoing.