Darin Espinoza, professionally known as Dante Thomas, a pop singer and songwriter, has recently accused rapper Pras and Warner Music Group of financial misconduct, alleging that he was deprived of millions of dollars due to a breach of their recording agreement established in the early 2000s.
Thomas claims that Pras, who owns the indie label Rat Pack Entertainment, Inc., has failed to fulfill the financial commitments outlined in their contract, leaving Thomas to fight for his rightful earnings.
Thomas, who has been professionally linked with Pras since 1999, claims that the rapper has not only withheld substantial earnings from him but also taunted him about the inability to recover the funds.
The dispute centers around the earnings from the song "Miss California" and the album "Fly," both of which enjoyed considerable success in various international markets.
The financial intricacies of the case reveal a complex web of agreements and royalty rates, with Thomas asserting that he was entitled to a substantial portion of the revenues generated from the sales of the aforementioned song and album.
Despite the commercial success of "Miss California," which became certified platinum and gold in several countries, Thomas alleges that he has only received a fraction of the payments stipulated in the agreement.
Over the years, Thomas made numerous attempts to rectify the situation, contacting Pras and Warner Music Group to request detailed accounting and revenue information. These efforts, however, have largely been met with resistance and evasion, further fueling the dispute.
The situation escalated when Pras allegedly taunted Thomas and said he would never receive any money.
"Pras [informed Thomas] that he did, in fact, have [Thomas'] money that was paid by Warner to Pras and that he wasn't going to give it to him. Pras boasted that he had powerful attorneys, 'the same attorney Micheal Jackson had' and taunted [Thomas], stating that he wouldn't be able to recover a dime from him," Thomas' lawyer Marye Dean Esq of The Wall Street Law Group, explained.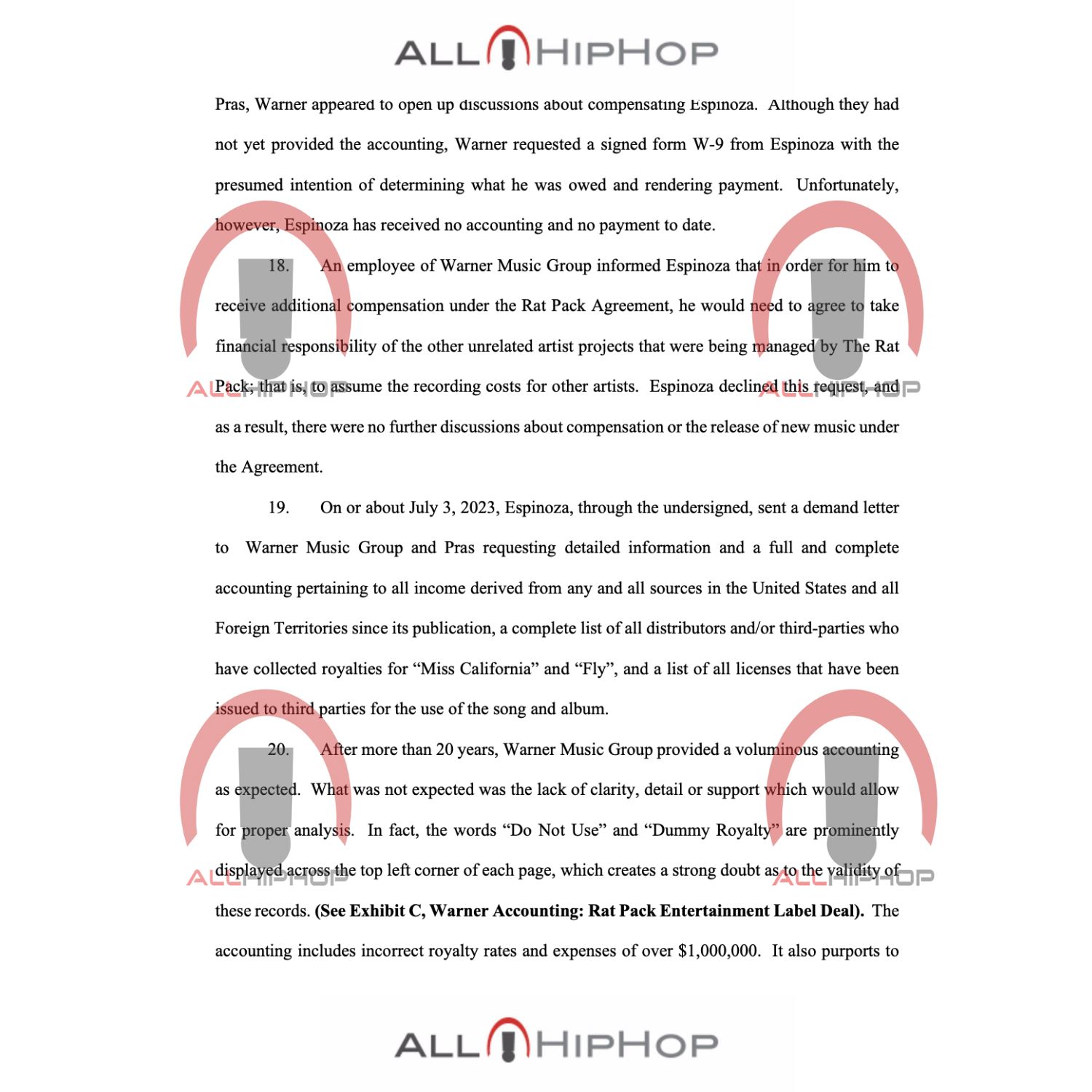 Thomas seeks a substantial judgment against Pras and Rat Pack Entertainment. He is demanding punitive, liquidated, and compensatory damages that exceed $1,000,000, with the precise amount to be determined during a trial.
Additionally, he is urging for an order that mandates Rat Pack Entertainment to furnish him with a complete and accurate accounting of financial details, attorney fees and costs incurred during the legal process.
The lawsuit is the latest headache for Pras, who was recently found guilty on ten criminal counts in a Washington, D.C. courtroom.
The charges are linked to his involvement with Malaysian businessman Jho Low in a scheme to gain political influence in the U.S., involving transactions amounting to $100 million.
The trial revealed that Pras was paid millions by Low to secure access to the Obama and Trump administrations, using these connections to advocate for Low and China.
Despite the serious allegations, Pras' defense maintains that he acted based on advice from his financial manager and attorneys. He is currently appealing the verdict as he awaits sentencing.