Quavo found himself at the center of reports of an alleged armed robbery said to have been carried out on a Miami yacht Sunday evening (July 23).  
According to multiple reports, the captain of the luxury vessel was allegedly held up at gunpoint by members of a party who chartered the yacht for the day once it was time to return it. The robbers allegedly demanded their money back before threatening to kill the captain and throw him overboard.  
The police report allegedly listed Quavo as being among the party on the yacht, with initial reports stating the "Greatness" hitmaker was detained and handcuffed.  
A new video obtained by TMZ purports to show Quavo on board the yacht with his hands restrained behind his back while surrounded by police officers. Despite the troubling situation, he appears in great spirits, smiling and laughing throughout the video.   
Quavo took to his Instagram Story shortly after the Miami yacht video began making the rounds online.  
"All Eyes On Me But I'm No 2Pac!!!" he wrote while promoting his upcoming Rocket Power album, due August 4.  
In another slide, Quavo sent a message via a post featuring an image of a "CAP" "trap card." The text on the card notes it is to be deployed: "When a cap must be ensued."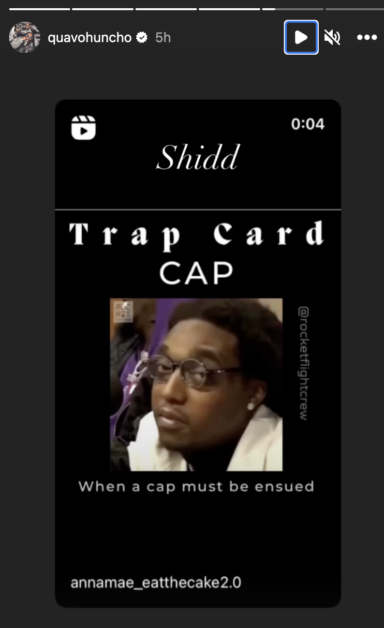 While Quavo did not address the newly surfaced video or the yacht incident, his lawyer denied he was arrested.  
The rapper's attorney Drew Findling told TMZ that Quavo "was NOT mentioned in the police report narrative." He also claimed Quavo Is not "listed as a witness to any alleged dispute." According to Findling, "Ultimately, no one on the boat was arrested."