The history between William "Ray J" Norwood and the Kardashian-Jenner family is very complicated. A case could be made that Ray J's infamous sex tape with Kim Kardashian launched the billion-dollar Kardashian-Jenner empire.
Earlier this year, supposed unreleased footage from the Kim Kardashian, Superstar adult movie became a topic on The Kardashians reality show. Kim Kardashian claimed her estranged husband, Kanye "Ye" West, retrieved the tape from Ray J.
In response, Ray J accused Kim Kardashian of lying. It appears the R&B singer still has some animosity towards the Kardashian-Jenner clan. Ray got involved in a blowup between Kanye West and family matriarch Kris Jenner.
Kanye West shared a supposed text message exchange with one of Kris Jenner's children that included a request for Ye to stop publicly mentioning Jenner because it causes the 66-year-old woman unnecessary stress. The Shade Room re-posted West's Instagram post. Ray J then jumped into the comment section.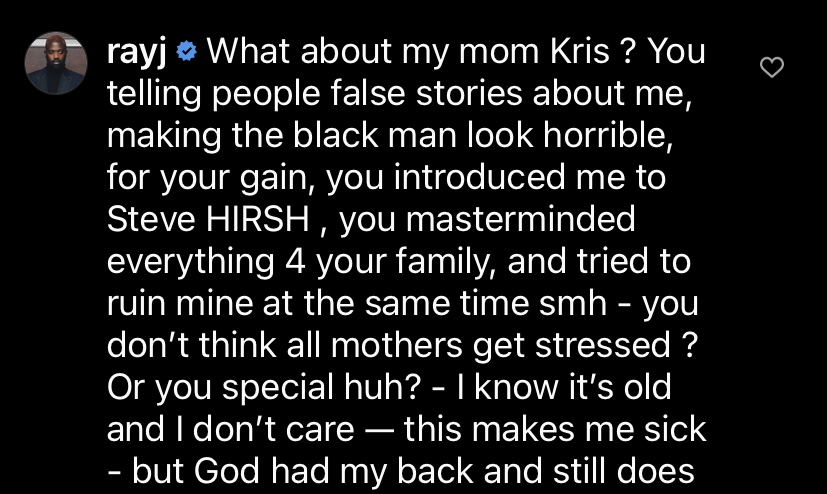 "What about my mom, Kris?" wrote Ray J. "[You're] telling people false stories about me, making the Black man look horrible, for your gain, you introduced me to Steve HIRSH, you masterminded everything [for] your family, and tried to ruin mine at the same time smh."
The Love & Hip Hop reality show star continued, "You don't think all mothers get stressed? Or you special huh? – I know it's old and I don't care — this makes me sick – but God had my back and still does."
Ray J has two children with fellow Love & Hip Hop cast member Princess Love. The former couple also seems to have a strained relationship, evidenced by Ray and Love's interaction on a recent episode of Love & Hip Hop: Miami.