Rick Ross gave the glory to God after adding a $35 million Miami mega-mansion to his growing property portfolio.  
He and his realtor shared the good news Monday (August 14), confirming his purchase of the sprawling estate on the exclusive Star Island. Diddy is among the rich and famous residents of the luxury gated community. The Bad Boy Records founder also reportedly shelled out $35 million for Emilio and Gloria Estafan's old mansion in 2021 and is rumored to own the property next door.  
Rozay's new mansion at 37 Star Island Drive clocks in at a whopping 9,700 square feet, sat on a 40,000 square feet plot and comes with a 40-foot boat dock with direct access to the waterfront. The six-bedroom/eight-bathroom home also features a heated pool and fittingly boasts stunning ocean views.  
Rick Ross took to his Instagram Stories with a post from his realtor, celebrating the sale. "Glory to God," he wrote, adding several prayer hands emojis.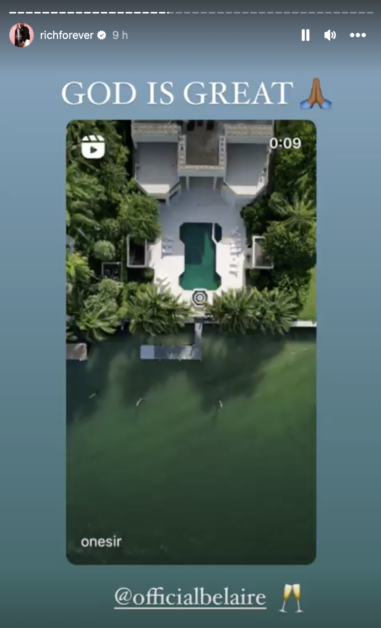 ONE Sotheby's realtor Kimberly Knausz confirmed the sale and paid tribute to Rozay's "hard work, dedication & hustle!" 
Rick Ross adds the Star Island home to his portfolio which includes his Fayette County, Georgia mansion dubbed The Promise Land. Ross bought the 109-bedroom property in 2014 from boxing star Evander Holyfield. 
He also snapped up Meek Mill's former eight-bedroom, nine-bathroom Atlanta compound for a whopping $4.2 Million in cash earlier this year.