Tekashi 6ix9ine continues to play up his role as a villainous internet troll as his recording career continues to flop.
6ix9ine is receiving some attention for a crass post in the wake of the shooting death of Chicago rapper King Von. King Von was one of three men who were shot and killed during a brawl in front of the Monaco Hookah Lounge in Atlanta Friday morning (November 6th).
The Brooklyn rapper mocked King Von's unfortunate death in the comment section of a post DJ Akademiks made about the shooting.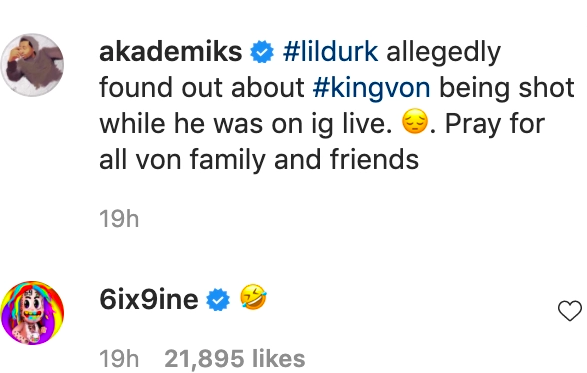 Earlier this week, 6ix9ine was in the headlines, but not for anything related to his music career.
Anthony "Harv" Ellison was sent to prison for 24 years for kidnapping the rapper during a feud over control of his fledgling career with other members of the Nine Trey Gangsta Bloods.
6ix9ine's testimony helped convict 12 members of the gang, while his cooperation earned him a reduced sentence and early release from prison for racketeering with the Nine Trey Gangsta Bloods.